Site Proves Racism Isn't Really the Problem; Commenters Prove Otherwise
A black leader is running a billboard campaign to improve his community. Racism ensues.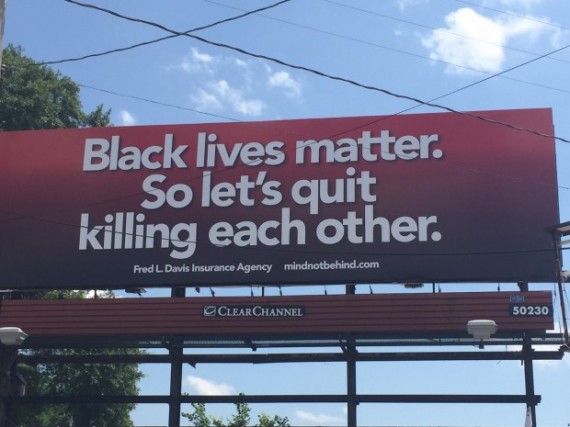 A conservative site highlights Memphis businessman Fred L. Davis' billboard campaign urging young black men to do better as evidence racism isn't the problem. The site's commenters demonstrate otherwise.
The Blaze ("Civil Rights Activist Who Marched With Martin Luther King Posts Blunt Billboard About 'Black Lives Matter'")"
"Black lives matter. So let's quit killing each other."

One man feels so strongly about that message that he put it in big bold letters on a Memphis, Tennessee, billboard, just steps from where he goes to work everyday.

"We're going to have to wake up. We're going to have to say to ourselves that black lives matter, and we're going to have to refrain from killing each other out of our own frustration," civil rights activist Fred Davis told WMC-TV.

The sign was put up at Airways Boulevard and Park Avenue southeast of downtown. Davis said he wanted to get the message across to people because he was a part of the history.

"I think that gives me a license as an experienced observer to push and to advocate to the black community – let's stop it," Davis added.

Davis is an Army veteran who served in France for two years. He was also the first black man to receive a masters of business administration degree from the University of Memphis, the first black chairman of the Memphis city council, and walked alongside Dr. Martin Luther King Jr. when the iconic civil rights leader made his last march in Memphis in 1968, the year of his assassination.
Okay. So what's the punchline?
Much of the national debate has largely centered around white-on-black shootings and in many cases has failed to mention the number of blacks who die at the hands of other blacks every year. But for the black members of this Memphis neighborhood, the sentiment isn't quite the same.

"I feel like it's a great deal for the community," one man told WMC-TV.

"I feel great about this," another said.
The story also highlights another billboard run by Davis back in 2013: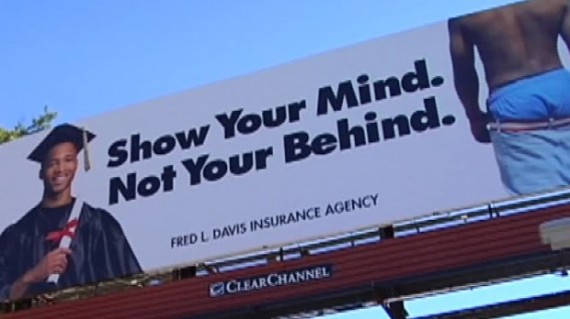 I concur with Davis—and the president, and virtually every other black leader—that black-on-black crime is a problem and that young men should both get an education and pull up their damned pants. Does that mean that white racism is a thing of the past?
Well, lets's go to Jinxe, the first commenter on the thread:
I like this guy…too bad his way of thinking won't spread.

Black on black crime, sagging pants…it's all a part of the culture that gives free rides through life.

Too follow his advice, they'd have to man up, get in the game…and earn their own way in life.

And that ain't happening.
Or rvick, the first responder to Jinxe:
I agree………..something else it shows is this Highly educated "Black" man worked hard and got a good "usable" college degree and started his own business………
unlike the few young Blacks today who are getting useless degrees on Affirmative Action basically just handing them pieces of paper like a Trophy to the losing Little League Team.
Black people were some of the best people after the horror that they were put through but then something happened…….The Government stepped in and put them back in bondage but they just don't realize it! or they just don't care!
Here's Gonzo, the second original commenter:
Too bad our POTUS didn't have this man's common sense. He could have improved black lives, instead he's just embittered them.
And RaisedRightMT, the first commenter on Gonzo's post:
Barry O and Moochele are both racist. Their full intention was to keep tensions high just to keep the "debate" open. But, we all know they just set race relations back decades.
Having hosted an Internet site (this one) for more than a dozen years, I'm the last guy to argue that a site should be judged by its commenters. But the above comments are highly representative of not only the discussion thread on that particular post but pretty much every discussion of this issue I've seen, well, anywhere, including here. Over the years, our commentariat has drifted left—much more so than the original posters. But even here, where we make a pretty concerted effort to run off the worst offenders, there's a lot of the sort of reaction that Jinxe his cohorts spout on pretty much any posting touching on racial issues.
So, yeah, to quote President Obama, "Brothers should pull up their pants." But, no, racism isn't dead.