Six Killed, Dozens Injured, In Late Night Terror Attack In London
Another night of terror in the United Kingdom.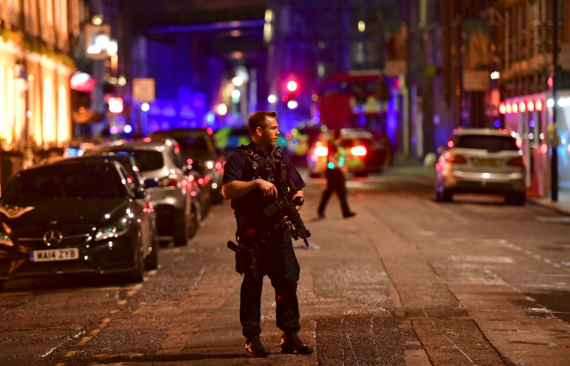 At least six people were killed late last night in a terror attack near London Bridge that began with a van running into a crowd of people:
LONDON — Another night of terrorism unfolded in Britain on Saturday with two attacks that killed six civilians in the center of the capital, London police said.

At least one of the dead was killed when a van careered onto the sidewalk along London Bridge, mowing down pedestrians.

The London Ambulance Service said it had brought 48 injured to five hospitals.

The police said they killed three attackers, which they believed to be the total number of assailants.

Witnesses reported that at least one man jumped out of the van wielding a large knife and ran into the nearby Borough Market, a popular spot for pubs and restaurants on the southern side of the Thames.

Heavily armed police responded to the bridge attack, which took place just after 10 p.m., and more officers rushed to investigate reports of stabbings at the market. The police shot and killed three attackers there, within eight minutes of receiving the first emergency call, they said.

Though no one has claimed responsibility for the attacks, they hit a nation still reeling from the shock of the bombing in Manchester almost two weeks ago when a suicide bomber blew himself up outside the doors of an Ariana Grande concert. Twenty-two people were killed, including many children.

Saturday's attack was reminiscent of another on Westminster Bridge on March 22, when Khalid Masood, 52, drove a car into pedestrians, killing four people. He then stabbed a police officer to death before being shot and killed near Parliament. The police treated that attack, in which 50 were injured, as "Islamist-related terrorism."

And now, as Britain prepares for national elections in less than a week, it must cope with more attacks in the most ordinary of places, London Bridge on a Saturday night, as people walked about enjoying the spring evening.

The mood in London was shock and anger, with the center of the city saturated all night with the sound of sirens. People were told to run, or hide and silence their cellphones as the police searched for assailants.

There was panic that a third stabbing in the Vauxhall area at about the same time as the assaults near the bridge might have been part of a coordinated attack, but the police later declared that incident unrelated.

The attacks came a few days before a snap election that has major implications for the country's future outside the European Union. Across London, and Britain, there was a sense of fear that a way of life was under attack, but also a determination to carry on.

The mayor of London, Sadiq Khan, called it a "deliberate and cowardly attack on innocent Londoners," and it was also condemned by the leader of the main opposition party, Jeremy Corbyn.

The office of Theresa May, the prime minister, announced that she will chair a meeting of the government emergency response committee, known as Cobra, on Sunday.

A White House spokesman said President Trump was briefed by his national security aides on the unfolding events in London.

He spoke with Mrs. May, offering his condolences for the attacks and praising the response of the police, White House officials said. He offered the full support of the United States government in investigating the attacks.

No motive has been ascribed to the attackers, but on the messaging app Telegram, members and supporters of the Islamic State shared a poster that calls for supporters to attack people with guns, knives and trucks during the month of Ramadan, which began last weekend.

On Saturday night ambulances rushed to the scene, people fled in panic, restaurants and hotels were evacuated, and helicopters flew overhead.

Witnesses described horrible scenes.

Holly Jones, a BBC reporter who was on the bridge when the van crashed, said it was driven by a man and was "probably traveling at about 50 miles an hour." She said that at least five people were being treated for injuries after the vehicle drove on the sidewalk and hit them.

"He swerved right round me and then hit about five or six people," Ms. Jones said. "He hit about two people in front of me and then three behind."

A witness, who identified himself as Andrew, said he was in the area at a bar, heard "a massive bang" and saw a van hitting the rail of the road.

"Next 10 seconds later, there was a guy with a big knife, I mean, a big knife," he told LBC Radio.

Andrew said he jumped over a fence, got to a footpath and there was "a dead guy lying on the floor." He hid for a few seconds in bushes nearby, then, he said, "I ran for my life."

At the market, Ben, who did not give his last name, told the BBC that he and his wife, Natalie, saw someone being stabbed.

"I saw a man in red with quite a large blade — I don't know the measurement, I guess maybe 10 inches," Ben said. "He was stabbing a man. He stabbed him about three times fairly calmly."

Ben added, "He was being stabbed quite coldly and he slumped to the ground."

He then said someone threw a table and a bottle at the man with the knife, but "then we heard three gunshots and we ran."

A man named Gerard told the BBC that he saw men stabbing everyone they could and shouting "this is for Allah."

He saw three men with knives "and they stabbed a girl," he said. "So I follow them, toward Borough Market, they were running into the pubs and bars and stabbing everyone. They were running up, saying this is for Allah, and they run up and stabbed this girl 10, maybe 15 times."
British Prime Minister Theresa May spoke this morning in the wake of the attack:
LONDON — Declaring "enough is enough," Prime Minister Theresa May vowed on Sunday a sweeping review of Britain's counterterrorism strategy after three knife-wielding assailants unleashed an assault late Saturday night, the third major terrorist attack in the country in three months.

Seven people were killed and dozens more injured as the men sped across London Bridge in a white van, ramming numerous pedestrians, before emerging with large hunting knives for a stabbing spree in the capital's Borough Market, a popular and crowded night spot.

The assault came days before national elections this week and after the British government had downgraded the threat level to "severe" from "critical," meaning that an attack was highly likely, but not imminent.

On Sunday morning, Mrs. May's Conservative Party and the opposition Labour Party both announced they were suspending campaigning for parliamentary elections — less than a full day in the case of Labour — as a mark of respect to the victims. However the right-wing, populist, U.K. Independence Party said it would continue with its scheduled campaign events.

But Mrs. May said the election would go ahead on Thursday as planned.

The prime minister broke campaigning to lead an emergency meeting of her security cabinet on Sunday morning. In a statement after the session, she said the government would ramp up its counterterrorism efforts to deal with Islamist radicalism at home and to try to reduce or eliminate "the safe spaces it needs to breed," both on the internet and in British communities, in which she said radical recruiters work.

"Everybody needs to go about their lives as they normally would," she said. "Our society should continue to function in accordance with our values. But when it comes to taking on extremism and terrorism, things need to change."

The government may extend the time of custodial sentences for terrorism suspects, but more needed to be done in binding communities together to combat what Mrs. May called "a perversion of Islam," adding: "There is, to be frank, far too much tolerance of extremism in our country."

She called for a global effort to "regulate cyberspace," something that is likely to prove difficult, and said that the London attack was not connected to a suicide bombing at a pop concert in Manchester, England, last month that killed 22 people.

Jeremy Corbyn, the Labour leader, issued his own strong condemnation of the attacks and suspended campaigning for the day. "We are all shocked and horrified by the brutal attacks in London," he said in a statement. "My thoughts are with the families and friends of those who have died and the many who have been injured. Today, we will all grieve for their loss."

(…)

Mayor Sadiq Khan of London, meanwhile, said the police had been dispersed across the city, as security would remain heightened throughout the week.

Mr. Khan, who described the assault as a "deliberate and cowardly attack on innocent Londoners," said that some of the injured were in critical condition, raising the possibility that the death toll could rise. "We will never let these cowards win and we will never be cowed by terrorism," he said.

The Muslim Council of Britain also condemned the attack and praised the emergency services.

"Muslims everywhere are outraged and disgusted at these cowards who once again have destroyed the lives of our fellow Britons," said the council's secretary-general, Harun Khan. "That this should happen in this month of Ramadan, when many Muslims were praying and fasting only goes to show that these people respect neither life nor faith.
So far, none of the attackers has been identified by police, but it has been reported that up to twelve people had been taken into custody overnight in connection with the investigation into the attacks. The attacks also come less than two weeks after the bombing at an arena in Manchester during a concert by pop singer Ariana Grande, and just one day prior to a charity concert in the same city that will feature a number of popular singers such as Katy Perry and Grande herself. Apparently, that concert will go forward as planned notwithstanding last night's attack, as will the General Election scheduled for this coming Thursday, June 8th, although at least two of the major parties have decided to suspend campaigning for at least a brief period of time today out of respect for the victims. The attack also comes about three months after a similar attack in Westminster in which a man drove a car into a crowd near the site of the House of Commons, killing three people and injuring nearly two dozen more. Right now, it doesn't appear that there are any connections between these three attacks, but that likely does little to calm the situation among Britons in the wake of these attacks and the implications of more to come. Indeed, it's worth noting that, during her comments this morning, Prime Minister May said that authorities had been able to stop five attacks that were in various stages of planning across the country, although there have not been any details released about those arrests.
The attack also comes just a few days prior to the snap election that Prime Minister May called earlier this year, and it's unclear what impact this attack, and other others, might have on those elections. When the race began, it looked as though May's Conservative Party was poised for a massive, possibly historic, victory, that would solidify May's majority in the House of Commons as the nation heads into the negotiations over withdrawal from the European Union. In recent weeks, though, the polls have tightened to the point where such an outcome appears to be far less likely. There's little suggestion from these polls that the Conservatives will be voted out of power, especially since the polling seems to indicate at least in part that the uptick in support for Labour won't translate into enough seats in the House of Commons to make that much of a difference in the balance of power. This is especially true since it appears unlikely that Labour will be able to reverse the massive losses it suffered two years ago in Scotland at the hands of the Scottish National Party. Without gains in that party of the country, it's unlikely that any Labour gains in England itself would be sufficient to give it control of Parliament. It's worth noting, of course, that polling in advance of the last General Election in 2015 failed to pick up on what turned into a big Tory win, so it's possible that these same polls could be missing something yet again. Additionally, given the amount of time left in the campaign, it's unlikely that the polls will be able to fully gauge the impact of this latest terror attack on the populace.
As was the case with the Manchester and Westminster attacks, there's little more that can be said about the attack last night without further information. One thing that is clear, though, is that there appears to be a new pattern of less conventional attacks that seem as though they will be harder to detect in advance, and therefore harder to prevent. While the Manchester attack was a typical suicide bomb attack, the two attacks in London have followed in the example of the attack we saw last summer in Nice, France when a truck rammed into a crowd of residents and tourists celebrating Bastille Day, killing 87 people and injuring more than 400. In the case of both the Nice attack and the Westminster attack in March, there was apparently no indication that the perpetrator posted any real risk of being a terrorist. More importantly, these attacks were carried out by so-called lone wolves who planned and carried out the attacks on their own. Last night's attack seems to be slightly different in that there were three people involved, but it still seems clear that this was not a 'professional' attack if only because it involved the same sort of car-ramming and was followed by knife-wielding assailants rather than people carrying guns or using bombs as in the case of the coordinated attack in Paris in November 2015. These attacks seem to be harder to anticipate and prevent, easier to carry out, and more likely to occur on a random rather than a pre-planned basis that might be picked up with surveillance. That doesn't bode well for the future.