Six Seattle Pitchers Combine For One No-Hitter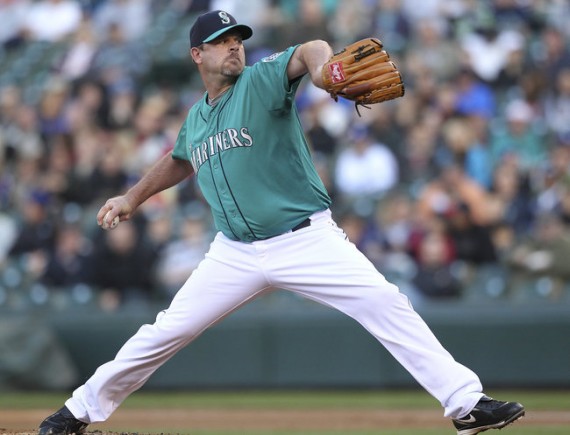 It took six pitchers, but the Seattle Mariners no-hit the Los Angeles Dodgers last night:
SEATTLE (AP) — Mariners catcher Jesus Montero ran around with his arms in the air looking for someone to join in the party.

After the final out of an odd no-hitter pitched by Kevin Millwood and five Seattle relievers, nobody was quite sure how to celebrate.

"I think we all took a second and looked around and were like, did that really happen — and what do we do now?" shortstop Brendan Ryan said.

Yes, the Mariners pitched the fourth no-hitter of the major league season Friday night and by far the most unconventional.

Millwood left after six innings with a groin injury and a stream of Seattle relievers continued to hold the Dodgers in check until Tom Wilhelmsen closed out a 1-0 win over Los Angeles for his third save.

Seattle's six-pack of arms joined the Mets' Johan Santana, the Angels' Jered Weaver and White Sox right-hander Philip Humber on the no-hit list of 2012. It was the second no-hitter at Safeco Field this season after Humber's perfect game against the Mariners in April — the first two in the park's 13-year history.
Multi-pitcher no-hitters are rare, but not uncommon. The first such recorded game came on June 23, 1917 when Babe Ruth was ejected after walking the first batter for arguing balls and strikes, the pitcher who came on to replace him then came on to retire the next 26 batters in a row. The last six-pitcher no-hitter was in 2003 when six members of the Houston Astros combined to no-hit the Yankees. It's unconventional, but it still counts.