Sleeping Yankees 'Fan' Files Frivolous Lawsuit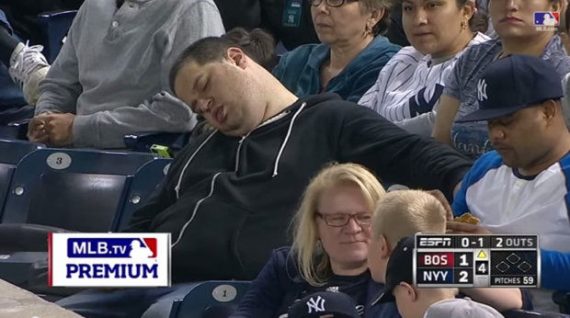 A Yankee fan who was caught on ESPN's Sunday Night Baseball sleeping in the middle of a Yankees-Red Sox game is suing ESPN, Major League Baseball, and the New York Yankees:
A fan caught on camera sleeping during a New York Yankees-Boston Red Sox game in April has filed a defamation lawsuit against Major League Baseball, the Yankees, ESPN and the game's two announcers (John Kruk and Dan Shulman),according to The Courthouse News Service.

Andrew Robert Rector, in a lawsuit filed in Bronx Supreme Court, lays out why he felt he was defamed after images of him nodding off at Yankee Stadium on April 13 were broadcast.

"In the course of watching the game plaintiff napped and this opened unending verbal crusade against the napping plaintiff," the complaint stated (per The Smoking Gun).
The lawsuit, which Rector apparently drafted on his own without the benefit of legal counsel, alleges claims related to defamation, but if you actually watch the video of what happened, it all just comes across as a little light ribbing:
A video from MLB has slightly different commentary at another point in the game, but, again, nothing that could reasonably be said to be defamatory. Instead, Rector seems to want to hold ESPN responsible for what people were saying about him online:
[Rector] claims that the defendants "negligently or maliciously published false, defamatory statement of fact about the plaintiff, a private individual. The false statements include but are not limited to:

"Plaintiff is unintelligent and stupid individual.

"Plaintiff is not worthy to be fan of the New York Yankee

"Plaintiff is a fatty cow that need two seats at all time and represent symbol of failure.

"Plaintiff is a confused disgusted and socially bankrupt individual.

"Plaintiff is confused individual that neither understands nor knows anything about history and the meaning of rivalry between Red Sox and New York Yankee.

"Plaintiff is so stupid that he cannot differentiate between his house and public place by snoozing throughout the fourth inning of the Yankee game."
As noted, Rector is suing Major League Baseball and the Yankees as well even though it isn't at all clear how they can possibly be held responsible for any of this under a coherent legal theory. Given all of that, it really seems as though this is a completely frivolous lawsuit that is likely to subject Rector to even more derision than his brief time on camera. In fact, I was watching the game that night and I can't say I have any memory at all of the sleeping guy.
Outside of the legal issues I have two other observations. Given where Rector was sitting, err sleeping, he was paying a heck of a lot of money for a nap. Some seats that close to the field start reaching close to $1,000 per game. Second, anyone who is sleeping through a Yankees-Red Sox game where the score is 2-1 doesn't strike me as much of a Yankees fan, or a Red Sox fan for that matter.