Small Group Of House Republicans To Call For Impeachment Of Eric Holder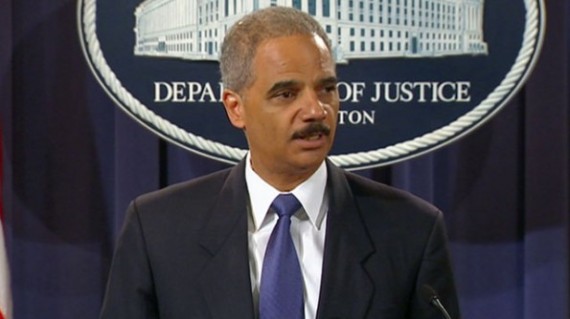 A small group of House Republicans intends to move for the impeachment of Attorney General Eric Holder:
Washington (CNN) – A group of 11 House Republicans will introduce a resolution Thursday calling for the impeachment of Eric Holder, saying the Attorney General has lost credibility and trust over a string of issues in recent years.

The articles of impeachment, drafted by Rep. Pete Olson of Texas, faults the Attorney General for refusing to comply with a congressional investigation of the botched gun-walking operation known as "Fast and Furious," led by the Bureau of Alcohol, Tobacco, and Firearms.

Last year, House Republicans voted to hold Holder in contempt for refusing to turn over documents tied to sting. The gun operation allowed illegal gun sales believed to be destined for Mexican drug cartels in order to track the sellers and purchasers.

But ATF lost track of an estimated 2,000 weapons, most believed to have ended up in Mexico and two of which turned up at the scene of a shooting in Arizona that killed U.S. Border Patrol agent Brian Terry.

The impeachment resolution, a memo of which was provided to CNN, also accuses Holder of lying under oath before Congress in May, when he told lawmakers he had never been involved of any "potential prosecution of the press."

(…)

The small group of Republicans, many of whom have long been going after Holder, also blame Holder for failing to enforce multiple laws, including the Defense of Marriage Act, and for not prosecuting Internal Revenue Service officials in a case involving unauthorized access to tax records of political donors or candidates.

"This was not a decision that I made lightly," Olson said in a statement. "The American people deserve answers and accountability. If the Attorney General refuses to provide answers, then Congress must take action."

CNN reported last week that Rep. Ted Yoho, R-Florida, was highly involved in this new effort to try and impeach Holder.

It's worth noting that GOP leadership has so far stood on the sidelines and not voiced support for the effort, and a Republican congressional aide said the proposal is not expected to get a committee vote.

House Speaker John Boehner never called on holder to resign, despite calls from rank and file members of the House. It's also unlikely house GOP leaders would green light moving the legislation to the floor at a time when they are laser-focused on ripping Obamacare and just rebounded after the government shutdown.
Without support from leadership, which is unlikely to be forthcoming, there's no way that this resolution will actually go anywhere, of course. Nonetheless, it will likely play well with the Tea Party base, among whom Fast & Furious is a big a "scandal" as the Benghazi attack. For the rest of the country, though, this will all just seem very silly.