Snow and the South
Gizmodo's Brian Barrett explains "Why the South Fell Apart in the Snow."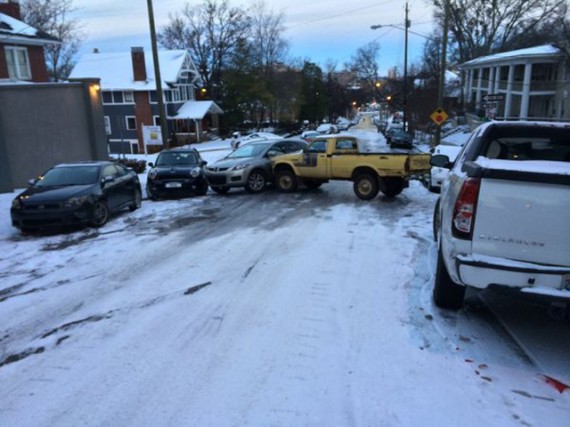 Gizmodo's Brian Barrett explains "Why the South Fell Apart in the Snow."
Let's start by talking about why Birmingham wasn't prepared. In the general case, why would it be? It hasn't snowed in January here for 21 of the last 30 years. In that same period, it's only snowed more than an inch four times. Birminghamians need snowplows like New Yorkers need tornado shelters.

Speaking of which, have you seen the county's budget lately? Actually, you may have! Jefferson County—this is where Birmingham is located, named after Thomas Jefferson, not Jefferson Davis—filed for what was at the time the nation's largest-ever municipal bankruptcy in 2011. It just emerged a few weeks ago. Basically, we're broke. Which is why the city has invested the few resources it has at its disposal in keeping the lights on, rather than, I dunno, salt reserves or whatever you people in Maine have to clear the roads.

So in general Birmingham is not equipped to handle snow of any magnitude, because it has no reason to be, and even if it did it couldn't afford to.

But wait! While it doesn't snow often here, it does snow sometimes. And while it generally shuts the city down, it doesn't turn into a deleted scene from The Road. So why was this time so much worse?

There's a simple explanation for that one, too. Birmingham is one of those cities that shuts down at the faintest hint of snow. Again, this isn't because we are rubes who wonder why God's tears have turned white and fall slower. It's because the city does not have the infrastructure in place to handle snow, and is self-aware enough to realize it. If you don't know how to swim, just stay out of the pool. Easy.

This time, though, the city did not shut down. Schools were open. Places of business kept businessing. That's because as of Tuesday morning, we were being told that all that was coming was a light dusting
Barrett links a forecast by Birmingham weatherman James Spann, who was already a fixture when I moved to the state 34 years ago. He continues:
It's hard to remember sometimes, but things are different in places you do not personally live.

When it snows where you live, the salt and the snowplows are out on the streets before you even wake up. When you talk about six inches of snow in your city, you are almost definitely talking about six inches of snow on the median strip and shoulder, and highways that are slick, but clear. I'd take that over two inches of snow and ice on every major road any day.

When it snows where you live, it is the latest in a string of snowfalls that date back centuries. You own a car with four-wheel-drive for that very purpose. You may even own snow tires. This is great! You are prepared. But waking up in Birmingham to snow is like waking up in New Hampshire to quicksand.

When it snows where you live, you're able to pick up your kids and get home and sit by the fireplace (you have firewood and a fireplace[*], because it is cold often). As of two hours ago, 4,000 children were still stuck in public schools—where they spent the night—because their parents had no way to reach them.
I've lived all over the country and the world, by virtue of my dad having been in the Army, my following suit, and the vagaries of my career path since. So, I've not only lived in Texas, Georgia, Alabama, Georgia, and Tennessee but also Germany, New York, and Virginia. I've never had to deal with the sort of snowfall my friends in the upper Midwest deal with routinely, but I've driven in snow and ice and torrential rain; most people haven't.
Even in the DC suburbs of Northern Virginia, where I've lived the last dozen years, we're not really prepared for major snowstorms or, indeed, truly cold weather. Schools and the federal government have been shut down or delayed several times already this year from relatively modest snowfalls combined with record-for-us-but-unremarkable-elsewhere cold. We closed schools for two straight days when it was clear and sunny because of single digit temperatures. Indeed, we had half an inch, at most, snowfall overnight and the girls went to school late and Quantico delayed opening until 10 (I was working from home today, anyway, because of a student research day).
But, yes, even here—where we're not prepared in the way they are in Maine or Minnesota—a fleet of snow plows and trucks with sand or other de-icing materials are dispatched ahead of the storms. While my cul de sac was icy this morning, the major roads were already clear by the time I needed to be on them at 930.
In places like Birmingham, where this sort of thing happens every dozen years or so at most, it's best just to tell everybody to hole up inside for a couple days until it passes over. And, when they get surprised by a significant snowfall and people are at work and school, nobody should be surprised that the people aren't prepared to deal with it.
__________
*Oddly, in both my parents' home in Jacksonville and the one I had when I lived in Troy, we had fireplaces. My dad in fact kept wood for burning in theirs and I, being a practical or lazy man, had mine converted to propane and used it whenever it dropped below 50.
Photo credit: Scott Walker/AL.com. Hat tip to Steven Taylor, who posted Barrett's story on Facebook.