Snowquester Disappoints
Much touted snowstorm set the DC area atwitter, only to fall short of expectations and yield derision.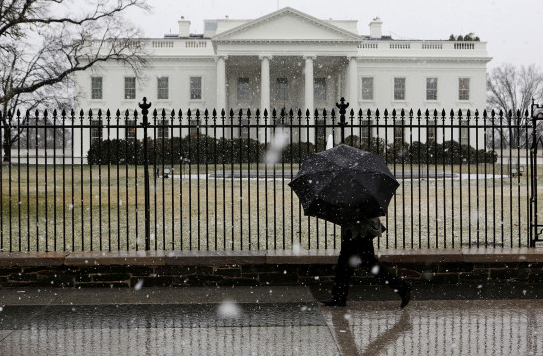 As frequently happens, a much touted snowstorm set the DC area atwitter, only to fall short of expectations and yield derision.
When I looked outside this morning, there was a mere dusting of snow on my lawn. The streets were wet but perfectly clear. It was above the temperature at which water freezes. Nonetheless, I turned on the local news to verify that local schools would in fact be open. They were not. Nor was the Federal Government, which means that my workplace was closed as well, since we follow suit. (That just means working from home, not a free vacation day, for us.)
Temperatures were a couple degrees higher than expected so, despite relatively heavy snowfall throughout the day, there's been next to no accumulation here. There's been more elsewhere in the sprawling metroplex but nothing like the 6-plus inches that were forecast.
So, naturally, my Twitter stream has contained more snark and derision that usual—no small feat.
But here's the thing: the people who make these decisions are in a no-win situation. If the snow came as predicted, they'd have made the right call but it would have seemed obvious in hindsight, so they'd have gotten no credit. If they'd sent people off to work and school and temperatures had dropped a couple degrees, people would have been forced to commute back home through treacherous conditions for which the area is ill equipped to handle. And, as happened, the projections were off and everyone looks like an idiot for over-reacting.
People from the Midwest and other areas that get lots of snowfall every year love to scoff at how wimpy people in places that don't are. But people who expect snow prepare for it. They invest in and budget for the plows, trucks, crews, salt, sand, and melting agents necessary to deal with it. That would be foolishly wasteful in places like DC, where we might get significant snow a couple times a year every other year.
Additionally, large metro areas have to plan not only based on the weather forecasts but for the worst possible conditions in the area. So, even if they're pretty sure DC proper is going to be passable, OPM has to account for the fact that much of the workforce lives 40-50 miles out with wildly variable road and weather patterns. While it's annoying that my kids' day school ties its opening decision to Fairfax County schools; Fairfax County is huge. So, just because there's no snow on the neighborhood roads doesn't mean it's safe for school buses everywhere in the county.
As a side note, while they got the particulars wrong here, it's actually rather remarkable that the weather forecasters predicted this storm would hit today well in advance. Sure, they have sophisticated Doppler radar systems and data from satellites. But it was quite warm here last week and 60 degrees downtown yesterday; that they correctly predicted that it would snow overnight and throughout the day is pretty amazing.
We got lucky in Northern Virginia. Other parts of the Commonwealth didn't. Indeed, they're still expecting massive accumulations "in the mountains in West Virginia, Virginia and Maryland, with reports of between 18 and 20 inches and more expected."