Social Justice the New Religion?
The intersection of politics, morality, and meaning.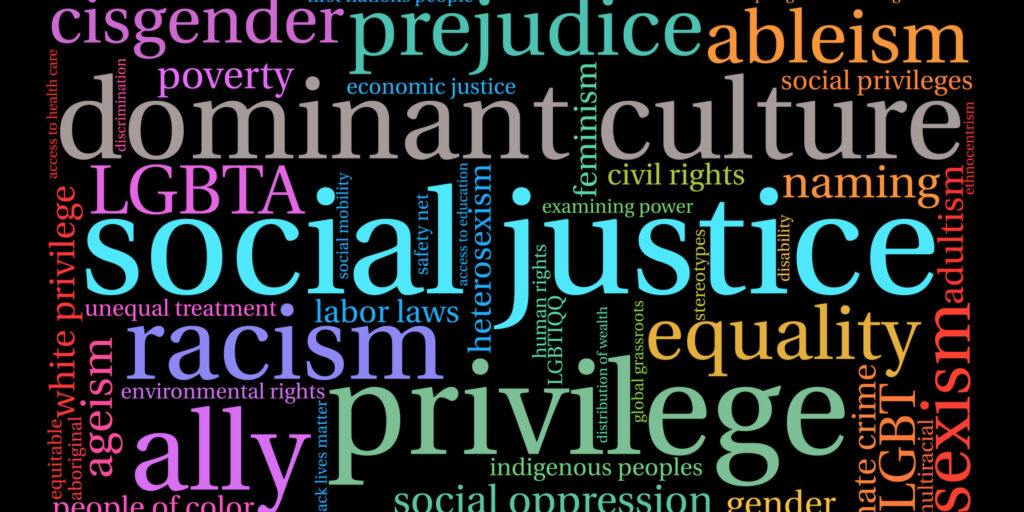 The Atlantic's Helen Lewis contends that social justice has become a religion of sorts. Her argument begins poorly:
A quick question. If someone is yelling "repent" at you in the street, are they more likely to be (a) a religious preacher or (b) a left-wing activist?

The answer depends on where you are. Last October, a crowd gathered outside Netflix's offices in Los Angeles to protest the release of Dave Chappelle's comedy special The Closer, which contained a long riff criticizing transgender activists. Inevitably, there was a counterprotest: a lonely Chappelle fan holding a sign that read we like dave. This went over badly. Someone took the sign from him and ripped it up. Someone else shouted in his face, and their word choice was notable. The man who liked Dave was urged to "repent."

A similar sentiment surfaced last month, when students protested the decision of University College London to stop paying Stonewall, an LGBTQ charity, to audit the institution's compliance with laws on diversity. That decision might sound dry and technical, but to the students, it showed the institution's lack of commitment to LGBTQ rights. They held a sign that read rejoin stonewall or go to hell.
While such anecdotal ledes are common in journalism, they're easily cherry-picked and seldom persuasive. We have literally two examples, both of which could be wildly unrepresentative of even the specific protest, much less the larger movement.
Regardless, she uses these as a basis to assert her grand thesis:
This fire-and-brimstone language might initially seem odd, because society is becoming less religious—in the U.S., church membership dropped below 50 percent for the first time in 2020, down from 70 percent in 1999. In Britain, where I live, the decline of organized religion is "one of the most important trends in postwar history," according to the British Social Attitudes survey. We might expect that religious concepts—repentance, hellfire, heresy, apostasy—would have become less salient as a result. But that's not the case. For some activists, politics has usurped the role that religion used to play as a source of meaning and purpose in our lives, and a way to find a community.
That some activists find meaning and purpose in politics and form communities around it is, well, not all that controversial. Nor is it a new phenomenon. Or, for that matter, uncommon in political activists who are also religious.
In the U.S., the nonreligious are younger and more liberal than the population as a whole. Perhaps, then, it isn't a coincidence that they are also the group most likely to be involved in high-profile social-justice blowups, particularly the type found on college campuses.
It's the opposite of a coincidence. College campuses are precisely where one would expect to find young activists, no?
They've substituted one religion for another. In The Coddling of the American Mind, Jonathan Haidt and Greg Lukianoff suggest that we look at campus protests as outbreaks of "collective effervescence," a term coined by the sociologist Emile Durkheim to describe emotions that can be accessed only in a crowd. Singing, swaying, and chanting build up a kind of electricity, which ripples through the group. And that's how a person can end up screaming "repent" at a stranger for the crime of holding a funny sign.
I mean, sure. Or they could just be immature.
If you're isolated, reading and sharing political memes and commentary is one way to find like-minded people; meanwhile, social media and dating apps encourage us to label ourselves so that we can be instantly categorized by algorithms and advertisers. Many common social-justice phrases have echoes of a catechism: announcing your pronouns or performing land acknowledgment shows allegiance to a common belief, reassuring a group that everyone present shares the same values. But treating politics like a religion also makes it more emotionally volatile, more tribal (because differences of opinion become matters of good and evil) and more prone to outbreaks of moralizing and piety. "I was thinking about that Marx quote that religion is the opium of the people," Elizabeth Oldfield, the former director of the Christian think tank Theos, told me. "I think what we've got now is [that] politics is the amphetamines of the people."
That humans are social animals who band together against out-groups has been a fact of our existence since the beginning. But, again, a lot of people who are politically tribal are also religious. And silly shibboleths and performative rituals aren't solely the province of the left.
Oldfield was one of the many commentators, activists, and religious leaders—and, sometimes, people who are all three—whom I recently interviewed for a new BBC documentary, The Church of Social Justice. Some of what I discovered surprised me. I asked Alex Clare-Young, a nonbinary minister in the United Reformed Church, whether their faith or their gender was more surprising to Generation Z acquaintances. "I think probably being religious," Clare-Young responded. "I know a lot of LGBTQ+ young people who say it's harder to come out as Christian in an LGBT space than LGBT in a Christian space."
I'm . . . skeptical. There's natural hostility between the groups but Christianity is more widespread, even among under-25s, than LGBT status.
Politics has now crept into every aspect of our lives. In countries where racial and religious intermarriage have become commonplace, dating across political lines is the new taboo. The young British writer Tomiwa Owolade told me he often saw dating profiles that insisted on "no conservatives." Victoria Turner, the editor of an anthology titled Young, Woke and Christian, told me that she could happily date someone from another faith, or no faith at all. But a conservative? "Absolutely not. No." Why not? "Whether your God looks exactly the same as my God, I don't know," she told me. "But I do know what the answers are to stop people from suffering and to make the world a more equitable place."
We're in a period of political tension not seen in the last half-century or so. But, yes, there's a tendency on the left to see those who haven't embraced the rapid change in cultural mores as evil in a way they don't those who hold other religious views.
As politics has usurped religion, it has borrowed its underlying concepts, sometimes putting them into new words. John McWhorter, a linguist and Atlantic contributing writer, recently published a best-selling book reflecting on what he sees as the excesses of America's racial-justice movement. Its working title was "The Elect," after the Calvinist idea of a group chosen by God for salvation. (In the end, it was published under the more provocative name Woke Racism.) "The hyper-woke—who were firing people right and left, and shaming people right and left—think that they're seeing further than most people, that they understand the grand nature of things better than the ordinary person can," McWhorter told me. "To them, they're elect."

He sees other parallels, suggesting that notions such as white privilege and male privilege are versions of original sin—a stain that humans are born with, no matter their individual circumstances. Problematic, he argues, is the new way to say heretic. In his book, McWhorter also identifies a "priestly class" of influential writers and politicians who he believes are dictating the rules of what can and cannot be said.
I don't disagree with McWhorter's analysis but honestly don't find the religious analogy helpful to it.
Finally, Lewis acknowledges the obvious:
This phenomenon is not confined to the left, though. At Donald Trump's rallies, booing members of the press, who were kept in an exposed pen, became part of the ritual. The storming of the Capitol involved hardened militia members and amateur gun nuts, but also dozens of otherwise law-abiding citizens swept up in collective effervescence. There are other religious parallels: QAnon's lurid myths about blood-drinking elites echo medieval anti-Semitic tropes, and the QAnon rally where adherents awaited the resurrection of John F. Kennedy Jr. had a distinctly millenarian feel. As my colleague Adrienne LaFrance has reported, followers of this conspiracy-theory movement treat the anonymous Q's online postings as something akin to divine revelations. "I feel God led me to Q," one QAnon follower told LaFrance.
As frustrating as I find performative wokeness, focusing on college kids' excessive zeal in condemning Dave Chapelle as the main problem while treating a mass movement willing to use violence to roll back change as a parenthetical is just nuts. Indeed, to the extent that the former is useful it's because it makes it harder to rally moderate support against the latter.
But Lewis seems to treat them as, at best, equivalent:
Because collective effervescence is so powerful, established religions have developed strategies for dealing with enthusiasm that shades into zealotry. "In religious life, or Jewish life, the person you sit next to in synagogue may drive you completely potty, they may be so annoying and have different views, and you must still go to their family's funeral," Rabbi Laura Janner-Klausner, of the Bromley Reform synagogue in south London, told me. "You must still take them something when they have just given birth; you must still go to their mourning prayers."

In real life, churches, mosques, synagogues, and temples force together, in their congregations, a random assortment of people who just happen to live close to them. But today's social activism is often mediated through the internet, where dissenting voices can easily be excluded. We have taken religion, with its innate possibility for sectarian conflict, and fed it through a polarization machine. No wonder that today's politics can feel like a wasteland of anguished ranting—and like we are in hell already.
By and large, I share her belief that it's essential to treat our countrymen who disagree with us on politics as fellow human beings. We should, by and large, be polite and respectful to one another. As much as most of the OTB commentariat hates the idea, the overwhelming portion of Trump voters—yes, even those who voted to re-elect him after the horrendous shitshow of his first term—aren't white supremacists and QAnon kooks. But we shouldn't pretend, either, that there aren't a whole lot of really dangerous people among their ranks.
In a follow-up interview with Isabel Fattal, Lewis fleshes out her thoughts a bit and we see that her perspective is uniquely British.
Helen: In the 20th century, divisions in politics broadly were economic. We had class politics, in Britain at least. That's no longer how those divides are best thought of. They're much better thought of as age, education, and identity divides. Values divides. So you have this switch from a politics that's based around your economic position to your cultural position. That has brought with it a different type of politics, which is much more concerned with matters of good and evil. Politics in the U.S. and Europe has become more exciting in the past few decades, but exciting is not what you always want from politics.

Isabel: Your piece and documentary are focused on how this is playing out on the left. You mention that, of course, the right is not immune to strongly held beliefs (many of which are not factually sound). Why did you focus on the left, and how is it different from what you see happening on the right?

Helen: More so in Britain than America, the left is less overtly religious. New Atheism and those traditions from the 2000s were movements of the left; there's the idea that being on the left means you're skeptical and rational—driven by reason, not these old superstitions. So what initially intrigued me was the idea that people who would self-describe as rationalists were nonetheless acting in these very faith-based ways. On the right, there is a much more obvious synthesis: overt displays of religion into which politics gets woven. It's not a substitute so much as it is a complement. Something like QAnon is a very good example of that.
So, she's not intending to argue that the woke left is worse than the nutty right—it's just that the latter aren't an example of the thesis she's defending.
This is also useful context:
Isabel: One distinction you make, particularly in the documentary, is that it's not religion on the whole that should be compared with some social-justice movements, but rather religious fundamentalism. What's the difference between the two, as you see it?

Helen: Rabbi Laura Janner-Klausner [of the Bromley Reform Synagogue in South London] makes the point really well, that you can be a fundamentalist about all kinds of things. You can be a fundamentalist vegan, a fundamentalist about Peloton. It's a mindset that says, I've got all the answers. What I believe is true, and there is no discussion at all to be had. I look around online, and I do see that mindset in a lot of places. It's the inflexibility and the unyielding nature of thinking you have all the answers that's being criticized here.
That's doubtless true. Whether it's a new phenomenon, or whether it's because atheists (of which, incidentally, Lewis is one) are looking to replace the void of religion are separate matters.
Isabel: What are the best criticisms of this argument that you've heard since the article was published?

Helen: The piece had a big response, both positive and negative. Jamelle Bouie of The New York Times said I knew nothing about religion, which will be sad news to my dad, the Reverend Mr. Lewis. He also argued, "To say that some social phenomenon in the United States has [American] Evangelical aspect to it is kind of just to say that it is American." It's an interesting point: This is a phenomenon I'm observing in Britain too, but we do tend to import our culture wars from America. Bouie also said I was just describing an "ideology," but I'm not sure that captures what I was trying to say, which is that this type of politics involves ideas of morality, of the saved and unsaved—and also that, in a positive way, it offers moments of transcendence and "unselfing."

One of the most common negative responses was to assume that I was being pejorative in making the comparison between social-justice politics and religion. But religion is a force for good in many people's lives, including those of my parents, whom I interview in the BBC documentary.
Honestly, I think the reaction to it in America is that we simply see it from a different vantage point. Lewis reads as a conservative Evangelical scold when she's neither conservative nor religious.
Her answer here is better than the close of the column, too:
Isabel: Where do social-justice movements go forward from here, in your opinion?

Helen: I think if we want people to genuinely own their mistakes, then you have to offer the possibility of redemption. Otherwise, all the incentives point toward denial and carrying on regardless. I think what we have now with social-justice movements is a range of sins, but we don't yet have a good idea of what the mechanism is for confessing, repenting, and being absolved.
To a large extent, I think, this is just a function of the immediacy and anonymity of the online world. While contrary to conventional wisdom, it's very much real life for many, it's hardly the totality of our reality. There's every incentive in the world for performative dunking on strangers who dare to tweet something offensive. But most of us manage in our everyday lives to treat actual people with whom we disagree civilly and with some degree of charity.
Obviously, abortion rights and equitable treatment for trans and nonbinary people are deeply personal and existential for some people and it's probably too much to expect a lot of forbearance on their part. But, for most of us, it's really not hard to understand why people of a certain age or who've spent their whole lives steeped in a different culture are really resistant to change.
It seems obvious to me that these changes in attitudes are happening and will be the overwhelming public view rather soon—much faster than the acceptance of Blacks as equal citizens or even of gay rights. But, again, I understand why those more directly affected than me aren't in the mood to wait.