Speaking of Elliott Abrams
And if you don't know, now you know.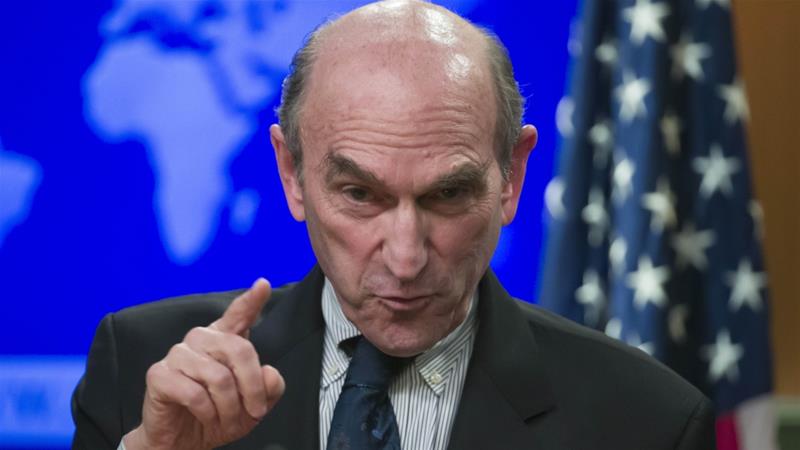 If one studied Latin America in the 1980s (or Latin America, specifically Central America, of the 1980s), then one has encountered the name Elliott Abrams.  Abrams was an Assistant Secretary of State (first for Human Rights and Humanitarian Affairs and then for Inter-American Affairs) in the Reagan administration.  In both roles he was directly linked to US policy in Central America, the highlights (so to speak) of which involved a conviction for lying to Congress in the Iran-Contra Affair (for which he was later pardoned) and being known for downplaying (if not dismissing) human rights abuses by US allies in El Salvador and Guatemala.
To recap:  Elliott Abrams' name conjures Iran-Contra, lying to Congress, and defending massacres in El Salvador and Guatemala (all in the name of US national security interests and the promotion of democracy).
One of the better summaries of this comes via Vox:  The fight between Ilhan Omar and Elliott Abrams, Trump's Venezuela envoy, explained. The headline refers to testimony before a House committee and the confrontation between Representative Omar and Abarams.  I will come back to that below.  First, some quick info on El Salvador, Guatemala, and Nicaragua.
El Salvador:
In 1981, government soldiers from the US-trained Atlacatl Battalion slaughtered more than 750 men, women, and children in the village of El Mozote, raping girls as young as 10.

Roughly a month later, credible reports of the horror that the US-backed forces had perpetrated appeared in the US press — just one day before the Reagan administration was required to certify to Congress that the government of El Salvador was continuing to improve its human rights record (a condition required for US aid to the Salvadoran government to continue).

Though declassified cables have since revealed that senior administration officials were aware of the atrocities that the US-backed Salvadoran government forces were committing, they went ahead and certified to Congress that human rights were improving anyway. And they continued to do so in subsequent reports to Congress.

Abrams was assistant secretary of state for human rights and humanitarian affairs during all of this. In a July 1982 certification hearing before the Senate Foreign Relations Committee, Abrams downplayed the El Mozote massacre, describing it as "an incident which is at least being significantly misused, at the very best, by the [leftist] guerrillas."
Guatemala:
In the early 1980s, the Guatemalan government launched a campaign of mass slaughter against the country's indigenous Maya population, whom the government believed were supporting anti-government guerrilla fighters. In a years-long operation known as "Operation Sophia," the Guatemalan military killed tens of thousands of Maya civilians in what is now widely considered to be a genocide.

In 1983, as the genocide was taking place, Abrams went on an American TV news show to defend the Reagan administration's new policy: ending the arms embargo on sales to the Guatemalan government. "The amount of killing of innocent civilians is being reduced step by step," he said. "We think that kind of progress needs to be rewarded and encouraged."
Nicaragua:
Congress had passed a series of acts, collectively known as the Boland Amendment, explicitly intended to prevent the Reagan administration from further interfering in Nicaragua. So rather than abide by the law, Reagan simply figured out a way to go around Congress and fund the Contras anyway, just in secret.

Abrams supported the policy, and participated in covering up the arrangement from Congress. In the investigation that was launched after the whole affair was exposed, Abrams pleaded guilty to criminal charges for his role in misleading Congress, for which he was later pardoned.
All of the above is context for concerns that Abrams is a terrible choice for the Venezuela policy, if anything because his reputation precedes him and taints every action the US government engages in when viewed from Latin America. This is especially true because to my knowledge Abrams has never been especially reflective nor apologetic about his past, at least not in public.
It was also the backdrop for this (the aforementioned testimony in the House):
Omar's questioning, in my opinion, was clumsy (as one might expect from a freshman member) and did not accomplish her goals.  Still, I would note that bringing up Abrams' past, especially in terms of his untruthfulness before Congress, was totally fair game in my opinion.  The man has demonstrated his willingness to subvert the truth to the legislature in pursuit of executive policies.  It really should be up to him to demonstrate that he understands the problem his appointment to this role in Venezuela could create and he should attempt to allay them. Most importantly, he needs to reassure us all that he is no longer is willing to lie to cover up executive branch policies.
As political scientist profess Steve Saideman notes:
It is pretty basic: if you appoint someone who has pled guilty to lying to Congress, expect them to get some heat when they appear before Congress.  It is not that hard and definitely not surprising.  That it is a particularly controversial new Congressperson is really beside the point.  Someone has got to confront a guy who lied to Congress, especially if he didn't pay for it because he got a pardon.  Pardoning those who lie to Congress tends to give a signal to future folks in the executive branch that you can get away with it.  And, oh, yes, this new administration has been putting out the pardon carrot again and again, and then they appoint a guy who has a very checkered history–not just lying but subverting the will of Congress via Iran-Contra and condoning human rights violations by proxies.  So, the Trump Administration, by appointing Abrams, was telling Congress to fuck off.

So, one Congressperson noted that he has a record as a liar so why believe him?  Then she asked a basic and very important question–do the ends justify the means?  In fighting for democracy or whatever (this administration's record on being pro-democracy is just a wee bit, um, weak), will Abrams and this administration mind just a little bit of human rights violations.  Again, this is basic oversight stuff–Congress asking the executive if they will bend their responsibilities (to faithfully execute the laws of the US) to pursue a goal.  Has this administration given Congresspeople any cause to think they might not respect the law?
I would note Abrams' arrogant posture and his clear impatience with the issues being raised at all.  He is not contrite, even for show.  He does not respect the Representative's right to raise the issue.  I would note that if one is familiar with Abrams, one is very familiar with this approach.  From tone of voice, to body language, to righteous indignation, this is all typical Abrams.  If one is inclined, a trip to YouTube will support my assertions:  whether the interviews are from the 1980s, the 1990s, or the 2000s, the basic tone is the same.  He is supremely self-confidence, and self-righteous.  This is not a man who learned from past mistakes, or so it seems from afar.
Plus, Saideman raise a really salient point:  the current administration is not known for its devotion to the truth nor does it appear squeamish about using the pardon power for political gain.  As such, the Abrams appointment has even deeper layers than the flashbacks from the 1980s conjure.
All of this sums to having reasons to not be sanguine about Abrams' involvement in Venezuela.  And this position is reinforced by what I am seeing in Venezuela this weekend.
The problem (or, one of the problems) with US policy vis-a-vis Central America in the 1980s was a single-minded devotion to anti-Communism.  It created, whether defenders of the policy want to admit it or not, a clear ends-justify-the-means mentality that included supporting some pretty terrible governments and enabling them to engage in some pretty heinous behaviors.  If Trump is going to assert that the US has to stop "the spread of socialist tyranny" in Venezuela, this moves us into a space where US operatives have demonstrated a willingness in the past to work with unsavory actors who do immoral things to gain power (or to fight "socialists").  Abrams track record plays directly in that direction.  And while I have read defenses of him (see such references in this Drezner piece and this interview with Max Boot), I have not seen enough from Abrams in a public way to convince me to trust him in this instance (and that there is nothing in the broader Trump foreign policy apparatus to make me feel better about the situation).
See, also:
WaPo:  'Someone is not being honest': Elliott Abrams, Trump's Venezuela envoy, trailed by mistrust.
The Atlantic:  What Did Elliott Abrams Have to Do With the El Mozote Massacre?
---
Side note on El Salvador:  while Abrams pegs the election in 1984 of José Napoleón Duarte  as the point at which the country became democratic, the reality is that while that was part of the transition to democracy in the country, the reality is that it cannot be really classified as democratic until after the civil war was over in 1992.  1994 would be the first post-civil war free and fair presidential election, which marked the real establishment of democracy in the country.