Speaking of Taxes…
Bernie also faces disclosure pressures.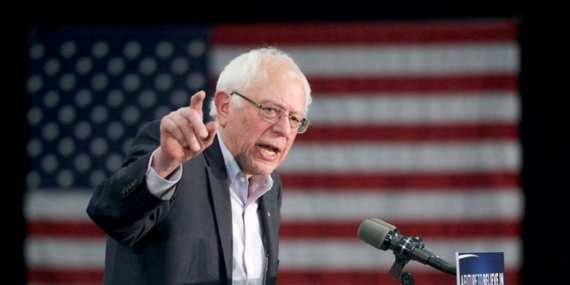 Donald Trump isn't the only politician who is facing political pressure over release of tax returns. As ABC News reports: Bernie Sanders still hasn't released his tax returns, despite pledge.
Sen. Bernie Sanders of Vermont, one of several front-runners early in the 2020 Democratic presidential primary, has yet to make his tax returns public, despite promising to do so "soon" at a CNN town hall in February.

"It just was a mechanical issue," he said at the time. "We don't have accountants at home. My wife does most of it. And we will get that stuff out."

The issue is under new scrutiny in the 2020 cycle, after then-candidate Trump refused to release his returns in 2016, claiming he was under audit.
This has long struck me as an odd stance, given the political pressure on Trump to release his returns (pressure that has become a bit more intense this week, as James Joyner noted).
Ryan Grim at The Intercept has a theory: The Reluctance of Bernie Sanders to Release His Damn Tax Returns Is Part of a Bigger Issue:
Sanders just released his damn tax returns already?

It's a question that's something of a Rorschach test for Democratic primary voters. For veterans of the great war of 2016, who've been in the trenches battling Sanders for years, it's exhibit A of his hypocrisy, evidence of a man who claims the moral high ground but is hiding something from the public — perhaps something disqualifyingly corrupt.

[…]

The truth, though, is likely much simpler: By failing to release his tax returns despite repeated promises to do so any minute now, Sanders is being the stubborn curmudgeon he's always been.
Perhaps. I suppose one can argue that this stuff is trivial and Sanders thinks we should focus on the non-trivial and he is being stubborn to prove it. This strikes me, however, as overly charitable. Or, at least, that it shows some pretty poor political skills. If his returns are trivial (i.e., they match his financial disclosures) then getting them out takes this issue off the table and puts more pressure on Trump, the man Sanders wants to run against in 2020. If the tax returns have something that needs explaining, then get it over with, already.
To that point, Grim notes:
Sanders refuses to engage with things that annoy him. But he is no longer a protest candidate and can no longer escape the old adage that you may not be interested in politics, but politics is interested in you. He's running not to make a statement or drag the conversation to the left, but to be the leader of the most powerful country in the history of the world and to rescue it from its collision course with a dystopian future. People rightly want to know whether he has his act together enough to do that, particularly as they experience life under the presidency of a man who clearly does not.

Sanders's refusal to bend on any issue, no matter how minor, may be endearing to his most passionate supporters, but he's doing both them and the country a disservice. An unbending approach to minutiae harms not only him, but his movement — and begins to look selfish and entitled. A million people have raised their hands to volunteer to make Sanders president. They deserve more from him.
This strikes me as correct. Sanders did say on The Daily Show this week that we would be releasing ten years of returns "soon" and Grim interprets the exchange to mean April 15th, although other media outlets took a more nebulous interpretation of the promise.
I am to the point where I think we need to move the long-standing norm (which Trump broke) of tax disclosures by presidential candidates to the level of a legal requirement to do so. If you want to be the most powerful person in the country, if not the world, then transparency on these issues is well warranted.