Speaking of Voter Access…
Some recent political science on the subject.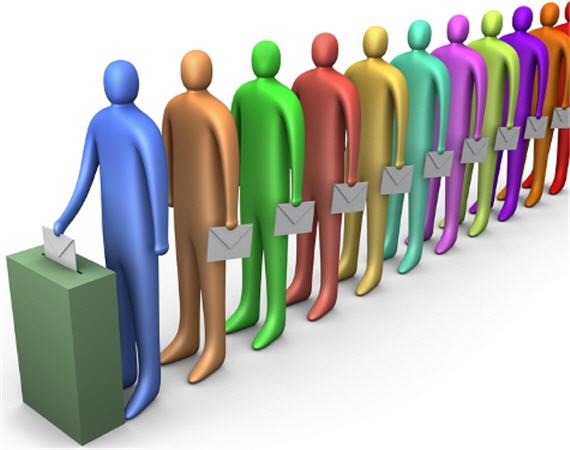 After my post on the lack of electoral fraud in Iowa (and the subsequent discussion), I noticed the following piece at The Monkey Cage:   States with higher black turnout are more likely to restrict voting.
This led me to the article in Perspectives on Politics by Bentele and O'Brien:  "Jim Crow 2.0?  Why States Consider and Adopt Voter Access Policies" (you can download the PDF at the link).
First, here is a table that summarizes the types, locations, and partisan control of states that have passed rules to regulate voter access from 2006-2011: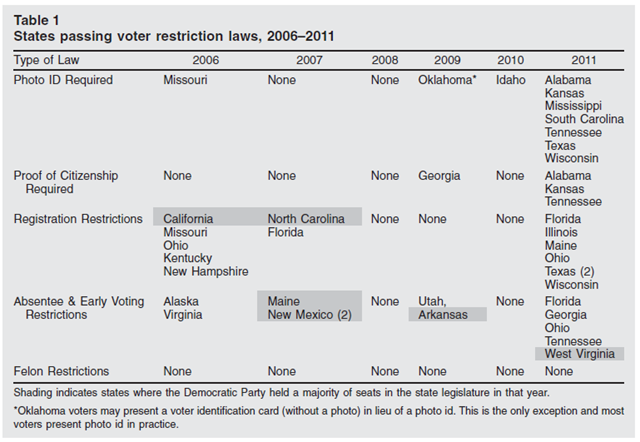 It is worth noting, as a matter of fact, that Republican-controlled states have been the most likely to pass such laws in general, and have exclusively passed the more restrictive versions of said laws.  This alone demonstrates a clear partisan element to the policy-making in question.  What this means is a different issue.  It could simply be that the Republican Party is more sensitive to this topic.  After all, the GOP has long been known as an anti-crime party.  On the other hand, it is difficult to ignore that the constituencies most likely to be affected by these rules vote Democratic, not Republican.  The article offers that this is almost certainly about strategic choices by Republicans politicians to pursue policies that will aid the GOP at the ballot box.
In their paper, Bentele and O'Brien note (1103):
Our analyses identify a very substantial and significant association between the racial composition of a state's residents or active electorate and both the proposal and passage of voter restriction legislation. This association is robust across multiple modeling approaches and controlling for a wide variety of relevant factors. Further, these findings demonstrate that the emergence and passage of restrictive voter access legislation is unambiguously a highly partisan affair, influenced by the intensity of electoral competition. The fact that in the context of heightened competition  Republican control increases while Democratic control reduces, the rate of restrictions passed underlines the highly strategic nature of these efforts.
Emphases mine.
If one goes back and looks at Table 1, one would see that the passage of these laws has been a recent phenomenon.  Figure 1 shows the significant uptick in the passage of such laws, as well an upward trend in proposals: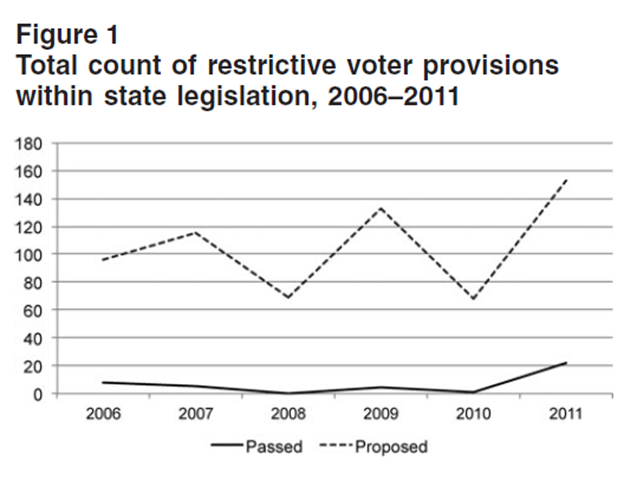 So, what happened in recent years?  A likely answer is 2008.  As the authors note (1105):
The historic magnitude of Republican losses in the 2008 election are hard to overstate.  Minority turnout and Democratic vote margins among minority voters increased substantially in 2008 and this boost is widely viewed as critical to Obama's election. Republican upsets at the presidential level in the South, (Florida, North Carolina, and Virginia) were particularly painful and alarming to many
Republicans.
As such, one can clearly see a strategic motive in these laws.  Along these lines from the article:
a voter-suppression perspective argues that parties have an incentive to suppress their opponents, as opposed to mobilizing new voters, when these new voters bring demands or positions that conflict with their existing base of supporters. In recent decades the Republican Party has both become more conservative on average and more ideologically homogenous.
The analysis continues to note that, as observers of American politics know, the GOP has been increasingly shaped by very conservative primary voters and have been having a great deal of strategic difficulty with both women and Hispanics.
Hence:
In a two party system, when mobilizing supporters is insufficient, demobilizing opponents may provide the only route to victory. The increasing effort put into voter suppression by the GOP in recent years may then be a reflection, in part, of these internal ideological and practical constraints on mobilizing new voters.
Setting aside the normative issues (such as valuing participation), the strategic incentives for Republicans is pretty clear.  These laws affect the poor (who are disproportionately minority citizens) and the elderly.  Some also target the ability of university students to vote where they go to school.  What do most of these voters have in common?  They tend to be Democratic constituents.  The linkages are hard to deny.  I would conclude by noting that the lack of substantial voter fraud undercuts the stated reasons for these rules.
Ultimately, these policies are either a rational strategic political response or they are an irrational response to a non-existent problem.  Neither interpretation is especially complementary to the politicians who pursue them.  The former explanation, however, appears to be the more accurate one.