Leader Of ISIS Believed Killed In Raid In Syria
There's apparently big news in the fight against ISIS.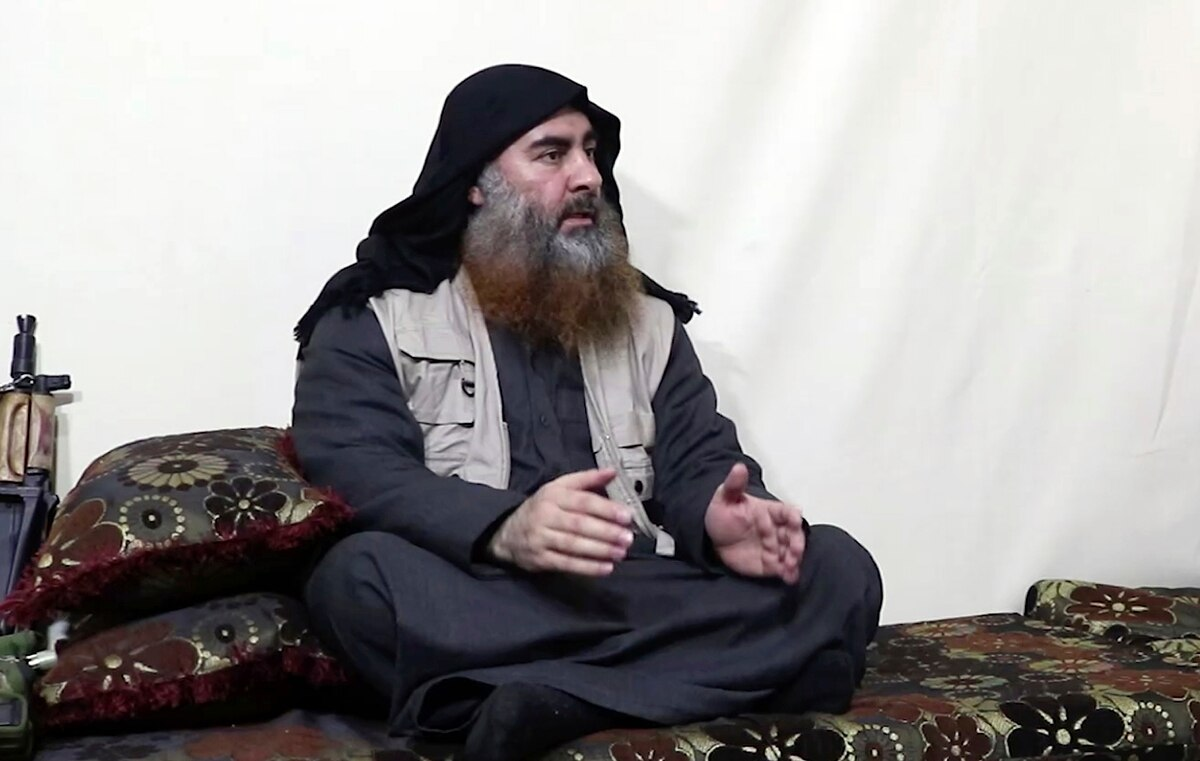 A raid in northwestern Syria has reportedly resulted in the death of the spiritual leader of ISIS, who has been in hiding since the Islamic State itself essentially ceased to exist last year:
The Trump administration launched a military operation in Syria targeting Abu Bakr al-Baghdadi, the elusive leader of the Islamic State, officials said late Saturday.

Special Operations forces conducted a raid in northwest Syria's Idlib province aimed at the militant leader, officials said, speaking on the condition of anonymity to discuss activities that have not yet been made public. It was not clear whether Baghdadi, who managed to evade a prolonged U.S. and allied campaign to locate him, was killed in the operation, they said.

Late Saturday, the White House said President Trump would make a "major announcement" at 9 a.m. Sunday. "Something very big has just happened!" the president tweeted.

The operation targeting Baghdadi was first reported by Newsweek. The Defense Department did not respond to requests for comment.

If confirmed, Baghdadi's death would bring a dramatic end to a years-long hunt for the man who spearheaded the Islamic State's transformation from an underground insurgent band to a powerful quasi-state that straddled two countries and spawned copycat movements across continents.

A former university professor who was once held in a U.S.-run prison in Iraq, Baghdadi has been erroneously reported killed or wounded multiple times.

One official said that, during the operation, an individual believed to be the militant leader appeared to have detonated an explosive vest and killed himself. Officials said they were now seeking to verify whether that person was in fact Baghdadi.

Gen. Mazloum Abdi, commander of the Syrian Kurdish forces that have long partnered with the United States in the fight against the Islamic State appeared to suggest on Sunday morning that his group was involved in the operation.

Successful historical operation as a result of joint intelligence work with the United States of America," he tweeted, without elaborating.

The group's spokesman, Mustafa Bali, followed up in a tweet of his own explicitly stating its involvement.

"Successful and effective operation by our forces is yet another proof of SDF's anti-terror capability. We continue to work with our partners in the global @coalition in the fight against ISIS terrorism."

Iraq's state-run Iraqiyah TV channel broadcast footage of what it called the aftermath of the attack, showing a rocky area marked by a crater and a pile of clothes on the ground, as well as a distant nighttime blast it said was the attack itself.

The Islamic State's self-proclaimed caliphate, which at its largest stretched across much of Iraq and Syria, has been largely destroyed following years of assaults by U.S., Syrian, Iraqi, European and other forces. But officials believe that the organization remains a formidable threat determined to regain strength.

While Baghdadi, a native of the Iraqi city of Samarra believed to be in his mid-40s, has remained a reclusive figure even to his followers, he urged militants in an audio message issued last month to conduct attacks against security forces and to attempt to break imprisoned brethren out of jail.

(…)

Turkey's Defense Ministry said Ankara and Washington's respective military authorities coordinated and exchanged information prior to the U.S. operation in Idlib overnight.

According to Javed Ali, a former White House senior director for counterterrorism, the death of Baghdadi would be a "huge blow." But, like the killing of al-Qaeda leader Osama bin Laden by U.S. forces in 2011, it "will not lead to strategic defeat," he said. Ali noted that ISIS has proved resilient despite the physical loss of its caliphate. "That's something we learned in the aftermath of the bin Laden raid," another high-risk mission.

The raid targeting Baghdadi took place outside of the area where the U.S. military, which began airstrikes on Islamic State positions in Syria in 2014 and established a ground mission the following year, has focused its campaign in recent years. But there have been occasional U.S. attacks on militant targets in Idlib, including an airstrike last month.
The New York Times is similarly non-committal on reporting if it is in fact al-Baghdadi who was killed. CNN, though, seems to be leaning toward the side of effectively confirming it is without officially doing so:
ISIS leader Abu Bakr al-Baghdadi is believed to have been killed in a raid conducted by the US military in northwest Syria on Saturday, according to a senior US defense official and a source with knowledge. The final confirmation is pending while DNA and biometric testing is conducted, both sources tell CNN.

The defense official said it appears that Baghdadi detonated a suicide vest during the raid.

The raid was carried out by special operations commandos, a source familiar with the operation told CNN.

The CIA assisted in locating the ISIS leader, the defense official said. Iraqi forces also gave "important information" in the operation, Maj. Gen. Tahseen al-Khafaji, a spokesperson for the Iraqi Joint Operations told CNN.

The Kurdish-lead Syrian Democratic Forces (SDF) tweeted that there was a "successful" joint operation with the US — but did not specifically name what that operation was or give any further details."Successful & historical operation due to joint intelligence work with the United States of America," Mazloum Abdi, SDF General Commander tweeted Sunday.

Newsweek first reported that Baghdadi was believed to have been killed.

President Donald Trump is scheduled to make a major announcement Sunday at 9 a.m., White House deputy press secretary Hogan Gidley announced. An administration official tells CNN that the announcement is foreign policy related.

The Pentagon did not immediately respond to a request for comment.

White House officials were at the White House late Saturday evening in preparation for an announcement. One official told CNN it would be held in the Diplomatic Reception Room.

Trump stoked speculation when he tweeted Saturday evening "something very big has just happened!"
Fox News National Security Correspondent Jennifer Griffin, reported on Twitter that facial recognition appears to have positively identified al-Baghdadi, but that DNA testing will take up to a day to get back as well as operational information about the raid, which apparently included elements of the Army Rangers and Delta Force along with some form of support from Kurdish forces:
It has not been officially confirmed that the person who died in the raid was al-Baghdadi, although military officials are apparently telling reporters that there is "a high degree of confidence" that it is him. As with the death of Osama bin Laden in a raid in May 2011, that will have to await further forensic testing and, if possible DNA testing. In bin Laden's case, the United States was able to confirm the identity of bin Laden's corpse both through visual observation and through DNA tests made possible by other cooperation from other members of the bin Laden family It's not known if American military or intelligence sources have DNA samples to compare in this case, nor is it clear what other means of identification they might have, or how long it will take to confirm his identity. It's also worth noting Baghdadi has been believed dead, or badly and even mortally injured several times in the past. Those reports though followed bombing raids at locations where he was believed to be present and there was no way of verifying his death. This time, we have a body so confirmation should be easier. President Trump is scheduled to speak at 9:00 a.m. this morning from the White House, though, and perhaps we'll learn more then.
Trump will take credit for the death of the spiritual leader of ISIS and since it happened under his watch he's entitled to do so just as Obama took credit for bin Laden's death. What is ironic is the fact that the raid was apparently made possible based on intelligence developed by the Central Intelligence Agency, part of the so-called "Deep State" that Trump claims have conspired to undermine his Presidency. It's also interesting to note that Kurdish forces were involved in the raid, especially given the fact that Trump stabbed the Kurds in the back with the withdrawal from northeastern Syria. (The raid took place in northwestern Syria near the border with Turkey,)
It's unclear that Baghdadi's death will have a big impact on ISIS. As noted Baghdadi was more a spiritual leader than a military or operational leader so his death may not mean much for whatever effectiveness the organization still has. Indeed, the manner in which he apparently died may result in him becoming a martyr reenergizing the group. Addiitionally, ISIS has become as much an ideology as a movement centrally controlled by Baghdadi or anyone else. It has "affiliates" that have pledged support to the group in areas as geographically diverse as Yemen, Afghanistan, Libya, and Central Africa, If this is Baghdadi, though, that's admittedly a big win in the fight against ISIS. What impact it will have going forward is something only the future can tell.
Update: President Trump confirmed al-Baghdadi's death in his statement this morning:
U.S. special operations forces killed the Islamic State leader Abu Bakr al-Baghdadi in a raid in northwestern Syria, President Donald Trump announced today from the White House.

The self-declared caliph of ISIS detonated a suicide vest, killing himself and three children after he was cornered in a tunnel. "The thug who tried so hard to intimidate others spent his last moments in utter fear, in total panic and dread, terrified of the American forces bearing down on him." No U.S. personnel were lost in the raid, Trump said.

"Baghdadi's demise demonstrates America's relentless pursuit of terrorist leaders and our commitment to the enduring and total defeat of ISIS and other terrorist organizations," he said.

The death of Baghdadi, long considered the most wanted man in the world, came amid weeks of acrimonious debate in Washington about the U.S. role in Syria after Trump's efforts to remove troops from the region.The abrupt withdrawal allowed scores of ISIS prisoners to escape and could allow the rebirth of an Islamic State sanctuary.

The raid was launched from Iraqi territory. "This raid was impeccable and could only have taken place with the acknowledgment and help of certain other nations and people," he said. "I want to thank the nations of Russia, Syria, Turkey, and Iraq, and I also want to thank the Syrian Kurds for certain support they were able to give us.

After years of rare and unconfirmed sightings, Baghdadi resurfaced in an unverified video in April, rallying his followers in Iraq and Syria following the group's loss of its so-called caliphate.

The U.S. had placed a $25 million bounty on the ISIS leader's head.

(…)

Trump used unusually vivid, even gory, language in describing al-Baghdadi's final moments — words that some regional experts feared could anger Islamist extremists in the region even more.

The terrorist leader was "crying, whimpering and screaming" as he ran with three children into a dead-end tunnel, Trump said. Baghdadi ignited a suicide vest that killed him and the children, and it collapsed the tunnel. A DNA test confirmed Baghdadi's identity, Trump added.

Trump likened Baghdadi to a "dog." U.S. canines helped hunt him down, the president said.

"He was a sick and depraved man, and now he's gone," Trump said, adding at one point that he would support making public Baghdadi's final moments.

Dana Shell Smith, a former U.S. ambassador to Qatar, warned that being so descriptive could backfire by stoking more anger toward the United States.

She pointed out that former President Barack Obama was far more careful in describing al-Qaida chief Osama bin Laden's killing. The Obama administration even pointed out that it gave bin Laden's body an Islamic funeral ritual before slipping it into the ocean.

"It was important for our relationships in the region and safety of our military and diplomats," the former ambassador wrote on Twitter. "It's how America rolls. With honor. We don't delight in death like the terrorists do
Here's the video of the statement: