Stage Set For Twelve Person Debate
The next Democratic Debate will have the most people on stage at one time of any debate so far.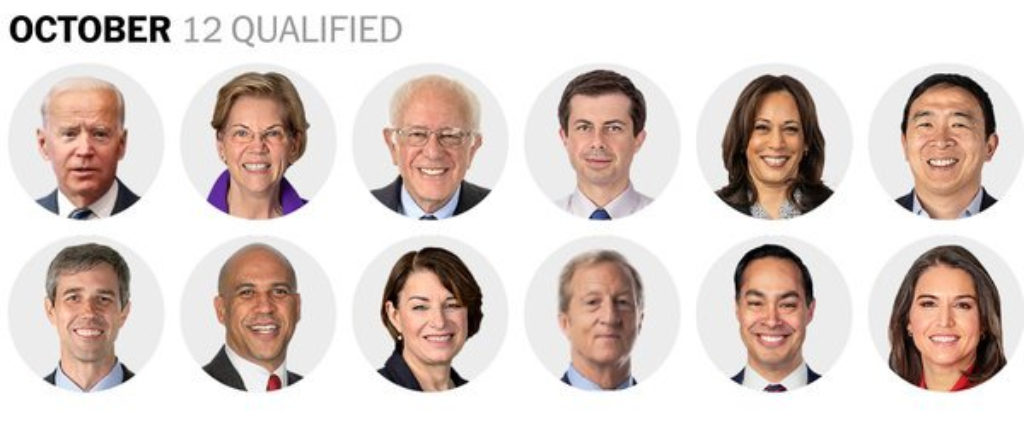 The schedule has been set for the next Democratic debate and, while it will thankfully be limited to just one night, it will also feature the biggest single-night stage of the season:
WASHINGTON — The fourth Democratic presidential debate will feature the biggest stage ever, with 12 candidates together for one night only, the debate's sponsors announced Wednesday.

The Oct. 15 event at Otterbein University in Westerville, Ohio, just outside Columbus, will include every candidate who qualified, instead of splitting the massive field over two nights as Democrats did in their first two debates earlier this year, when no more than 10 candidates appeared together.

Former Vice President Joe Biden and Massachusetts Sen. Elizabeth Warren, will be centerstage, reflecting their lead in polls, while lower-performing candidates were placed towards the wings.

Biden will have progressive rivals on both sides of him — Warren to his left and Vermont Sen. Bernie Sanders, I-Vt. to his right, while Mayor Pete Buttigieg of South Bend, Indiana will be on Warren's other side.

The next rung out will feature California Sen. Kamala Harris and entrepreneur Andrew Yang, followed by New Jersey Sen. Cory Booker and former Texas Rep. Beto O'Rourke.

Filling out the rest of the stage will be Minnesota Sen. Amy Klobuchar, billionaire Tom Steyer, Hawaii Rep. Tulsi Gabbard and former Housing Secretary Julián Castro.

The only newcomer to the 2020 debates will be Steyer, who entered the race late but has already spent at least $17 million of his own money on TV and radio ads to catch up.

All 12 candidates met the Democratic National Committee's qualifications for the CNN/New York Times debate, which included registering at least two percent in four qualifying polls and receiving donations from at least 130,000 online donors.
In related news, the campaign of Senator Bernie Sanders, who has been off the campaign trail for most of the week after experiencing chest pains and having an emergency procedure earlier this week, announced that the candidate will be at the debate in roughly ten days, although it is not clear when he will resume his normal level of campaigning:
Democratic presidential candidate Bernie Sanders, who is in Las Vegas recovering from a procedure to treat a blocked artery, is expected to return home to Vermont by Sunday and plans to participate in the upcoming Democratic debate, according to his wife, Jane Sanders.

"His doctors are pleased with his progress, and there has been no need for any additional procedures," Jane Sanders said in a written statement released by the campaign on Thursday. "We expect Bernie will be discharged and on a plane back to Burlington before the end of the weekend."

She said Sanders would "take a few days to rest, but he's ready to get back out there and is looking forward to the October debate."

The next debate will be held on Oct. 15 near Columbus, Ohio. CNN and the New York Times will host the debate, which will air in prime time and is expected to draw millions of viewers.

Thursday's announcement was the most concrete indicator of the Vermont senator's timeline for returning to the campaign after doctors found the blockage and inserted two stents earlier this week.

It remained unclear whether Sanders, 78, would resume his normal campaign activities before the debate. Jeff Weaver, a senior Sanders adviser, said Wednesday that Sanders had canceled appearances "until further notice."

The overall state of Sanders's health was also unclear. A spokesman declined to provide more specifics about his condition beyond the statement from Jane Sanders.

But the campaign signaled Thursday that it intended to keep pressing ahead in the early nominating states. A TV ad campaign in Iowa the Sanders team had abruptly put off will begin on Tuesday, a campaign spokesman said. It is backed by $1.3 million and is slated to run for two weeks.
Originally, the DNC had stated that debates would be limited to ten persons on the stage at a time, so that could have meant that the October debate could have been divided up at six candidates each, with the participants for each night selected at random. The disadvantage of this format, of course, is the fact that it could mean that the frontrunners in the race could end up on different nights as happened in the first and second debates. The advantage is that a debate with six people per night actually has the potential to be substantive while a twelve-person debate will likely be somewhat more chaotic than the ten-person affairs we've seen to date. Despite that, I can see the logic of keep this limited to one night for both the DNC and for CNN, which will be broadcasting this month's event.