Standard & Poor's Cites Tea Party Resistance To Debt Ceiling Increase As Factor In Downgrade
Denying the Tea Party's role in the downgrade of U.S. debt is to deny reality.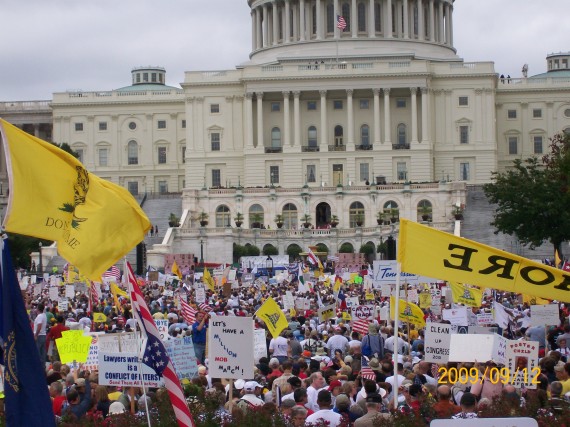 Pushing back against the assertions of people like Michele Bachmann, who has tried to claim that the downgrading of America's debt somehow vindicates her position that the debt ceiling never should have been raised, a Standard & Poor's director has said that it was people like Michele Bachmann who led them to make the decision to downgrade:
A Standard & Poor's director said for the first time Thursday that one reason the United States lost its triple-A credit rating was that several lawmakers expressed skepticism about the serious consequences of a credit default — a position put forth by some Republicans.

Without specifically mentioning Republicans, S&P senior director Joydeep Mukherji said the stability and effectiveness of American political institutions were undermined by the fact that "people in the political arena were even talking about a potential default," Mukherji said.

"That a country even has such voices, albeit a minority, is something notable," he added. "This kind of rhetoric is not common amongst AAA sovereigns."

The statement seems likely to bolster one Democratic line of attack, that it was tea party intransigence — not a shortcoming of leadership by President Barack Obama — that is to blame for the U.S. downgrade, from AAA to AA+. Obama himself called on Republicans to "put country ahead of party" Thursday — a dig at conservatives in Congress who are blocking his agenda.

GOP leadership in the House and Senate was vocal in warning about the dangers of default. But some lawmakers blasted warnings by the Obama administration that a failure to raise the debt ceiling would unleash an economic catastrophe, including Republican presidential candidate Rep. Michele Bachmann (R-Minn.), who voted against the debt limit increase and said the nation would avoid default even without a deal.

"I want to state unequivocally for the world, as well as for the markets, as well as for the American people: I have no doubt that we will not lose the full faith and credit of the United States," Bachmann said
Of course, anyone who had actually read S&P's August 5th statement would have already known this:
We lowered our long-term rating on the U.S. because we believe that the prolonged controversy over raising the statutory debt ceiling and the related fiscal policy debate indicate that further near-term progress containing the growth in public spending, especially on entitlements, or on reaching an agreement on raising revenues is less likely than we previously assumed and will remain a contentious and fitful process. We also believe that the fiscal consolidation plan that Congress and the Administration agreed to this week falls short of the amount that we believe is necessary to stabilize the general government debt burden by the middle of the decade.

(…)

The political brinksmanship of recent months highlights what we see as America's governance and policymaking becoming less stable, less effective, and less predictable than what we previously believed. The statutory debt ceiling and the threat of default have become political bargaining chips in the debate over fiscal policy. Despite this year's wide-ranging debate, in our view, the differences between political parties have proven to be extraordinarily difficult to bridge, and, as we see it, the resulting agreement fell well short of the comprehensive fiscal consolidation program that some proponents had envisaged until quite recently. Republicans and Democrats have only been able to agree to relatively modest savings on discretionary spending while delegating to the Select Committee decisions on more comprehensive measures. It appears that for now, new revenues have dropped down on the menu of policy options. In addition, the plan envisions only minor policy changes on Medicare and little change in other entitlements, the containment of which we and most other independent observers regard as key to long-term fiscal sustainability.
In other words, the downgrade was primarily motivated by two factors. First, there's the fact that debt package that Congress finally got around to enacting was smaller than what S&P had been saying for weeks would be necessary to maintain the nation's AAA credit rating. So, yes, it's true that the spending cuts in the final deal are too small, but that's largely because the parties could never come to an agreement on the $4-6 trillion "Grand Bargain" because the GOP would not accept any tax increases. The second factor leading to the downgrade, though, was the fact that it even took six weeks of mostly pointless legislative wrangling and negotiations to get to the point where we came to an agreement to do something that had been done without significant controversy more than 75 times before; raise the debt ceiling so that we could continue paying our bills. When August 2nd came and we got a crappy debt deal and a vocal minority of Congress who continued to say that we didn't need to raise the debt ceiling at all, it shouldn't have surprised anyone that S&P responded the way that they did. As Mukherji said, this isn't the kind of behavior one should expect from a  country with a AAA credit rating.
Of course, it's not like people weren't warning Congress about this. Moody's warned in June that failure to raise the debt ceiling would put the nation's credit rating at risk. A Republican economic analyst and former Bush 43  adviser to George W. Bush warned that failure to raise the debt ceiling would result in an immediate 40% cut to Federal Spending, which would have a serious downward impact on the economy. Moody's analyst Mark Zandi said that not raising the debt ceiling would lead to another recession. Zandi's prediction didn't seem that far off given the extent to which an immediate 40% reduction in spending would impact private business across a wide swath of the economy. Moreover, failure to raise the debt ceiling would also likely have had a negative impact on the budgets of nearly every state, and many large localities. The evidence was there for anyone willing to listen to it, and the term "debt kamikaze" was rightly applied to those in the GOP who continued to say, despite the evidence. that the debt ceiling should not be raised.
This isn't to suggest that only the Tea Party is responsible for the debt downgrade, because that clearly isn't what S&P is saying. The six weeks or so of debt negotiations made clear that our entire political system is incapable of dealing with simple spending issues without devolving into a partisan shouting match. The GOP's "no tax increases" orthodoxy is an unreasonable position, but so is the resistance in the Democratic Party to any type of real entitlement reform and the ease with which they respond to Republican efforts to fix programs that are, in the long run, doomed to insolvency, with demagoguery and political manipulation. Greg Sargent and Steve Benen both wonder, rightly, how Michele Bachmann can be taken seriously after she continues to make demonstrably false claims on this issue. If it were up to me, everyone in the GOP would agree with Joe Scarborough and myself with it came to that particular issue. Nonetheless, one wonders why they are so silent when the left makes idiotic claims about Republican efforts to reform Medicare by comparing it to throwing Grandma over a cliff in a wheelchair. This is what I mean when I say both sides are at fault, neither really wants to solve the problems we face, they just want to know how that can manipulate them to the political advantage of their party. Until that changes, we're going to continue down the same path, and there will be more downgrades in our future.