Stanley McCrystal, Yale Professor
General Stanley McChrystal has been hired to teach leadership at Yale.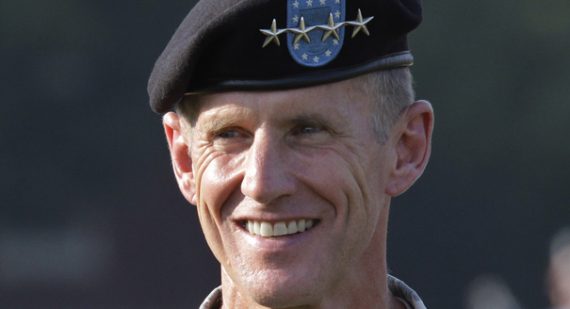 General Stanley McCrystal, last seen getting relieved of his post as commander in Afghanistan after a Bud Lite Lime-fueled rant to a Rolling Stone reporter, has done what thousands of PhDs couldn't: Landing a full time teaching position at a good university.
Gen. Stanley McChrystal, who was forced to retire in July after an embarrassing Rolling Stone article quoted him and his staff making disparaging remarks about top White House officials, is taking a job at Yale, POLITICO has learned.

McChrystal will teach grad students a course in leadership at the Jackson Institute for Global Affairs in New Haven, which is opening this fall. He'll be in good company: McChrystal will join John Negroponte, the former U.S. ambassador and former deputy secretary of state, as well as former Mexican President Ernesto Zedillo at the institute.
He's obviously well qualified for the job; four decades in the military certainly beats a couple years writing a dissertation.
It's amusing, though, that Yale is hiring up generals and neocons.   Aren't they supposed to be a bastion of lefty pacifism?