State Of The Union Ratings Hit 15 Year Low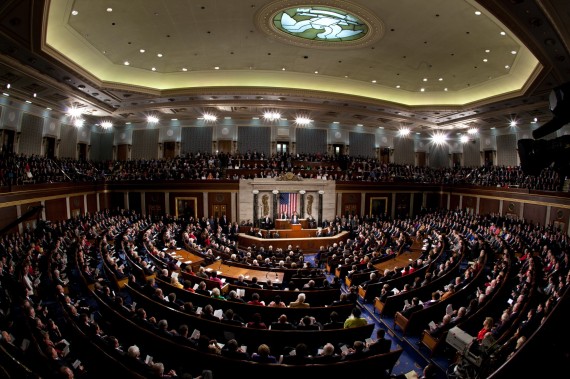 Last Tuesday's State of the Union Address saw the lowest viewership numbers of any of those that President Obama has delivered and the lowest in fifteen years:
Television viewership for President Obama's State of the Union address Tuesday night fell to a 15-year low, according to numbers from Nielsen.

The 1-hour, 15-minute speech drew an average of 31.7 million viewers on broadcast and cable networks, the audience tracking firm said.

The combined figure is down about 5% from last year's State of the Union address, which clocked in at 33.3 million viewers.

This year's count, which does not include people who streamed the event online, was the lowest since President Clinton's final State of the Union in 2000. That speech pulled in just under 31.5 million viewers.

Nielsen's combined tally included networks ABC, CBS, NBC, Fox, Al Jazeera America, Azteca, CNN, Fox Business Network, Fox News Channel, Galavision, MSNBC, MundoFox and Univision.

Fox News Channel topped cable news ratings for the speech with about 3.5 million viewers.

However, overall viewership for the network slipped from last year's broadcast, which drew in about 4.7 million viewers.

CNN, which came in second overall, brought in roughly 2.5 million people overall, up from last year's 2.1 million. But the network edged ahead of Fox News in the key 25-to-54-year-old demographic with 1 million viewers to 934,168.

MSNBC's audience dropped year-over-year to roughly 2 million viewers. In the key demo, 473,460 people tuned in during the address.

Among the broadcast networks, CBS' coverage averaged 7.3 million viewers and was the second-most watched program of the night. The network benefited on the East Coast from the lead-in of "NCIS," which was No. 1 overall with 11.8 million viewers.

Meanwhile, NBC's State of the Union broadcast was up from last year with 5.3 million viewers. ABC pulled in 4.7 million viewers and Fox averaged 3 million viewers, up 5%.
To some extent, of course, the declining audience can likely be found in those people who watch events like this through various streaming services. However, it's also likely that the fact that this speech occurred in the sixth year of his Presidency accounts for a good part of the drop off in viewership. In 2009, for example, President Obama's first State Of The Union drew some 52 million viewers, which is understandable given it was the first address by a new President. The fact that it has dropped off by some 20 million viewers since then is no doubt a reflection of the fact that the public realizes there isn't much more the President can say and because the speech itself is utterly pointless.