Stay Classy NY Daily News!
And now for a little, well needed, levity.
On Monday, while guest hosting a Tri-State area Sports-Talk radio show, New Jersey Governor Chris Christie called New York Daily News Jet's beat writer Manish Mehta an "idiot" and a bunch of other names over Mehta's coverage of a Jet's press conference.
Yesterday, the Daily News swung right back: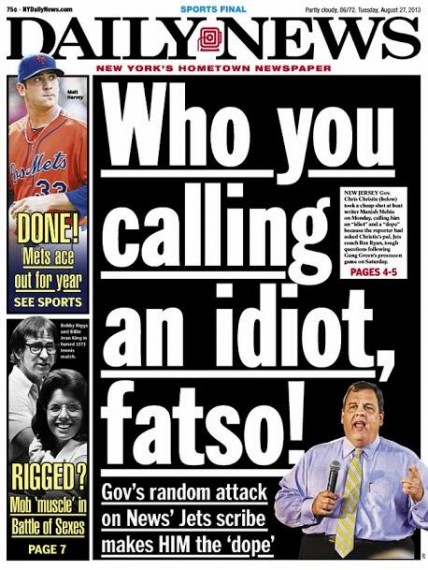 Mediaite has a good writeup of the tits-for-tats.
Before anyone decries this as "the death of American Journalism", let me point out that this type of back-and-forth is actually a better representation of the contentious relationship between the American Press and politicians than folks realize. It goes all the way back to colonial times. If anything, the relative politeness of the last fifty years is the actual aberration.