Stay in School, Drink More
The more education you have, the more you're likely to spend on booze.
Matt Yglesias provides this handy chart from the Bureau of Labor Statistics: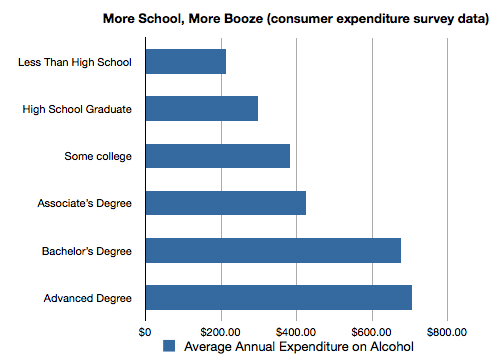 What this means, exactly, is open to speculation. Since I have a PhD and a blog, I shall take advantage of the opening.
Increasing levels of education correlates with increased income and, presumably, more disposable income. As people attain more education and income, they're likely to switch from cheap beer (Miller Lite) and cheap booze (Seagrams gin, Jim Beam bourbon) to better and more expensive beer (say, Dogfish Head 120) and booze (Bombay Sapphire gin, Macallan 12 Scotch). Also, they'll drink wine that comes in bottles not boxes. Additionally, they'll be more likely to drink at bars and pricey restaurants, thinking nothing of paying $6 for a pint of beer, $9 for a glass of wine, or $12 for a cocktail.
Alternatively–and not exclusive of the above–they're more likely to have high stress jobs and drink on a daily basis.