Steve Bannon Subpoenaed In Connection With Mueller's Russia Investigation
Former White House and Trump campaign adviser Steve Bannon has been subpoenaed in connection with special counsel Robert Mueller's Russia investigation.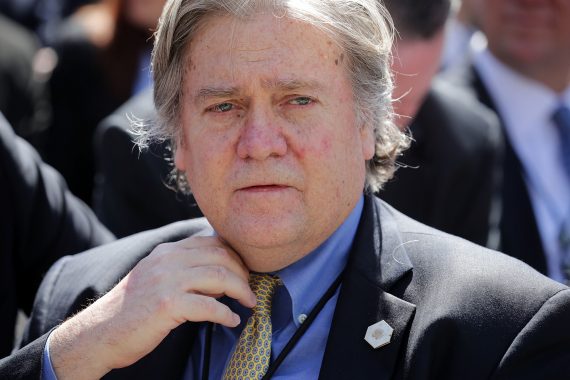 Donald Trump's former top adviser Steve Bannon has been subpoenaed to testify before the Grand Jury that has been dealing with special counsel Robert Mueller's investigation into Russian interference in the 2016 election and possible collusion between Trump campaign officials and representatives of the Russian government:
WASHINGTON — Stephen K. Bannon, President Trump's former chief strategist, was subpoenaed last week by the special counsel, Robert S. Mueller III, to testify before a grand jury as part of the investigation into possible links between Mr. Trump's associates and Russia, according to a person with direct knowledge of the matter.

The move marked the first time Mr. Mueller is known to have used a grand jury subpoena to seek information from a member of Mr. Trump's inner circle. The special counsel's office has used subpoenas before to seek information on Mr. Trump's associates and their possible ties to Russia or other foreign governments.

The subpoena could be a negotiating tactic. Mr. Mueller is likely to allow Mr. Bannon to forgo the grand jury appearance if he agrees to instead be questioned by investigators in the less formal setting of the special counsel's offices about ties between Mr. Trump's associates and Russia and about the president's conduct in office, according to the person, who would not be named discussing the case. But it was not clear why Mr. Mueller treated Mr. Bannon differently than the dozen administration officials who were interviewed in the final months of last year and were never served with a subpoena.

The subpoena is a sign that Mr. Bannon is not personally the focus of the investigation. Justice Department rules allow prosecutors to subpoena to the targets of investigations only in rare circumstances.

On Tuesday, Mr. Bannon testified behind closed doors before the House Intelligence Committee, which is also investigating Russia's meddling in the 2016 election and ties between the Trump campaign and Russia. Mr. Bannon did not address reporters before entering the proceeding on Tuesday, and a spokesman for Mr. Mueller and a senior White House lawyer did not respond to messages seeking comment.

Mr. Mueller issued the subpoena after Mr. Bannon was quoted in a new book criticizing Mr. Trump, saying that Donald Trump Jr.'s 2016 meeting with Russians was "treasonous" and predicting that the special counsel investigation would ultimately center on money laundering.

After excerpts from the book, "Fire and Fury: Inside the Trump White House," were published this month, Mr. Trump derided Mr. Bannon publicly and threatened to sue him for defamation. Mr. Bannon was soon ousted as the executive chairman of the hard-right website Breitbart News.

Some legal experts said the subpoena could be a sign that the investigation was intensifying, while others said it may simply have been a negotiating tactic to persuade Mr. Bannon to cooperate with the investigation. The experts also said it could be a signal to Mr. Bannon, who has tried to publicly patch up his falling-out with the president, that despite Mr. Trump's legal threats, Mr. Bannon must be completely forthcoming with investigators.

Prosecutors generally prefer to interview witnesses before a grand jury when they believe they have information that the witnesses do not know or when they think they might catch the witnesses in a lie. It is much easier for a witness to stop the questioning or sidestep questions in an interview than during grand jury testimony, which is transcribed, and witnesses are required to answer every question.

"By forcing someone to testify through a subpoena, you are providing the witness with cover because they can say, 'I had no choice — I had to go in and testify about everything I knew,'" said Solomon L. Wisenberg, a prosecutor for the independent counsel that investigated Bill Clinton when he was president.

Significant grand jury activity may undermine the case that White House officials have made for months: that they believe the inquiry is coming to an end and are convinced that the president will be cleared. Mr. Mueller has told Mr. Trump's lawyers that he will probably want to question the president before the investigation concludes, but no interview has been scheduled.
Many of the events that have taken center stage in the ongoing investigation, including most notably the June 2016 meeting between Donald Trump Jr, Jared Kushner, Paul Manafort and a Russian attorney purported to have ties to the Russian government and information detrimental to Hillary Clinton and her campaign. However, his close association with Trump between the time he joined the campaign in August 2016, his August 2017 dismissal from the White House, and his recent falling out with both the White House and his colleagues at Breitbart News suggests that he may have had access to information relevant to Mueller's investigation as well as information regarding White House operations and the actions taken by the President and his staff in connection with the Russia investigation. This includes everything ranging from the dismissal of Lt. General Michael Flynn and whether or not President Trump knew that Flynn had lied to the FBI as well as Vice-President Pence, the discussions leading up to and subsequent to the firing of F.B.I. Director James Comey, and the drafting of the White House's initial response to the reports about the aforementioned June 2016 meeting with the Russian lawyer which later proved to be entirely untrue. Additionally, Bannon is likely to have information regarding other players in the investigation including Trump Jr., Manafort, Kushner, Stephen Miller, and other close Trump associates that were part of Trump's inner circle.
This announcement came on the same day that Bannon was on  Capitol Hill to speak with members of the House Intelligence Committee as well as committee staffers. While we don't know the content of those discussions, it's likely that questions focused on many of the same subject areas that I made note of above, as well as perhaps Bannon's conversations with others in the White House such as former Chief of Staff Reince Priebus and current Chief of Staff John Kelly. In the past, Bannon has said that he was not directly involved in anything having to do with Russia, but that doesn't mean that he didn't have conversations about the topic, or that he wasn't involved in discussions about the political implications of the investigation for the Administration and the President as well as tactical and strategic discussions about how to respond to the investigation itself and to the media reports about Russian interference and alleged collusion between Russia and the Trump campaign.
Given all of that, Bannon could prove to be quite a useful witness for Mueller.