Steve King Facing Serious Republican Challenge In Iowa
Steve King, who has recently come under attack for a long history of racist remarks, is facing a strong challenge for the GOP nomination in 2020.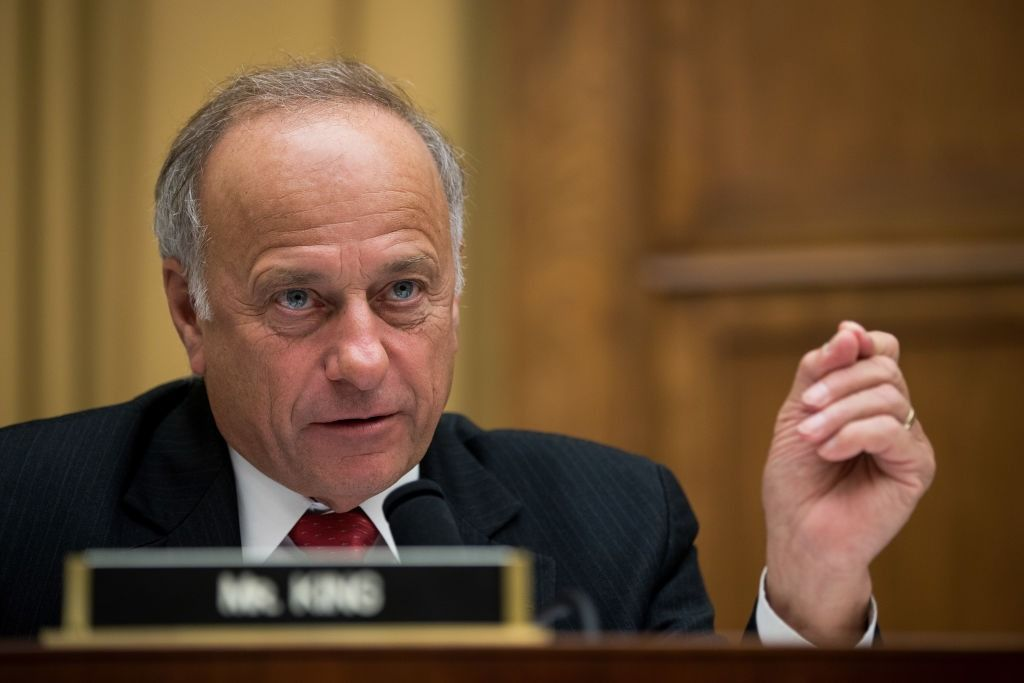 Iowa Congressman Steve King, who became the focus of national controversy earlier this year when the media and fellow Republicans began focusing on racist remarks that he had made in the past is facing a serious primary challenge back home:
A primary election challenger to Rep. Steve King (R-Iowa) raised more than four times as much in campaign donations during the first quarter of the year, a threatening sign for an incumbent who often stokes controversy with white supremacist and racist rhetoric.

King raised $61,666 in the first three months of 2019, according to campaign disclosure reports. The lawmaker spent more than $69,500 in the same period and had just over $18,000 in cash on hand.

A Republican challenger, state Rep. Randy Feenstra, said earlier this month he had raised more than $261,000 in his bid to unseat King in Iowa's 4th Congressional District.

Feenstra announced his campaign in January, lambasting King for his "caustic nature" that had left Iowans "without a seat at the table."

"We don't need any more sideshows or distractions," Feenstra said at the time. "We need to start winning for Iowa's families."

Earlier this month, Feenstra praised the "incredible support" of voters, saying he received donations from more than 500 people, most in Iowa.
"Iowa conservatives desperately need a seat at the table in Congress and I am humbled that so many supporters have put their trust in us," Feenstra told the Sioux City Journal.
The Hill, meanwhile, reports that the latest fundraising reports show King spending more than he's receiving in the form of donations:
Rep. Steve King's (R-Iowa) campaign operated in a deficit last quarter, spending about $8,000 more than the amount it took in.

King's campaign took in just $61,666.52 during the first quarter of 2019, including $4,000 from PACs and the remainder from individual donors. His expenditures, meanwhile, topped $69,501.68 for the quarter, according to FEC filings.

A request for comment to King's reelection campaign was not immediately returned. According to his FEC filings, King's campaign has just over $26,000 cash on hand following the Iowa congressman's close reelection battle last November against Democrat J.D. Scholten, who came within single digits of ousting King.

The nine-term lawmaker could face another heated battle for reelection in 2020, as Iowa state Sen. Randy Feenstra (R) announced in January that he would mount a primary campaign against the controversial congressman. King has faced criticism from members of both parties over remarks he made about white supremacy.

Feenstra's bid to unseat King raised more than $100,000 in its first 10 days.
King's political problems began in January as the result of an interview with The New York Times during which the nine-term Iowa Republican questioned why favoring white supremacy was a bad thing and acknowledged his previous history of racist comments without repudiating them, was only the latest development in a long history of racist comments by the ten-term Iowa Congressman. This is, after all, a man who made his fame as the Republican Party's loudest and most vitriolic voice in the anti-immigrant wing that began to grow late in the term of George W. Bush when party activists blocked an immigration reform plan back by Bush and Republican leaders in the House and Senate. In the past, he has also become more and more bigoted in his comments about Muslims, including incidents in which he has spoken out against Muslims being allowed in the United States, suggested that Muslim-Americans should be barred from holding office, and against those who were elected and chose to be sworn in with their hand on a copy of the Koran.
Over the years, King has seemingly become more open about his sympathy for what are clearly white supremacist points of view, and an examination of his history shows he has a long history of remarks that can only be described as racist. Over the course of the past several years, for example, King has endorsed a candidate for Mayor of Toronto, Canada who has neo-Nazi ties, he has met with the leaders of a far-right political party in Austria that has been accused of questioning and downplaying the seriousness of the Holocaust. Among the accounts he follows on Twitter is an activist on the far-right of Australian politics who has, among other things, called for the hanging of a portrait of Adolf Hitler in every classroom in that country. On Twitter, he follows an Australian anti-Semitic activist, who proposed hanging a portrait of Hitler "in every classroom."
When he spoke with a far-right publication in Austria last year, King seemed very familiar with racist conspiracy theories, books, and ideas embraced by white supremacists and neo-Nazis across the globe. For example, as the Times article noted, King spoke of something called "the Great Replacement," which is basically a far-right conspiracy theory that so-called "elites" are seeking to reduce white populations across the globe and replace them with minority groups from other parts of the world. This is the conspiracy theory that inspired the torch-bearing protesters in Charlottesville who chanted slogans such as "Blood And Soil!," a slogan that has its roots in Nazi Germany, and "Jews will not replace us!" King has also forged close ties with far-right political leaders in Europe such as France's Marine Le Pen and Geert Wilders of the Netherlands, who has built his reputation on being one of the most virulent anti-Muslim politicians in Western Europe and has advocated ideas such as closing mosques. in response to the influx of mostly Muslim refugees and immigrants from Syria and other parts of the Middle East. In March of 2017, King tweeted his endorsement of Wilders in a tweet, saying that "We can't restore our civilization with somebody else's babies."
Domestically, King has become something of a hero to those on the so-called alt-right who have become more open about their beliefs in the wake of President Trump's election. Andrew Anglin, who operates the far-right website Daily Stormer, and who joined others on the white supremacist right in celebrating Trump's win in 2016, has been quoted as saying that King is "basically an open white nationalist at this point." More recently, when the new Congress was sworn in last week along with a record number of women and African-Americans, as well as Muslim and Native American women, King apparently remarked that the Democratic side of the chamber looked like "no country for white men."
While Republicans had ignored King's rhetoric in the past, and in many cases sought out his support during the quadrennial Iowa Caucuses, that has changed over the past six months or so as he has seemingly become more and more extreme in his rhetoric. Prior to the November General Election, for example, there was some speculation that King could actually lose his re-election bid. While that obviously didn't happen, King did only pull off a three-point win over his Democratic opponent, a far closer margin of victory than he had seen in the past. Additionally, King's comments to the Times, for which he remains unrepentant, led his fellow Republicans to strip him of his committee assignments and led many top agricultural companies to withdraw their support for his candidacy. Whether that, combined with a money race that. for the moment, King appears to be losing, is enough to finally end his career remains to be seen.