Steve Young To Earn More Than $1,000,000 Per Year Through 2027 On Old USFL Contract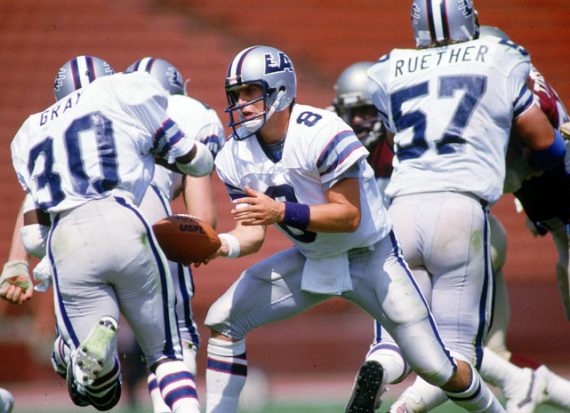 All the way back in 1984, Steve Young signed a contract with the Los Angeles Express of the long-defunct United States Football League that is about to start paying off for him quite handsomely:
Thanks to a forward-thinking contract Young signed with the upstart USFL, the Hall of Fame quarterback will be getting paid through 2027. Starting on January 1, Young will get $1 million per year and the total will escalate until $3.2 million by the time it ends.

Young signed a $40 million deal out of BYU with the Los Angeles Express. The massive contract was the result of a bidding war between Express owner  J. William Oldenburg, New Jersey Generals owner Donald Trump and the NFL. In the end, money, both upfront and deferred, won out. Young would get all the money, but spread out the final $36 million over more than 40 years.

Celebritynetworth.com explains:

After his bonus, Steve would earn just $200,000 in year one, $280,000 in year two, $330,000 in year four and $400,000 in year five. The remaining $30 million would be deferred over 37 years starting when Steve turned 28 and ending when he was 65 in the year 2027. The contract was backloaded, which meant that the payments would escalate to $1 million per year in 2014, then $2.4 million and eventually topping out at $3.173 million in the contract's final years.

Young eventually bought himself out of his USFL contract, but the backloaded annuity still remained.
Nice work if you can get it, I suppose