Stewart's Guardian Interview
Some observations about Stewart's interview (and some digression from me--okay, a lot of digression by me).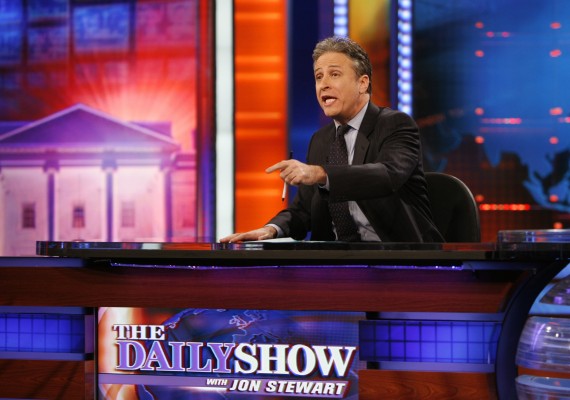 I would recommend the Jon Stewart interview in the Guardian:  Jon Stewart: why I quit The Daily Show, especially if one is a viewer of The Daily Show.
Apart from the biographical elements, two observations struck me as worth highlighting.  The first is about the nature of covering US politics (something to which I can relate, especially since I have been blogging for 12+ years):
If anything, it was the prospect of the upcoming US election that pushed him to leave the show. "I'd covered an election four times, and it didn't appear that there was going to be anything wildly different about this one," he says.
He reiterated this by noting what he sees as "an increasingly redundant process, which is our political process."
There is, unfortunately a lot to this observation. Part of this is just the nature of the beast, i.e., a set electoral calendar and specific processes equate to a very familiar set of beats every four years.  Further, the ability of our system to address major policy challenges is so anemic (both as a result of design and then further exacerbated by partisan realities) that at some point one has said all one can say on the subject and/or one tires of trying to reach the ears of those who have yet to hear what one has to say.
As such, I can fully understand why he wants to move on at this stage of his career (and why quitting now is the best timing).  Also, on that score, he is correctly trying to set up his successor:  "I also felt that, for the show, you don't want to leave when the cupboard's bare. So I think it's a better introduction when you have something providing you with assisted fuel, like a presidential campaign."
I was also struck by the following:
MSNBC, the liberal 24-hour news network, is, Stewart says, "better" than Fox News, "because it's not steeped in distortion and ignorance as a virtue. But they're both relentless and built for 9/11. So, in the absence of such a catastrophic event, they take the nothing and amplify it and make it craziness."
No doubt, many of our readers will want to dispute the assertion that MSNBC is better than Fox.  On that comparative point I have no informed opinion insofar as my exposure to MSNBC for quite some time has been zero.  Some years ago now I went from a frequent consumer of cable news (mostly Fox and MSNBC) to largely ignoring it (save for breaking news events–and I tend to switch around even then).  I do get a sort of semi-exposure to CNN and Fox insofar as there are two TVs in the faculty/staff dining hall at my university.  One is tuned to CNN and the other to Fox, both with the sound off and the closed captioning on.  It makes for a visually interesting comparison.  CNN tends to be a bit more frenetic and, at least in the hour I normally eat, is a bit more news-focused than Fox.  I am often in that room when the vacuous "Outnumbered" is on Fox, and that does not inspire much confidence in the value of said programming–indeed, it underscores the notion that the network is "steeped in distortion and ignorance" (an assessment that I agree with in general vis-a-vis Fox, I must confess–and note, there was a time which it was my main news channel of choice).
For those not familiar, the program features four females and one male (he is, outnumbered, dontcha know and is also termed "One Lucky Guy").  All the show appears to be to me is a) an excuse for the four women to sit in a semi-circle showing off their legs, and b) a chance to rant about whatever is considered rant-worthy at the moment by the producers at Fox News.  The guest is, as best as I can tell, rarely an expert on the topic under discussion (and is often a celebrity or simply another commentator).  Beyond hearing people rant about things that the viewers want to hear ranted about, I am not sure what the point is (and, indeed, this is my general view of Fox News).
Okay, digression over:  I really wanted to simply note the bolded portion of Stewart's quote, as I think he identifies a key problem with cable news as it really does seem that the main paradigm is breaking tragedy and hyperbole–a lot of which (including the tickers at the bottom of the screen) was born in the wake of 9/11.  One does wonder when we are going to get over 9/11 (or, at least, put it in its proper place).  It is amazing, and more than a little depressing, the degree which the events of that day continue to shape not just media coverage, but (more importantly) national politics in general.
I would say that there is an important link between our politics and the media landscape.  On the one hand, yes, there are some key redundancies in our politics, but also the way it is covered is altogether too formulaic (or just plain absurd).  The formulaic part is stuff like the horse-race (as discussed in a recent post by James Joyner) but also the utterly silly stuff reported as if it is actually important (as identified in another of James's posts this week).
Of course, whether it is horse-race stuff or the lack of tipping at burrito joints, what we are seeing here for the most part is laziness and the need to fill 24 hours, 7 days a week as quickly, easily, and cheaply as possible.   Indeed, it is worth noting that while we will see a raft of accusations that the press is biased towards Hillary (or against X, Y, or Z) the truth is that the bias is towards an easy story.  It is always worth underscoring that the news, and especially cable news, is really in the entertainment business first and foremost, not the news business (if, by "news business" one means an attempt to gather and disseminate information in some useful fashion that actually leads to a more informed public).
Really, Stewart's main contribution is more in his overall critique of the state of cable news than it is about politics, per se (and he says an awful lot of important things about US politics).
(BTW:  this post totally went out of control.  It was supposed to be a "Quick Pick" that noted the interview and then noted two quotes.  Instead, it is a bit of a ramble on cable news.  However, if that many words are going to come out of me on a lazy Sunday morning, they are going to get published, especially given limited blogging opportunities in recent months.  If you have reached this far in the post, my thanks and my apologies).