Stop Us Before We Eat Again: The Case Against Food Paternalism
They're from the government, and they're here to take that tasty snack out of your hands.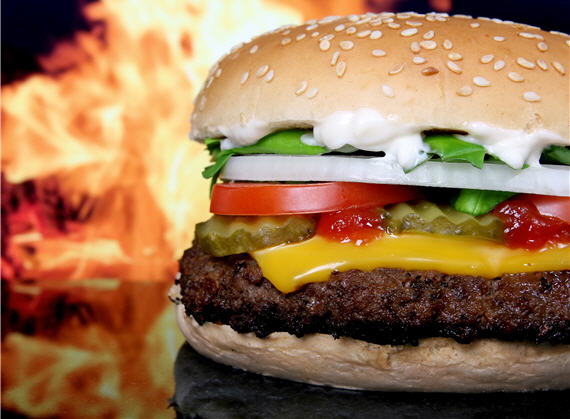 Responding to a question raised on Twitter by Megan McArdle, Matthew Yglesias argues that having the government make our food decisions for us isn't a bad idea at all:
It seems to me that if DC were to re-legalize smoking in bars, that would dramatically increase the odds of me returning to being a regular smoker and I don't want to see that happen. Similarly, I lost 70 pounds in 2010 and I'm hoping to keep that weight off. But I also know that I'm someone with a weakness for over-indulging in salty snacks relative to my second-order desires about weight, and would welcome paternalistic measures that made me less likely to chow down on Combos.

My guess is that this kind of desire for self-regulation via government fiat is an important source of support for paternalistic regulation. The irony and tragedy of it is that the demand for this sort of thing probably could, in principle, be met through the private sector. I bet a dozen clever libertarian bloggers could sketch out dozens of different possible schemes for doing this
Yea, and without getting too personal about it, we could start with whatever scheme it is that Matt used to drop 70 pounds in a year (and congratulations on that by the way). Something he was apparently able to accomplish without the paternalistic intervention of the state. Weight loss, or quitting smoking, is something that individuals can do on their own. Unless we're going to be willing to live in a ridiculously intrusive state, people who want to smoke will smoke, and people who want to eat salty or fatty foods will eat salty or fatty goods. These are choices people make and, by and large, we live in an era where people are largely away of the consequences of those choices. If they want to take the risk, who are you, or I, or Michelle Obama, to tell them otherwise?
Speaking of the First Lady, today's New York Times reports on her latest anti-obesity initiative:
After wrapping her arms around the retail giant Wal-Mart and trying to cajole food makers into producing nutrition labels that are easier to understand, Michelle Obama, the first lady and a healthy-eating advocate, has her sights set on a new target: the nation's restaurants.

A team of advisers to Mrs. Obama has been holding private talks over the past year with the National Restaurant Association, a trade group, in a bid to get restaurants to adopt her goals of smaller portions and children's meals that include healthy offerings like carrots, apple slices and milk instead of French fries and soda, according to White House and industry officials.

The discussions are preliminary, and participants say they are nowhere near an agreement like the one Mrs. Obama announced recently with Wal-Mart to lower prices on fruits and vegetables and to reduce the amount of fat, sugar and salt in its foods. But they reveal how assertively she is working to prod the industry to sign on to her agenda.

On Tuesday, Mrs. Obama will begin a three-day publicity blitz to spotlight "Let's Move!," her campaign to reduce childhood obesity, which was announced one year ago this week.

She will introduce a public service announhttps://www.outsidethebeltway.com/wp-admin/post-new.phpcement, appear on the "Today" show and deliver a speech in Atlanta promoting gardening and healthy-eating programs.

But as she uses her public platform to persuade children to eat healthier and exercise more, Mrs. Obama and her team are also quietly pressing the levers of industry and government. Over the past year she has become involved in many aspects of the nation's dietary habits, exerting her influence over nutrition policy.

Her team has worked with beverage makers to design soda cans with calorie counts and is deeply involved in a major remake of the government's most recognizable tool for delivering its healthy-eating message: the food pyramid.
Now, as I've said before, I think that the First Lady's anti-obesity campaign is perfectly fine  as a public education campaign. When it goes down the road of the President's wife, accompanied by government officials, pressuring private industry to change business practices to make them "politically acceptable," or the provision that was in the Affordable Care Act that requires chain restaurants to put calorie counts on their menus (a law that has had no measurable impact on eating habits in New York City where it's been the law for two years now), then we are down the road to the Nanny State. Educate people all you want, but once you start trying to control what they eat, then the government has gone down a road that it has no business traveling down.
Finally, all of this paternalism ignores one simple point which James Joyner touched on last month:
Most of us already know that we're eating too much of the wrong kinds of food, drinking too much beer and whisky, and getting too little exercise. The problem isn't lack of knowledge but lack of will. Pizza, French fries, pale ales, and single malts are delicious. Watching television, surfing the Web, and playing video games is relaxing. Running, lifting weights, and swimming laps is hard.
In other words, it's personal choices that cause us to be out of shape, not the evil plans of corporations, and it's personal choice that would keep us healthy, not the dictates of Nanny State.