Stormy Daniels Cooperating With Federal Investigators
Stormy Daniels is talking to the Feds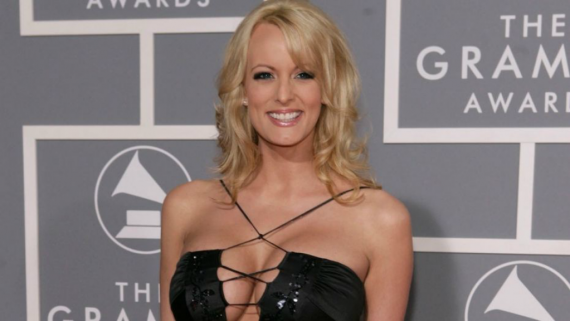 Stormy Daniels, the adult film actress who finds herself in the middle of the latest Donald Trump scandal is apparently cooperating with Federal investigators looking into the $130,000 payment she received from an LLC established by longtime Trump attorney Michael Cohen
Stormy Daniels is cooperating with federal investigators, according to a source familiar with the investigation.

The source said federal investigators are looking into the nondisclosure deal and subsequent payment made by President Donald Trump's personal lawyer, Michael Cohen, to the porn star who is now suing Trump over the 2016 hush agreement.

The federal probe was described by the source as extensive and aggressive, and a sizable team is working on the effort, the source added.

On Monday, the FBI raided Cohen's home and office space.

Daniel's lawyer, Michael Avenatti, tweeted about her cooperation with the FBI on Tuesday, while also making a dig at Cohen referencing the raid.

"My client @stormydaniels and I will fully cooperate with any search for the truth regarding the threats, cover-up and lies concerning the NDA and $130k payment. Unlike others, we don't require the presence of the fine members of the FBI in order to speak honestly. #basta," he wrote.

Later Tuesday, Avenatti reiterated his remarks to CNN.

"We were contacted by various attorneys from the government who are looking into this," he said on CNN's "Anderson Cooper 360."

"We're going to cooperate fully. We're going to be as user friendly as possible. We're going to respect the process. We understand the seriousness of this. This took on a whole 'nother level within the last 48 hours."
Here's are the Tweets from Daniel's attorney:
Due to the FBI raids of Mr. Cohen's office/home and a subsequent request we received this morning to delay the release of the forensic sketch of the thug that threatened Ms. Clifford to "leave Trump alone", we will not be releasing the sketch or reward details today. Timing TBD.

— Michael Avenatti (@MichaelAvenatti) April 10, 2018
My client @stormydaniels and I will fully cooperate with any search for the truth regarding the threats, cover-up and lies concerning the NDA and $130k payment. Unlike others, we don't require the presence of the fine members of the FBI in order to speak honestly. #basta

— Michael Avenatti (@MichaelAvenatti) April 10, 2018
All of this, of course, comes in the wake of the news that the F.B.I. had executed search warrants at the home, office, and hotel room of Michael Cohen, the longtime Trump attorney who is at the center of the October 2016 agreement that Daniels signed to keep silent in exchage for $130,000. The payment was made by a Delaware Limited Liability Company established by Cohen and the money to pay Daniels allegedly came from his pocket with no rembursement from any other parties. That search, of course, has caused Trump to lash out yet again and to reportedly consider firing Deputy Attorney General Rod Rosenstein, who signed off on the warrant and assigned the matter to the United States Attorney for the Southern District of New York, a Trump appointee who apparently recused himself from whatever investigation he is carrying out.
Based on reports growing out of the search, it appears that at least part of that investigation is rooted in the payment against Daniels, which could involve potential charges involving the violation of Federal election laws as well as bank fraud, mail fraud, and money laundering. Additionally, Daniels alleged during her 60 Minutes interview that she was approached years prior to that agreement by a person who made physical threats against her if she revealed the details of her affair with Trump. Cohen is also implicated in a payment to Trump's foundation in exchange for a speech he made to a Ukranian group while he was running for President and is also believed to be at the center of many other Trump business activities, including efforts to build a hotel in Moscow that were in the discussion stage at the same time that Trump was running for President. It's easy to see, of course, why Daniels would be of interest to investigator with respect to the first issue, and it's most certainly in her interest to cooperate at this point, although in doing so she could be exposing herself to potential charges depending on whether an how she reported the aforementioned $130,000 on the relevant income tax forms. In any case, Daniels cooperation with investigators essentially guarantees that her story will remain in the public consciousness regardless of how the Federal Judge handling her civil suit rules on the pending motion to compel arbitration. Therefore, any effort to sweep her case under the rug, has failed spectacularly.