Strategy and the Garland Nomination
George Will's column on the Garland nomination sparks a few thoughts.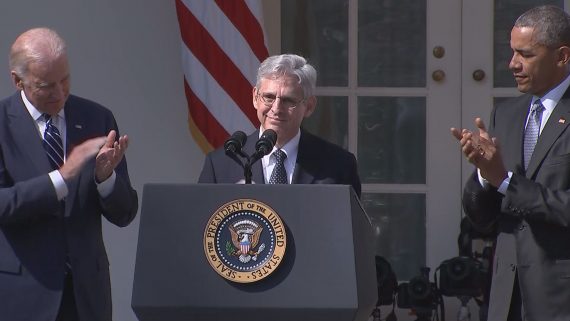 The title of George Will's latest column asks a rather important question:  Do Republicans really think Donald Trump will make a good Supreme Court choice?
Trump's multiplying Republican apologists do not deny the self-evident — that he is as clueless regarding everything as he is about the nuclear triad. These invertebrate Republicans assume that as president he would surround himself with people unlike himself — wise and temperate advisers. So, we should wager everything on the hope that the man who says his "number one" foreign policy adviser is "myself" (because "I have a very good brain") will succumb to humility and rely on people who actually know things. If Republicans really think that either their front-runner or the Democrats' would nominate someone superior to Garland, it would be amusing to hear them try to explain why they do.
In truth, I don't expect such an explanation to be forthcoming.  Rather, I expect an ongoing cavalcade of rationalization of why a hearing simply cannot be held (because elections or lame duckery or something) with very little about what alternative futures will look like.
If we were dealing with actors capable of assessing likely costs and benefits, the Garland nomination should, actually, lead to swift confirmation.  It is a nomination that takes into account the existence of divided government and that which is both unknown and probable regarding the November elections.
To wit:  the nomination of an older, well-known, and relatively moderate judge is an acquiescence by the President that his party does not control the Senate.  The fact that the nominee is not even more moderate* is a nod to the fact that the odds are that a Democrat will occupy the White House in 2017 (and that there are likely to be more Democratic votes in the Senate).  However, there is still some basic bird in the hand versus two in the bush thinking here, insofar as there is no guarantee of either outcome.  Trump could win in the November and the Senate could remain just as Republican as it is.  Plus, regardless of ideological long-term goals, I have little doubt Obama would prefer to be the one to do the nominating rather than letting another president do it, even if that president is a Democrat.
The Republicans ought to be willing to accept Garland given the conditions I just described.  They are unlikely to get a better nominee from a Democratic president (and, quite frankly, even if a better option was possible to get it they would have to be willing to be active in the process, which they are steadfastly refusing to do).  However, they are instead willing to take a pretty huge gamble.  McConnell's refusal to address an Obama nominee has become more precarious now that a Trump nomination seems almost certain, but since the party is now so divided there appears to be no way to forge a way forward.  The Republicans in the Senate are now forced to ride this out and hope (although exactly for what they are hoping is unclear, at least in terms of realistic outcomes).
Even more than when I wrote the following last month, I think the GOP is taking a huge gamble:
Still, I think it is worth noting that it is a roll of the dice insofar as the next president could not only be a Democrat (indeed, if one is objective about it, the odds are better that it will be a Democrat than a Republican—just go look at the electoral math) but, further, there is the real chance the Republicans will have less Senate seats after November (and hence, less influence over the vacancy).  As such, the safer play would be to try and leverage the current situation for a more moderate Justice in the here and now as opposed to running the risk of having to accept a more liberal one in early 2017.
Will's column (and the run down of the calculations above) also illustrates that we are in a period wherein it is increasingly problematic to use "Republican" as a term that reflects a coherent collective.  In truth, any attempt to refer to a large political entity as if it has only one opinion or position is incorrect but we usually can live with that ambiguity and understand that we are fudging a bit linguistically for the sake of direct conversation rather than having every utterance on the subject require footnotes and caveats.  However, at this point in time asking  "Do Republicans really think Donald Trump will make a good Supreme Court choice?" raises the question of what does one mean by "Republicans?"  If we are talking the long-term movement conservatives like Will, the answer is clearly no.  If we are talking about the party as manifested in the Senate, I am not sure they are thinking beyond power calculations.  Further, the party was already riven in multiple directions prior to this election.  If we are talking about the primary voters who are propelling Trump to the nomination, heck yes they think that Trump will make a good choice.  But this illustrates the crisis the party is in right now:  Will and Trump supporters, though both nominally Republicans, are effectively in different parties.
An interesting question is this:  what will Senate Republicans do if it becomes clear that Trump is going to lose in November?  Does that change their calculations about Garland because I doubt President Hillary Clinton will send them as palatable a choice.
*And yes, this point (as is always the case) is debatable.  But, given the range of options, this is as good a pick as the GOP could hope for under prevailing circumstances.