Summer Olympics Were Lowest Rated Since 2000
Despite being much more conveniently located for viewers in the United States, viewership for the just-concluded Olympics were the lowest they've been in sixteen years.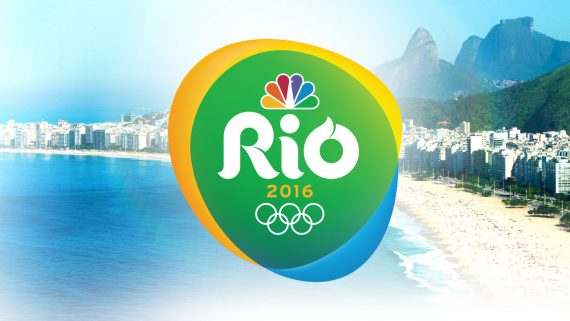 Notwithstanding the fact that their location in Rio de Janeiro made them well-positioned for the U.S. market, the recently concluded 2016 Summer Olympics were the lowest rated in 16 years, and that trend is only likely to continue:
NBC is touting its coverage of the 2016 Summer Olympics as the "most successful media event in history." And to be sure, the massive effort the company put into live streaming and digital efforts from Rio de Janeiro paid off pretty well.

But in terms of TV ratings? Not so much. The games end as the lowest-rated and least-watched Summer Olympics since 2000.

Whatever metric NBC is using to uphold its "most successful" claim isn't clear. Streaming of the Rio Games was indeed way up vs. 2012 in London: 100 million unique users (a 29 percent bump from 2012) streamed 3.3 billion minutes of the games; 2.7 billion of those minutes were devoted to live streams, the rest to replays and highlights. The live streaming was more than the combined live-streamed minutes of all prior Olympics (1.48 billion).

Of course, there was a lot more to see this time around: NBC live-streamed 4,500 hours of competition compared to 3,500 hours four years ago. Still, that's an impressive feat, and the one thing most Olympics observers seem to agree NBC did well this time around was its digital product.

But the on-air Olympics, even with simultaneous cable and live-streaming added to NBC's prime-time total, are down. In both viewers and household ratings (which are useful for historical comparisons), Rio 2016 represents the lowest-rated Summer Olympics since 2000 in Sydney and the second-lowest since NBC took over the summer games in 1988.

London was NBC's highest-rated Summer Olympics staged outside the United States. This year's games were down 21 percent in viewers and 15 percent in households vs. 2012 for all nights. (NBC has been touting the numbers for the 15 nights of competition as closer to London's average, but those exclude the opening and closing ceremonies, which took big hits vs. four years ago.)
These ratings are important to NBC, of course, because they will in part determine what it is able to charge for advertising time during the upcoming Olympics that it has purchased the broadcast rights for, which to this point cover both the Summer and Winter games through 2032. Already, the company is recognizing the fact that a combination of massive changes in the way Americans in particular consume media and the location of the next three Olympic Games will likely mean that ratings are unlikely to improve over this year and that it will need to figure out how to change the way it presents the games while still making money off the deal:
NBCUniversal heads into the next three Olympics — all of them in Asia — faced with a critical question: Was the lower-than-expected prime-time viewership for the just-completed Summer Games in Rio de Janeiro a fluke or a harbinger of fraying audiences over the next six years?

The answer, for now, is unknown, as NBC prepares for the 2018 Winter Games in Pyeongchang, South Korea, the 2020 Summer Games in Tokyo and the 2022 Winter Games in Beijing (which hosted the Summer Olympics eight years ago). No one is certain how much further consumers will alter their media habits, how much further television viewing will be diminished, or what new technologies will emerge during that time.

A further challenge to carrying an Olympics in Asia: the 13- to 14-hour time differences between the host cities and New York.

"You'd be a lot less concerned if you were in the United States or in Continental Europe," said Rich Greenfield, an analyst at BTIG Research. "Ninety percent of the content from Asia will be happening when we're asleep — and when we wake up we'll see our Twitter feeds and news stories telling us what has already happened."

NBC works with the international federations that govern Olympic sports and the International Olympic Committee to get the most favorable scheduling. For games in Asian locations, NBC's goal is to have as many marquee sports as possible — swimming, diving, track and field and gymnastics in the summer; figure skating and skiing in the winter — taking place at times when they will be live in prime time on the East Coast. NBC would not necessarily need to cover gymnastics live; in Brazil, it showed the events on a delay of several hours.

Still, scheduling audience-grabbing events in prime time can be a tight squeeze. Events that start at noon in Korea in 2018 would be seen at 10 p.m. the prior day in the Eastern time zone. And NBC cannot get everything it desires in scheduling despite the enormous rights fees it pays; other countries' networks, including those in Europe, for example, push for favorable scheduling of their own to televise their popular sports.

Neal Pilson, an industry consultant and former head of CBS Sports, said: "If you asked NBC's preference, they'd probably prefer not to have three straight in Asia, but they bought into the process without knowing where they would be held. But I think NBC will figure out a way to prevail in terms of scheduling."

Still, even a favorable time zone like Brazil's did not deliver for NBC as the network had expected. NBC thought that the greater number of live prime-time broadcasts from Rio would produce audiences larger than those amassed for London four years ago. But at 25.4 million, NBC's broadcast audience fell 18 percent from the 31 million that watched the London Games. It added 2.1 million more viewers from live streaming and Olympic events on the NBCSN and Bravo cable networks. In all, the three sources of viewership did not combine to match London's broadcast-only performance.
Time zones and scheduling seem to be only part of the issue that NBC is likely to face in the future, though. The Rio Olympics were the first Summer Olympics held in a venue close to the United States since the 1996 games in Atlanta, and the first Olympics of either the summer or winter variety to be held in the Western Hemisphere since the 2010 Winter Olympics in Vancouver, Canada. With it's location just one hour ahead of the Eastern United States, and some other locations in Brazil that were used as Olympic venues located in the same time zone, one would have thought that the scheduling of events most likely to draw the most viewers would have been easier and that ratings would reflect this. Instead, it would appear that NBC had fallen victim to the same changes sweeping the way Americans consume media that are impacting other areas of the business:
"Television is in a secular decline," Mr. Greenfield said, adding that viewers increasingly accustomed to binge-watching online series are likely to grow increasingly dissatisfied with NBC's prime-time model that compels viewers to wait for their favorite sport to be shown.
This isn't to say that NBC didn't do well during the two weeks that the covered the Olympics on their main channel as well as its sports network and numerous affiliated cable networks, including MSNBC. Even though viewership was down from what it was for the London games four years earlier, they still won the night each night the games were on and won crucial demographics. For the most part then, the companies that paid millions of dollars for advertising time got their monies worth as did NBC itself for the hundreds of millions of dollars it paid to the International Olympic Committee for the American broadcast rights to the games. Nonetheless, there are some obvious warning signs in the fact that viewership was down from what it had been four years ago. The trends that are leading Americans to "cut the cord" of cable television are only likely to increase over the next two, four, and six years as NBC prepares to broadcast the games from Asia for three consecutive cycles. By the time it comes time for the broadcast rights for games after 2032, the market for media in the United States, Canada, Japan, Australia, as well as large parts of Europe is likely to be far different from what it looks like today and any future contracts are going to have to take changing viewing habits into account. Of course, this is true of any number of forms of entertainment, including the popular sports here in the United States as well as events like the World Cup. The world in which people sat in front of their televisions for two weeks waiting for the finals in their favorite event are fading fast, and both the IOC and the broadcast industry will have to adjust accordingly.