Super Bowl XLVIII Most Watched U.S. Television Broadcast Ever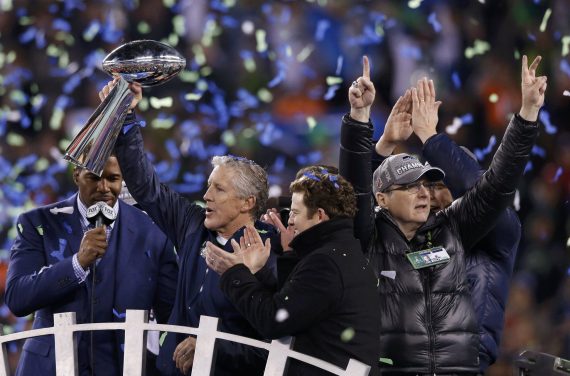 Continuing a streak that began with Super Bowl XLIV in 2010, Sunday night's broadcast of Super Bowl XLVIII set another viewership record despite the lopsided result:
Final ratings are in for the 2014 Super Bowl — and, contrary to early returns, which saw the game ranking fifth all-time, the NFL season finale ended up being the biggest to date. An average 112.2 million viewers tuned in to see the Seattle Seahawks blow the Denver Broncos out of the water, making it the most watched Super Bowl and the most watched program in U.S. television history.

That's up nearly 4 million from last year's Super Bowl, which averaged 108.4 million viewers. That game, between the Baltimore Ravens and the San Francisco 49ers, though close, suffered an audience drop when a power outage halted the game for 30 minutes.

Super Bowl XLVIII breaks the record set by the 2012 Super Bowl. That game averaged 111.3 million viewers, narrowly topping 2010's 111 million.

This year's matchup, which measured up to last year's game with a 46.7 rating among households and a 69 share, saw its best ratings toward the end of the first half. Between 7:30 p.m. and 8 p.m., the Super Bowl averaged a 46.9 rating and a 71 share among households.
Slowly but surely, the list of most-watched television broadcasts in U.S. history is being taken over by sporting events, specifically the Super Bowl. The last non-sports broadcast that broke the 100,000,000 viewer mark was the M*A*S*H finale, and that was broadcast way back in 1982. More recently, the most hyped non-sports broadcasts, typically finales of much-hyped shows. The Breaking Bad finale, for example drew an estimated 10,000,000 viewers, while the finale for The Office drew just 5,000,000 viewers, and it was considered a hit show during its time on the air. Even a show like Lost saw it's finale draw just about 10,000,000 viewers. Indeed, the last broadcast of a series finale that drew 20,000,000 viewers or more was the finale of Everybody Loves Raymond in 2005.
Clearly, the Super Bowl remains the last non-breaking news event that draws large numbers Americans together to watch something at the same time.
(Source for ratings figures here)