Supreme Court Ends 'Amateur' Collegiate Sports
Most NCAA restrictions violate anti-trust law.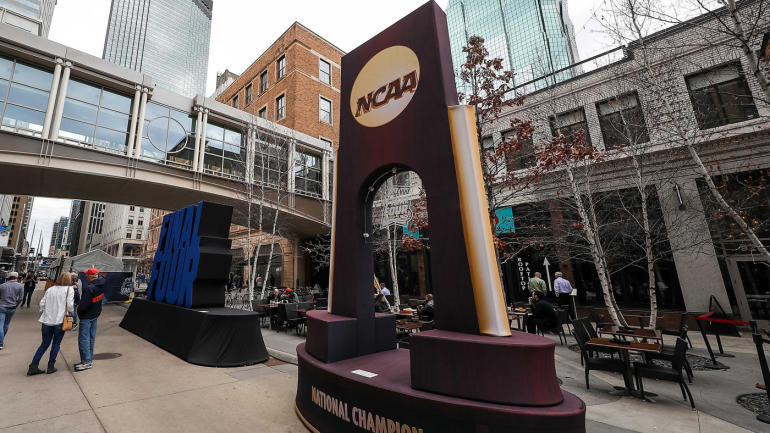 The nation's highest court unanimously ruled against a cornerstone of the NCAA model. It's legally and morally correct but will radically transform the sports landscape.
ESPN ("Supreme Court unanimously sides with former college players in dispute with NCAA about compensation"):
The Supreme Court of the United States unanimously affirmed a ruling Monday that provides for an incremental increase in how college athletes can be compensated and also opens the door for future legal challenges that could deal a much more significant blow to the NCAA's current business model.

Justice Neil Gorsuch wrote the court's opinion, which upheld a district court judge's decision that the NCAA was violating antitrust law by placing limits on the education-related benefits that schools can provide to athletes. The decision allows schools to provide their athletes with unlimited compensation as long as it is some way connected to their education.

Gorsuch wrote that the nation's highest court limited the scope of its decision on those education-related benefits rather than delving further into questions about the association's business model. Justice Brett Kavanaugh published a concurring opinion that takes a harder line, suggesting that the NCAA's rules that restrict any type of compensation — including direct payment for athletic accomplishments — might no longer hold up well in future antitrust challenges.

"The NCAA is not above the law," Kavanaugh wrote. "The NCAA couches its arguments for not paying student athletes in innocuous labels. But the labels cannot disguise the reality: The NCAA's business model would be flatly illegal in almost any other industry in America."

The idea that college athletes should not be paid, a fundamental tenet of the 115-year-old NCAA, has faced increasing scrutiny in recent years. Federal antitrust lawsuits have slowly eroded strict amateurism rules during the past decade. Politicians in 19 states have passed laws in the past two years that rebuke the organization's rules and will soon allow athletes to start making money from third-party endorsements, and members of Congress are currently debating at least a half-dozen bills aimed at reforming the NCAA. Monday's ruling in the NCAA v. Alston case represents another blow during a particularly uncertain time for the future of amateurism.

"It's tremendous to win this 9-0," lead plaintiff's attorney Jeffrey Kessler told ESPN Monday morning. "Hopefully it will be the major next step on the road to a true fair competitive system for these athletes."

The Alston ruling marks the first time in more than 30 years that the Supreme Court has weighed in on the governance of college sports. In 1985, the court upheld a ruling in the NCAA v. Board of Regents of Oklahoma University case that the NCAA was breaking antitrust laws by limiting the amount of times that individual schools could appear on television. The resulting change led to an explosion in media rights revenue that has reshaped the top tier of college sports. The Regents case in 1985 found that the NCAA was illegally restricting the earning potential of individual schools. The Alston ruling this week affirms that the NCAA has been illegally restricting the earning potential of individual athletes.

Despite ruling against the NCAA in 1985, the court's opinion in that case — written by Justice John Paul Stevens — said the association should still be given "ample latitude" to make rules that it feels are best suited to preserve amateurism and the educational benefits that come with it. The NCAA's appeal in the Alston case argued that a judge's decision in district court unfairly stripped them of the ample latitude they need to make their own rules.

The NCAA asked the Supreme Court to review a case first filed in 2014 by former West Virginia football player Shawne Alston. Judge Claudia Wilken ruled in the Alston case in 2019, determining that schools should be able to provide their athletes with educational equipment, study abroad programs, internships and even cash rewards in exchange for academic accomplishments. The NCAA's attorneys argued that these measures were "micromanaging" rules that should be determined by the NCAA's members and that the added benefits were "akin to professional salaries."

"Even though the decision does not directly address name, image and likeness, the NCAA remains committed to supporting NIL benefits for student-athletes," NCAA president Mark Emmert said in a statement. "Additionally, we remain committed to working with Congress to chart a path forward, which is a point the Supreme Court expressly stated in its ruling."
While I generally prefer courts to rule narrowly, sticking to the dispute at hand, I think Kavanaugh's concurrence gets it right. The Alson case took seven years to wind its way through the system. The logic of Gorsuch's opinion leads to where Kavanaugh went, so why force many more years of costly litigation to get there?
Name, image, and likeness rules were already likely to change and the NCAA is working feverishly to get them in place this summer. And it's possible Congress will weigh in as well. It's the right thing to do—colleges are already profiting by selling merchandise capitalizing on the popularity of star players, who are currently prohibited from even making a few bucks signing autographs or selling their uniform accessories. That's unjust.
But there's also a slippery slope: boosters will soon be paying big endorsement deals to get star high school players to come to their schools. Maybe that's as it should be. But it further alters the competitive landscape.
The big boys will be fine. SEC commissioner Greg Sankey is already working to get his conference aligned with the ruling.
"The Supreme Court's opinion today in the Alston case provides clarity as we move forward to provide additional educationally-related benefits to student-athletes," Sankey's statement read. "What also is clear is the need for the continuing evaluation of the collegiate model consistent with the Court's decision and message.

"Our next step is to engage with our member institutions to consider the implications of the opinion delivered today by the Court and to continue our tradition of providing superior educational and competitive opportunities while effectively supporting our student-athletes."
I agree with CBS' Dennis Dodd that, effectively, the "amateur" model that the NCAA has pushed since its inception is now dead.
NCAA amateurism is dead. Whatever you thought the moving target that was the "collegiate model" is gone. The date for the dearly departed will go down as June 21, 2021, but really, the exit from this world was years in the making.

It's not just that amateurism is dead. The NCAA that strangled it might not be far behind.

[…]

There is no more amateurism because … what was it, anyway? Cost of attendance was handed out to athletes, not normal students. Bowl gifts (capped at $550) are basically pay for play. We're down to arguing semantics and whether five figures can become six figures in the age of name, image and likeness.

Now, there are few roadblocks as to what athletes can earn. Without Congressional help in NIL, whatever the NCAA installs in its legislation will be subject to similar antitrust challenges as Alston v. NCAA.

[…]

One prominent Power Five source characterized Monday's decision as "shock and awe" suggesting it "scraps the entire amateurism model as we know it." The challenge now, the source said, is finding an NCAA decision in this space that is not a walking, talking antitrust violation.

You know what's coming, right? NIL is going to be a monster the NCAA can't control. It certainly can't hint at capping compensation. It is begging Congress for legal protection not only on NIL but for any athlete in the past who want to sue. That's a huge ask for an organization that just got blown out in the Supreme Court.

Unless there is that Congressional intervention, the NCAA is a fly on the wall to antiquity. And if Congress steps in, the NCAA will be even further marginalized. The federal government will be the de facto arbiter of college sports.

"I think it's terminal. I really do," another prominent Power Five source told CBS Sports in March regarding the current set up.
Now, I think this all goes a bit far. Outside of big-time football and men's basketball, there's not much money in college sports. Women's sports, outside of maybe a handful of college basketball programs, are a money loser. So are most men's sports programs. They're maintained for reasons of school pride and the hope of somehow rising to the big-time level.
Players at schools like Jacksonville State, where I got my undergraduate degree, or Troy, where I taught for four years and where my co-blogger Steven Taylor is a Dean, are seldom going to command big bucks from name, image, and likeness deals. They rarely send players to the NFL or NBA and, even more rarely send stars.
And yesterday's ruling will likely have little impact on the Olympic sports. Aside from a handful of boosters of the Phil Knight variety, there's just little danger of big money flooding into those programs. We're really talking about big-time football and basketball.
But I do think Dodd is right on the bigger picture: if the Alabama footballs and Duke basketballs of the world are going to get into an arms race of paying for the best players, there's simply no reason to keep the NCAA around to take a slice of the pie and issue annoying regulations.
My guess is that the rich will simply get richer here and the "Power 5" football schools will simply organize into a quasi-professional league. And, as Dodd notes, the only real value the NCAA provides now is the March Madness basketball tournament. Schools could certainly figure out how to keep that going, although the NCAA owns trademarks in most of the names (March Madness, Final Four, etc.) we've associated with the tournament.
I'll also be interested to see how all of this impacts the Title IX requirements for women's athletics. The conventional wisdom has been that schools can't compensate players on the men's teams without doing so for the women's teams. But if the money is coming from the conferences and only goes to certain players on the revenue sports—thus excluding most male student-athletes—I would imagine they could get around the issue.
Regardless, college sports as we know it is about to change radically and soon.