Supreme Court to Rule on Individual Contribution Limits
The Supreme Court has agreed to decide whether limits on contributions to political candidates is Constitutional.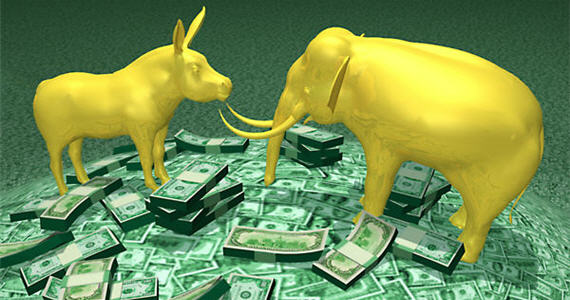 The Supreme Court has agreed to decide whether limits on contributions to political candidates is Constitutional.
WaPo ("Supreme Court to consider limits on individual political contributions"):
The Supreme Court reentered the controversial field of campaign finance Tuesday, agreeing to consider a Republican challenge to decades-old limits on the total amount a person can contribute to candidates, political parties and political action committees.

It is the court's first major campaign finance case since its 2010 decision in Citizens United v. Federal Election Commission, which allowed unlimited corporate and union spending in elections. By extension, the decision led to the creation of super PACs, whose multimillion-dollar donations transformed funding of the 2012 presidential contest.

The new case, which will be heard in the court's term that begins in October, concerns the federal limit on the amount an individual can contribute to certain campaigns during each election cycle.

For 2013-14, that would be $123,200 — a maximum of $48,600 to federal candidates and $74,600 to political parties and some political action committees.

Shaun McCutcheon, an Alabama conservative activist and businessman, brought the lawsuit along with the Republican National Committee because he is seeking to contribute more than those amounts. He is not challenging the limit on the amount he can give to individual candidates, $2,600.

[…]

Fred Wertheimer, a longtime campaign finance advocate and president of Democracy 21, warned of multimillion-dollar contributions to political parties if the court were to toss out the limits.

But Brad Smith, chairman of the Center for Competitive Politics and an opponent of limits, said the Citizens United ruling may lead to the court's reexamination of the Buckley v. Valeo decision, which justified contribution limits on anticorruption grounds.

"The case gives the court an opportunity to clarify an important legal question: If contribution limits to individual committees and candidates prevent corruption, what additional interest justifies aggregate contributions?" Smith said in a statement.

[…]

The case is McCutcheon v. Federal Election Commission.
I am not a lawyer, do not play one on television, and did not stay at a Holiday Inn Express last night. Still, it strikes me that SCOTUS has to either revisit the logic of Citizens United or strike down the restrictions in this case. There's no obvious free speech distinction between supporting a political party and an interest group. Indeed, a political party is ultimately nothing more than an interest group which seeks to get candidates elected into political office.
Further, to the extent that there's a competing public policy interest in limiting corruption, it strikes me that it's actually better served with direct contributions to political parties–which at least fact some indirect public accountability at the ballot box–than donations to blandly named public policy groups whose connections to parties and candidates is murky.
Interestingly, McCutcheon is not challenging the Constitutionality of the antiquated limitations on contributions to political candidates. Presumably, that's the point where the public corruption argument is the most salient. Certainly, personal fundraising is the part of the system with which I have the most heartburn. But there's at least full transparency when money goes to an individual politician.