Supreme Court to Hear Honor Student Strip Search Case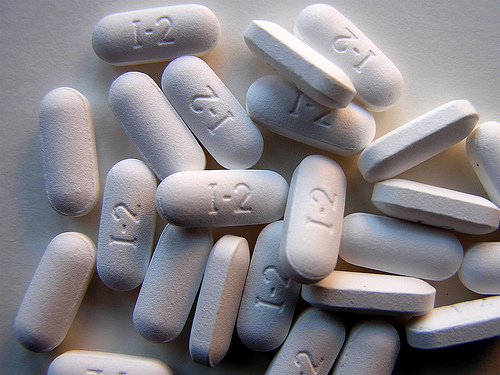 The Supreme Court agreed yesterday to hear the case of Savana Redding, who, as "a 13-year-old honor student who was subjected to a strip search by school officials in Arizona looking for prescription-strength ibuprofen." The gist of the dispute, as described by Adam Liptak for NYT:
The strip-search case was brought by the mother of Savana Redding, who in 2003 was an eighth-grade student at a public middle school in Safford, Ariz. Another student, found with ibuprofen pills in violation of a strict school policy, said Savana had given them to her.

School officials searched Savana's belongings, made her strip to her bra and underwear, and ordered her, in the words of an appeals court, "to pull her bra out to the side and shake it" and "pull out her underwear at the crotch and shake it." No pills were found. The pills that prompted the search had the potency of two over-the-counter Advil capsules.

A trial judge dismissed the parent's case against the school officials, ruling that they were immune from suit. After a divided panel of the United States Court of Appeals for the Ninth Circuit affirmed that decision, the full appeals court agreed to a rehearing. By 6 to 5, a larger panel of the court reversed the decision, saying the suit could go forward against the assistant principal who had ordered the search. "It does not require a constitutional scholar to conclude that a nude search of a 13-year-old child is an invasion of constitutional rights of some magnitude," Judge Kim McLane Wardlaw wrote for the majority, quoting a decision in another case. "More than that: it is a violation of any known principle of human dignity."

Judge Michael Daly Hawkins, dissenting, said the case was in some ways "a close call," given the "humiliation and degradation" Savana had endured. But, Judge Hawkins concluded, "I do not think it was unreasonable for school officials, acting in good faith, to conduct the search in an effort to obviate a potential threat to the health and safety of their students." "I would find this search constitutional," he wrote, "and would certainly forgive the Safford officials' mistake as reasonable." In an aside, he discounted Savana's school record. "Unless we think that the Fourth Amendment gives greater protection to good test takers," he added, "there is only so much weight we can give to Redding's honor-student status."
Here's a question: What gives "school officials" any right to conduct a strip search of a student, regardless of her grades? Her locker? Sure. But her person? I'm thinking that's a job for police officers with a valid search warrant.  Furthermore, I'd say suspicion of possession of analgesics is below the threshold required for justifying a strip search.
T. Christopher Kelly agrees but fears a sideways outcome:
nfortunately, the Supreme Court might decide that its precedent does not "clearly establish" that strip searches of students are unreasonable under the circumstances that existed in Savana's case, and that the school officials are therefore entitled to qualified immunity from suit. If it takes that route, it might even duck the central question: whether Savana's right to be free from an unreasonable search was violated. That's one of the problems of the Supreme Court's invention of qualified immunity: it inhibits the natural development of the law.

Qualified immunity is supposed to shield public officials from lawsuits when the law is ambiguous so that they can discharge their responsibilities fearlessly (even if stupidly, as in Savana's case). No reasonable public official should think the Constitution permits a strip search of a student for an item that isn't dangerous based on such flimsy information.
I'm afraid that overestimates the intelligence of public officials.
As a further aside:  The fact that it's taken six years of persistence on the part of Savana's parents — at the cost of who knows how much time and money — to get this far is simply stunning.  If justice delayed is justice denied, then dragging a case on so long that an eighth grader is halfway through college surely qualifies.
Story via Memeorandum. Photo by Flickr user Muffet, used under Creative Commons license.