Syllabus Selection Sexism
International relations prof mostly assign readings by male scholars. Female profs are slightly less likely to do so.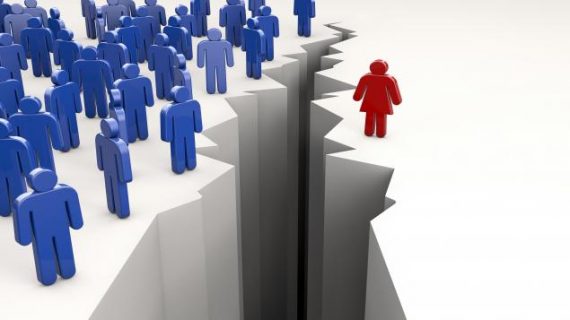 Charli Carpenter calls to my attention an Inside Higher Ed report titled "Syllabus Gender Gap."
Are women more likely than men to include works by women on a syllabus? A new study of international relations courses for Ph.D. students finds that they are.

Jeff Colgan, the Richard Holbrooke Assistant Professor of Political Science and International Studies at Brown University, analyzed 73 syllabi of international relations courses for doctoral students at American universities. Women taught 35 of the courses, and the syllabus selections of men and women together reached 4,148 required readings (which could be an article, a book or a book excerpt).

International relations is a field that has long been dominated by male professors, and readings by male authors (either individually or in teams of men) make up a majority of the readings, regardless of who prepares the syllabus. But there is a statistically significant difference in those prepared by men and women.

In courses taught by men, 79.1 percent of readings were by men, either individually or as part of a group of men. The rest were by women, groups of women, or groups of men and women. In courses taught by women, only 71.5 percent of readings were by all-male authors.

Framing the comparison, Colgan writes that "female instructors assign 36 percent more readings by women (including coed teams) than male instructors do, or about 5 readings per course."
My initial reaction upon seeing this on Carpenter's Facebook feed was: Who's being sexist here?
Sure, female professors assign a lot more readings by male scholars than male professors do for female scholars. But that's explainable by the near-total exclusion of women from the discipline until 25 or 30 years ago; almost all of the seminal works were written by men.   In terms of the contemporary literature, women are more inclined to assign works written by women than are men. Unless they're simply assigning more readings, that means they're doing so by excluding works by men. The question, then, is whether the included work by women is better than the excluded work by men. No evidence on that question is included in the report.
Colgan has a scholarly article on the subject forthcoming which may well delve into that issue.  But he seems to reject it:
In his description of his findings, Colgan acknowledges that "correlation is not causation" and that there may be factors beyond gender at play. For example, female faculty members may be, on average, younger than male faculty members, and their choices could be related in part to their generational perspective.

But he also cites American Political Science Association data that women are 42 percent of graduate students in the discipline, and only 24 percent of full-time professors.

In this environment, he writes, faculty members who want to see the field diversify should think about it if they plan a syllabus with relatively few female authors.

"Is this type of analysis a case of political correctness gone mad? Some would argue that instructors should just assign the best readings," Colgan writes. "I agree with that. But 'best' is partly subjective, and gender affects such judgments. My own experience is that revising my syllabus with gender in mind was not only feasible, it made it better."
I tend to agree that simply being cognizant of diversity issues will lead to better syllabi. The natural tendency is to assign readings that have stood the test of time, which are mostly from an era when males completely dominated the field. This not only creates inertia against women scholars but against newer and perhaps better ideas.
That said, I agree with the position that "instructors should just assign the best readings." While recognizing that "best" is incredibly subjective, it's the role of the professor to make such judgments.
As it happens, I assign a lot more research by female authors than the above averages; indeed, I assign more works by women than the women in the sample. It's not because I'm inordinately egalitarian but rather because my focus is on contemporary policy issues. That means I'm mostly picking from literature created in the last quarter century, during which women have been much more prominent players in the international relations discipline. Additionally, my main interest is in conflict intervention and resolution and female IR scholars are especially well represented in this literature–and thus my syllabi.
UPDATE:  I've spent the day doing actual work, so am late to much of the discussion here. Steve Saideman has responded at his place. Among his points:
Any view that women's work might be cited less/used less on syllabi because it is inferior needs to have a theory of inferiority.  What would make women, on average, do worse work than men?  I have no idea.
I do have a theory of male inferiority: that some men have been able to succeed due to privilege and even have reinforced existing patterns of discrimination that they can publish inferior work in top outlets and appear on heaps of syllabi.  I call such folks IR trolls.  That I might discriminate against using the work of big name males because I am not sure their work is as good whereas women's work had to be better to get published/cited/become canonical.
I don't subscribe to a theory of inferiority of women's work but rather a theory that most of the canonical work and the lion's share of the extremely good work across the IR discipline was written by males. That's not because men are inherently better IR scholars but that, through a combination of sexism and natural inclination (mostly the former) males made up essentially 100 percent of the field until relatively recently. There is, so far as I know, no female analogue to Thucydides, Machiavelli, Hobbes, Kant, Grotius, Augustine, Marx or similar giants from the pre-20th Century canon because, well, women weren't writing about world affairs in those days or, if they were, nobody was taking them seriously. Essentially all of the pioneers of the modern academic study of IR were men for the same reason. The same is more-or-less true of the major practitioners of the craft from antiquity to maybe 50 years ago. That means that centuries of thinking and writing about the craft of international affairs, war, foreign policy, and the like were done essentially without the participation of women.
When I entered graduate school in 1992, there were essentially zero female IR thinkers included on the syllabi. The only exception I recall was the burgeoning feminist rebuttal literature, which most of us observed with wry amusement. While women had been much more involved in Comparative Politics, including American Politics, for decades, almost none were prominent in IR, which was heavily dominated by thinking about war, especially nuclear war. That began to change rapidly at almost exactly that time. The end of the Cold War radically reshaped the way we thought about foreign affairs, including much more focus on previously "soft" areas like culture, human rights, food security, and the like.
Saideman concludes:
Seriously, women and men, on average, do equally good work, so if I find a syllabus having many more work by males than by women, I swap out some of the male work and replace with work written by women.  It does no harm since the work is basically equivalent, yet helps to remind students that there are sharp women doing work in this area.
Generally speaking, I think he's right. As previously noted, I don't have to make a conscious effort to do this in the conflict intervention field because women like Barbara F. Walter and Barbara Conry were among the pioneers; they don't need affirmative action to be included—excluding them would be malpractice.  If I were designing a course on the nuclear weapons debate, though, I'd have to work really hard to include women, since the primary literature, both academic and practitioner, was written almost exclusively by men.