Syria And The "Isolationist" Smear
Opposing interventionism and unnecessary and unwise military engagements is not isolationism.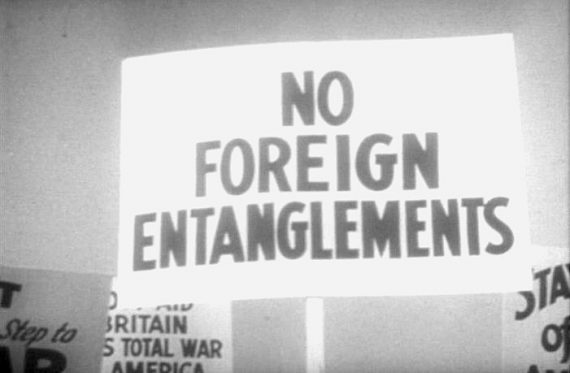 New York Times columnist Bill Keller is the latest to resurrect a term once reserved for those, in the decades between World War One and World War Two eschewed broader American involvement with the world and, most importantly, American involvement in the conflict that began unfolding in Europe and Asia beginning the in mid-1930s:
The cliché of the season is that Americans are war-weary from our long slogs in Iraq and Afghanistan. That is true, but not the whole story. To be sure, nothing has done more to discredit an activist foreign policy than the blind missionary arrogance of the Bush administration. But the isolationist temper is not just about the legacy of Iraq. Economic troubles and political dysfunction have contributed to a loss of confidence. Add to the mix a surge of xenophobia, with its calls for higher fences and big-brotherly attention to the danger within. (These anxieties also helped give rise to the expanding surveillance state, just as nativism in that earlier period gave license to J. Edgar Hoover's obsessive eavesdropping.)

Isolationism is strong in the Tea Party, where mistrust of executive power is profound and where being able to see Russia from your front yard counts as mastery of international affairs. But sophisticated readers of The New York Times are not immune, or so it seems from the comments that arrive when I write in defense of a more assertive foreign policy. (In recent columns I've advocated calibrated intervention to shift the balance in Syria's civil war and using foreign aid to encourage democracy in Egypt.) Not our problems, many readers tell me.

Isolationism is not just an aversion to war, which is an altogether healthy instinct. It is a broader reluctance to engage, to assert responsibility, to commit. Isolationism tends to be pessimistic (we will get it wrong, we will make it worse) and amoral (it is none of our business unless it threatens us directly) and inward-looking (foreign aid is a waste of money better spent at home)

"We are not the world's policeman, nor its judge and jury," proclaimed Representative Alan Grayson, a progressive Florida Democrat, reciting favorite isolationist excuses for doing nothing. "Our own needs in America are great, and they come first."
Deriding suggestions, whether from the left or the right, that the United States should engage in a less interventionist, and certainly less militaristic, foreign policy as "isolationist" is, of course, nothing news. For better or worse, the so-called "America First" crowd that was part of the reason that the United States was allegedly not engaged in world affairs in the years after World War One and, again allegedly, late to rise to the challenges of Nazi Germany and Imperial Japan has been judged negatively by history. As a result, it became common in the years after World War II, when our role in the world had hanged significantly, for the label to be applied to those who would question what quickly became a largely bipartisan foreign policy consensus that lasted until the collapse of the Soviet Union. More recently, we've seen Republicans use the label against Ron and Rand Paul and others who have advocated a less interventionist foreign policy and a reconsideration of the far-flung nature of our military commitments. As I noted in the past — see here and here — those criticisms by the likes of John McCain and others were largely canards, and the same applies to Keller's attempt here to smear as isolationist those who are questioning the President's desire to engage in military adventurism against Syria for reasons that even he and his advisers don't seem to be able to describe clearly.
Keller also commits the fallacy of comparing today's events in the Middle East with pre-World War II Europe and, by extension, equating Bashar Assad with Adolf Hitler. This too is a common tactic used by those arguing in favor of one military adventure against a dictator or another and, on the Internet, it's an argument so frequently resorted to that it's become a law. We heard it during the run-up to the Iraq War about Saddam Hussein, and now we're hearing it about Bashar Assad. The problem is that not every authoritarian dictator is Adolf Hitler, and not every conflict is the Second World War. Indeed, Keller seems to admit to this in his column:
Both Lynne Olson and Susan Dunn, in interviews, were wary of pushing the analogy too far. The Middle East, they point out, is far murkier, far less familiar.

"In 1940 everything was black and white — there was no gray," Dunn told me. "On one side, Adolf Hitler and ruthless, barbaric warfare; on the other side, democracy, humanism, morality and world civilization itself." Yes, at least so it seems in hindsight, but the choice was not so clear in 1940. Both books offer copious examples of serious, thoughtful people who had real doubts about whether Hitler was a threat worth fighting: cabinet members and generals, newspaper publishers and business leaders. At Yale, Dunn reports, an antiwar student movement that included such future luminaries as Gerald Ford, Potter Stewart and Sargent Shriver drafted a petition demanding "that Congress refrain from war, even if England is on the verge of defeat."

Olson told me she was startled to hear Secretary of State John Kerry inveighing against "armchair isolationism" last week in his testimony on Syria. "I think to be skeptical now does not mean you're an isolationist," said Olson, who is herself skeptical about taking sides in Syria. "It's become a dirty word."

Fair enough. But can we dial down the fears and defeatist slogans of knee-jerk isolationism and conduct a serious discussion of our interests and our alternatives in Syria and the tumultuous region around it?
Even while acknowledging that his efforts to draw an analogy between the United States in the decades before World War II and the ongoing debate over U.S. military involvement in Syria, Keller continues to use the rhetoric of the "isolationist" smear against those who disagree with him and the President. How, exactly, is it "defeatist…. knee-jerk isolationism" to question a President who is suggesting that the United States involve itself, even in a limited manner, in a civil war that has been going on for the past two year? What, exactly, is wrong with being skeptical when the Administration proposing that intervention doesn't seem to have either a clear idea of what exactly the military action would achieve, a willingness to share with the public the evidence that they claim proves the case they are trying to make, or an clear idea of what might happen on the day after the strikes are over? More importantly, as Daniel Larison notes today, the suggestion that refraining from getting involved in Syria will somehow diminish America's role in the world (an argument we've heard frequently from advocates of the Administration's policy) is quite simply absurd:
The truth is that America's role in the world will not be significantly altered by refusing to attack Syria, and its truly vital interests will not be harmed. It is possible that the attack on Syria could end up being just as "unbelievably small" as John Kerry says it will be, but if there's one thing Americans ought to have learned over the last decade it is that official promises that military action will be "limited" and of "short duration" are unreliable. This is partly because administration officials consistently underestimate the difficulty and risk of what they propose to do, and partly because launching attacks on other countries inevitably has effects and consequences that they fail to foresee. Instead of reassuring the public of their limited goals, administration efforts to downplay the significance of the attack they are proposing tells us that they may be oblivious to the risks of military action.
The final flaw in the logic of Keller and others who use the "isolationist" canard, of course, is that the people they are criticizing aren't isolationist at all, at least not in the sense that they are in any way similar to the most extreme elements of the "America First" crowd that was prominent in the U.S. in the 1930s. In that era, America was still a very provincial nation in which many people had little contact with, or knowledge of, foreign cultures or developments in other parts of the world. While the distances between Europe or Asia and the United States had begun to shrink thanks to the rise of air travel, they were still far enough away in the minds of most people that it's not too hard to understand why the idea that Europe should worry about Europe's problems was such a prevalent idea in the 1930s, especially given the fact that the U.S. was going through its own economic troubles at the time. As Dave Schuler noted in his own post about Keller's column, that's no longer the case today:
I see barely a smidgeon of isolationism in contemporary America. There are millions of Americans living and working overseas, we import a huge proportion of our consumer goods and a lot of our food from abroad, and we have a higher proportion of immigrants presently living in the United States than at at all but a very few times in our history.

Who is he, Hideki Tojo? Is the only form of engagement with the world military engagement? That's militarism.

He's calling for robust dialogue about our role in the world without recognizing that nobody's arguing for complete disengagement from it
Certainly, there are elements that might fall within the characteristics of "isolationism" as Dave describes it, most especially when it comes to issues like immigration and trade. However, the idea that the United States should be completely disengaged in the world is, at best, a fringe idea today that does not fairly represent the views of those of us who happen to believe that American foreign policy should be less interventionist and certainly less militaristic.  That's not isolationism, though, and as Dave notes if Keller believes that opposing reckless and needless military engagement is "isolationist," then I suppose it would be fair to call him a militarist and compare him to Tojo. That, however, would be as intellectually dishonest as what Keller has done today in the pages of The New York Times.