Syrian Rebels Today, Syrian Taliban Tomorrow
Radical Islamists now dominate the Syrian opposition. And you're arming them.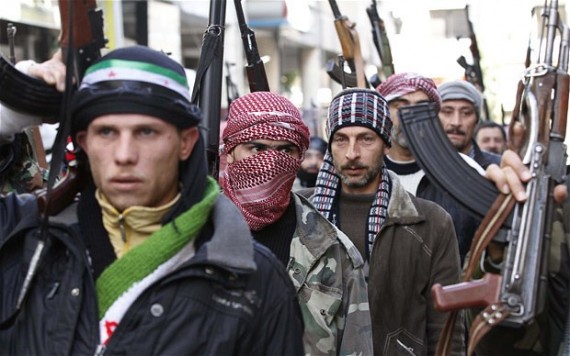 Radical Islamists now dominate the Syrian opposition. And you're arming them.
Reuters ("Syria's Islamists seize control as moderates dither"):
During a 10-day journey through rebel-held territory in Syria, Reuters journalists found that radical Islamist units are sidelining more moderate groups that do not share the Islamists' goal of establishing a supreme religious leadership in the country.

The moderates, often underfunded, fragmented and chaotic, appear no match for Islamist units, which include fighters from organizations designated "terrorist" by the United States.

The Islamist ascendancy has amplified the sectarian nature of the war between Sunni Muslim rebels and the Shi'ite supporters of Assad. It also presents a barrier to the original democratic aims of the revolt and calls into question whether the United States, which announced practical support for the rebels last week, can ensure supplies of weapons go only to groups friendly to the West.

World powers fear weapons could reach hardline Islamist groups that wish to create an Islamic mini-state within a crescent of rebel-held territory from the Mediterranean in the west to the desert border with Iraq.

That prospect is also alarming for many in Syria, from minority Christians, Alawites and Shi'ites to tolerant Sunni Muslims, who are concerned that this alliance would try to impose Taliban-style rule.
This line from the report is sobering: "Many pledge allegiance to the notion of a unified Free Syrian Army (FSA). But on the ground there is little evidence to suggest the FSA actually exists as a body at all."
Like money, weapons are fungible. It really doesn't matter if American arms "fall into the hands" of the worst elements, although they surely will. The bottom line is that the United States is now actively on the side of the anti-Assad forces and that, if the anti-Assad forces prevail, the worst elements will almost certainly govern Syria. Indeed, they're already governing parts of it:
The Islamists are more energetic and better organized. The main two hardline groups to emerge in Syria are Ahrar al-Sham and Jabhat al-Nusra, an al Qaeda offshoot that has claimed responsibility for dozens of suicide bombings, including several in Damascus in which civilians were killed.

But Islamist fighters, dressed in black cotton with long Sunni-style beards, have developed a reputation for being principled. Dozens of residents living in areas of rebel-held territory across northern Syria told Reuters the same thing, whether they agreed with the politics of Jabhat al-Nusra or not: the Islamists do not steal.

Aaron Zelin, a fellow at the Washington Institute for Near East Policy who researches Islamic militants, said the main reason groups such as Jabhat al-Nusra and Ahrar al-Sham have become popular is because of the social provisions they supply. "They are fair arbiters and not corrupt."

In Aleppo four Islamist brigades, including Jabhat al-Nusra and Ahrar al-Sham, have taken over the role of government and are providing civilians with day-to-day necessities. They have also created a court based on Islamic religious laws, or sharia.

The Aleppans call it "the Authority" and it governs anything from crimes of murder and rape to business disputes and distributing bread and water around the city. The power of such courts is growing, Authority members and rebels said, and is enforced by a body called the "Revolutionary Military Police."

At the police's headquarters, a five-storey building surrounded with sandbags, a large placard outside read: "Syrian Islamic Liberation Front." It referred to a union of several Islamist brigades, forged in October 2012, which seeks to bring together disparate fighting groups. Its Islamist emphasis has already alienated some other fighters.
All of this was predictable and predicted.