T-Shirts, Airlines, and the Limits of Political Speech
A story headlined "American Airlines Rejects Female Passenger Because Political Pro-Choice T-Shirt is 'Inappropriate'" is going viral.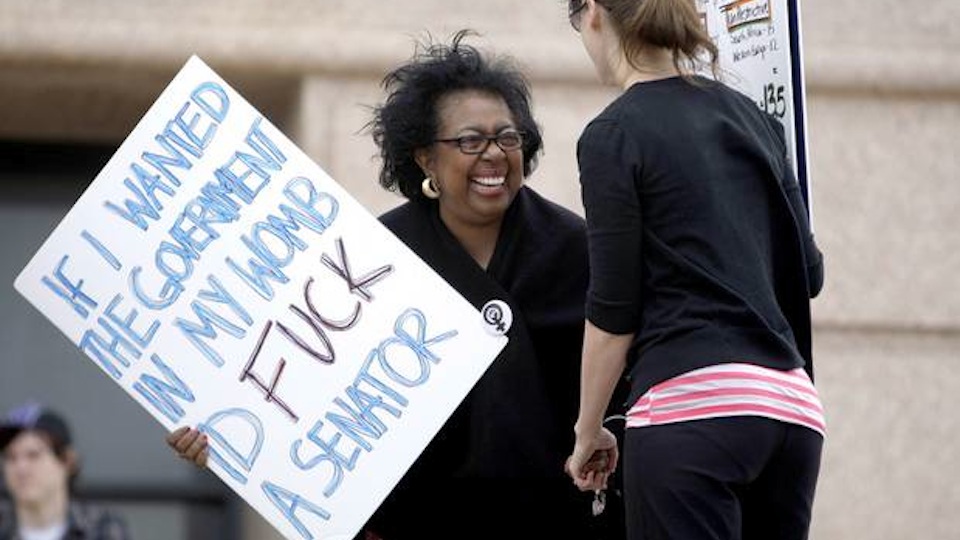 A story headlined "American Airlines Rejects Female Passenger Because Political Pro-Choice T-Shirt is 'Inappropriate'" is going viral. Let's just say that the "inappropriateness" of the shirt has nothing to do with its political content.
Today, I received an email from one of those colleagues, detailing the ordeal through which she was put by American Airlines on her flights home. They actually forced her to miss her connecting flight and demanded she change her top. The reason? Her politically salient pro-choice t-shirt was offensive to the flight crew.
Shocking, right?
That sign said: "If I wanted the government in my womb, I'd fuck a senator."The t-shirt is the now-popularized version of a sign held by Oklahoma state senator Judy McIntyre (D) at a pro-choice rally in early March to protest Oklahoma's so-called personhood law, which in conferring the rights of a living, breathing person on a fertilized egg denies all rights of personhood of women, full stop.
Oh. So, she wore a shirt with a word printed on it that, if uttered on broadcast television or radio will net the broadcaster a hefty fine? That usually garners an R rating for a movie? On a public conveyance with small children aboard? And people are outraged that she was admonished and told she'd have to change shirts?
Now, the sequence of events does strike me as rather odd, presuming her story is accurate:
[O]n the plane of the first leg of my flight home, I spent the majority of [time] sleeping, using my shawl as a blanket. Right before we were set to land the flight attendant from first class approaches me and asks if I had a connecting flight? We were running a bit behind schedule, so I figured I was being asked this to be sure I would make my connecting flight. She then proceeded to tell me that I needed to speak with the captain before disembarking the plane and that the shirt I was wearing was offensive.

The shirt was gray with the wording, "If I wanted the government in my womb, I'd fuck a senator." I must also mention that when I boarded the plane, I was one of the first groups to board (did not pass by many folks). I was wearing my shawl just loosely around my neck and upon sitting down in my seat the lady next to me, who was already seated, praised me for wearing the shirt.

When I was leaving the plane the captain stepped off with me and told me I should not have been allowed to board the plane in DC and needed to change before boarding my next flight. This conversation led to me missing my connecting flight. I assumed that because I was held up by the captain, they would have called ahead to let the connecting flight know I was in route. Well, upon my hastened arrival at the gate of the connecting flight, it was discovered that they did indeed call ahead but not to hold the flight, only to tell them I needed to change my shirt. I was given a seat on the next flight and told to change shirts.

Due to the fact that my luggage was checked, changing shirts without spending money wasn't an option. I consulted a friend with a law background who told me covering with my shawl would suffice. Upon boarding the now rescheduled flight with shawl covering my shirt, my ticket dinged invalid. I was pulled to the side while the gentleman entered some codes into the computer and then told, "it was all good." I did finally arrive home to pick up my daughter an hour and a half later than scheduled.
Now, I'm not sure what authority the pilot has to detain passengers as they're disembarking the plane. I suspect that, if one tried to detain me, I'd use a common two word infinitive containing the word in question. But, presumably, he was enforcing airline policy–and quite possibly FAA regulations. How he knew she had a connecting flight, I don't know; presumably, he wouldn't have any authority to do anything otherwise.
Regardless, a grown woman decided to wear a shirt in public with a word everyone knows is considered vulgar scrawled on it. She was inconvenienced with a 90 minute flight delay, mostly because her connecting flight was so close. Or, as Jodi Jacobson describes it,

So let's review some facts. O. went through security and was stopped for additional screening, but not deemed a "security risk," and no one at TSA made the slightest mention of her t-shirt. She boarded her first flight, and none of the airline personnel at the gate mentioned her t-shirt. She quietly took her seat, wrapped her shawl around herself, and went to sleep.

When her plane landed the flight attendant confronted her and said she had to speak to the captain. At no point did anyone say quietly, hey… could you keep that covered with your shawl? Could you turn it inside out? We have a policy….

Instead, after the plane landed the flight attendant brought her up front where the captain berated her publicly and made her miss her connecting flight. It turns out when she asked if anyone had complained the answer was: NO, Only the flight attendant!
TSA is in the business of looking for dangerous materials, 3.5 ounce bottles, and the like–not offensive t-shirts. Additionally, the woman was wearing a shawl, so it's quite likely nobody noticed her shirt during boarding and takeoff. The flight attendant subsequently noticed and reported it to the pilot, which is presumably protocol. And I'm not sure I'd trust someone with the poor judgment of wearing that shirt for her flight to keep it covered up; insisting she change it is hardly unreasonable.
We don't have any information about the content and tone of the pilot's admonition. If he was rude or "berated" her, that's problematic. But he's surely allowed to tell her that she's not allowed to fly wearing a shirt that says FUCK on it.
But protest these laws and the War on Women with a t-shirt that gets right to the point? Let people know the basis of all of it, the people that "want government out of our lives" want to place it directly into our bodies? In a country supposedly founded on freedom of speech and expression, in which protestors can stand outside clinics harassing and threatening women and doctors, and run through every public square with gory doctored photos? A country in which other protestors can stand outside the funerals of gay soldiers killed in duty and scream disgusting insults, and still have their rights protected?

Oh, no. You can't do that. You can't take that message that your body is your own anywhere. Because in the United States today, that is like taking your burqha off under the Taliban. That is "offensive," "insulting" and "not for public consumption."

At least according to American Airlines, which apparently has not heard the term freedom of expression.
Sigh. There's simply no question that this woman has a right to protest government policies. But there are time, place, and manner restrictions and always have been. Using vulgar signage is simply less protected than speech conveying the same message in a different way. Indeed, if the shirt had said "SCREW a Senator" instead, I suspect she'd have been fine.