Taxpayers Paying Sexual Harassment Settlements For Members Of Congress
Your tax dollars at work.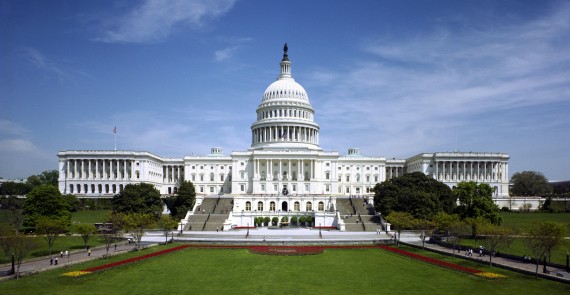 A new report indicates that American taxpayers have paid out at least $200,000 in settlement of sexual harassment claims on Capitol Hill:
WASHINGTON — New details released Tuesday show that taxpayers paid an additional $115,000 to settle sexual harassment complaints in Congress from 2008 to 2012, adding to the growing amount of such claims on Capitol Hill.

The latest information was given to Rep. Gregg Harper, R-Miss., chairman of the House Administration Committee, by the Office of Compliance, where victims file complaints. The five years of information had not been made public before, and it was being shared with the rest of the Republican House conference during a closed-door meeting Tuesday morning.

Adding to a previously disclosed claim of $84,000 that was settled from 2013 to 2017, the new figures bring the total of sexual harassment settlements the office has made since 2008 to $199,000. That earlier settlement was for a complaint against Rep. Blake Farenthold, R-Texas, who subsequently announced he will not seek re-election.

But the release of information on such claims and settlements has been piecemeal in Congress. In the Senate, the OOC refused a request from Sen. Tim Kaine, D-Va., to release information on how many sexual harassment claims had been filed and how many settled.

The numbers were released Tuesday as part of an effort by Harper's committee to get a handle on sexual harassment in the halls of Congress. The committee is set to unveil bipartisan legislation this week to reform a system that is tilted to protect the accused over complainants.

The information did not include the names of victims or those accused, nor did it include other ways members of Congress can settle claims, including with individual congressional funds, which is how John Conyers, the Michigan Democrat who resigned from the House this month, settled a $27,000 sexual harassment complaint.

"As I have stated from the beginning of this review, one case of sexual harassment is one too many," Harper said in a statement. "We must create a culture within our Capitol Hill community that instills in every employee and employer, new and old, that there is no place for sexual harassment in the halls of Congress."

Harper said he intends to obtain the information for 1997 to 2007 as well.

Susan Grundmann, executive director of the OOC, told Harper in a letter accompanying the new totals that the OOC is unable to provide detailed information about the settlements because of confidentiality constraints.

"Nevertheless, we have endeavored to respond to your inquiry to the fullest extent possible under the current statutory scheme, and we hope that the enclosed information proves helpful," Grundmann wrote.
The actual amount of settlements paid out most likely tops this figure since it doesn't include settlements paid out of funds given to individual members to operate their offices or other potential sources of money. So far, we have no idea which Members of Congress or the Senate benefited from these payments, although it has been reported in the past that settlements of this type have been paid out on behalf of members from both sides of the aisle, including Texas Republican Blake Farenthold, who announced that he will not be running for re-election, and Michigan Congressman John Conyers, who resigned from Congress earlier this month. Beyond that, though, the list remains a mystery.
Ideally, of course, the American taxpayer should not be paying sexual harassment settlements for public officials such as Members of Congress or members of their staff. These funds ought to come out of their own personal funds and be their own responsibility. In either case, though, any such settlements should be made public and the elected officials or staff members identified by name. At the very least, the American public deserves to know what's going on under the roof of Congress. This includes naming the names of Members of Congress who have been sexually harassing or assaulting members of their staff or other employees of Congress and the Senate. Anything less is, quite simply, unacceptable.
Update (12/22/2017): TodayAxios is reporting that an additional am0unt of at least $600,000 has been paid to settle sexual harassment claims arising out of the Senate.