Tea Party Guide To D.C.: Avoid Green And Yellow Lines
The Tea Party is coming to Washington, D.C. on Saturday for a Glenn Beck rally and one travel guide is warning them to stay away from certain parts of the city. Subtle racism ? No, it's common sense.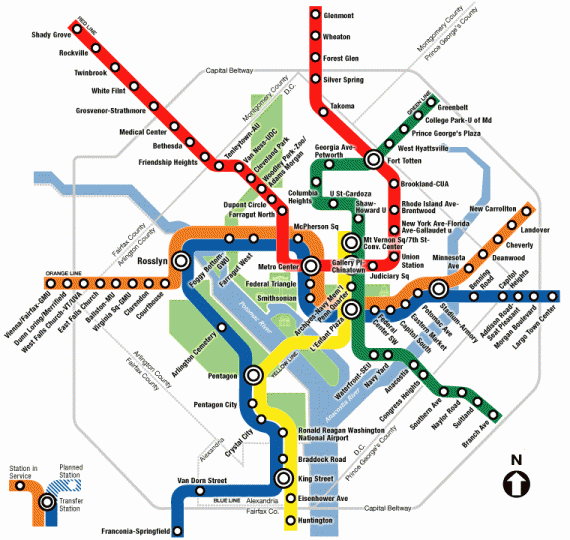 There's some eyebrow raising going on over a guide to D.C. that's being made available in advance of Saturday's Glenn Beck rally at the Lincoln Memorial, specifically the comments about which parts of the District of Columbia to avoid:
Many parts of DC are safe beyond the areas I will list here, but why chance it if you don't know where you are?

If you are on the subway stay on the Red line between Union Station and Shady Grove, Maryland. If you are on the Blue or Orange line do not go past Eastern Market (Capitol Hill) toward the Potomac Avenue stop and beyond; stay in NW DC and points in Virginia. Do not use the Green line or the Yellow line. These rules are even more important at night. There is of course nothing wrong with many other areas; but you don't know where you are, so you should not explore them.

If on foot or in a cab or bus, stay in Bethesda, Arlington (preferably north Arlington), Crystal City, Falls Church, Annandale, or Alexandria, or in DC only in northwest DC west (i.e. larger street numbers) of 14th or 16th streets, or if on Capitol Hill only in SE Capitol Hill (zip 20003) between 1st and 8th Streets, not farther out than 8th (e.g. 9th, 10th etc). (Or stay on the Mall and at the various monuments.) Again there are many other lovely places, from the Catholic University of America to Silver Spring, Maryland. But you don't know where you are so you cannot go, especially at night, unless you take me with you.
Some bloggers have speculated that there's something racial here, but I think it's pretty clear that they're looking for something that isn't there. For one thing, for people from out of town attending a rally at the National Mall, there really isn't much of any reason for them to be on the Yellow and Green lines unless they're commuting into the District from one of the suburban parking lots. For another, I wouldn't go into most of those neighborhoods by myself at night either, it strikes me as common sense to tell people who are unfamiliar with the District to avoid areas where being an outsider could be a cause for trouble itself.
Personally, I'm more interested in the authors list of "bad" addresses. In addition to amusingly listing the homes of Nancy Pelosi and Harry Reid, he also lists the Ritz-Carlton. I'm not quite sure why, they've got a fairly decent, if expensive restaurant and bar and I'd hardly call it dangerous to anything other than your credit card balance.
UPDATE (James Joyner):  Megan McArdle observes,
I'm currently staying at the home my 65 year old mother rents next to the "off limits" Potomac Avenue metro stop, we're buying a house near the "off limits" New York Avenue metro stop . . . in fact, I have never lived anywhere in DC that was on the approved list.  Either I have nerves of steel, or the warnings are just a tad overwrought.
But, as commenter Nick Schweitzer points out, "People who live in the WAY out suburbs have a much different view of where is dangerous than people who live in the City proper, or even the very close suburbs."
Adams Morgan, for example, struck me as quite seedy the first few times I ventured up there but it is in fact a vibrant, gentrified part of town that hasn't quite caught up aesthetically. And places that are borderline sketchy for strangers at midnight can be perfectly safe for locals at 11pm.
Further, if you're going to give out a map of places that are safe and those to avoid, it's wise to err on the side of the latter for places that are at all borderline. Otherwise, if there's an incident, you'll be blamed.