Tea Party Leader Tries to Explain Position on Debt Ceiling
He doesn't do a very good job.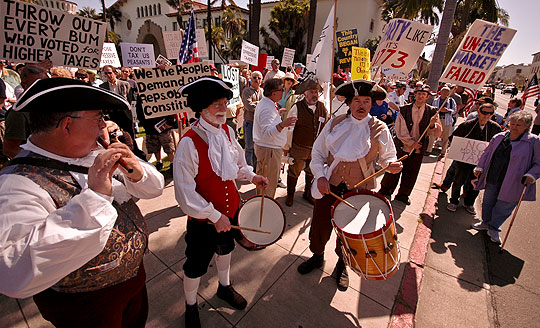 Tea Party leader Judson Phillips takes to the pages ofWaPo to explainWhy the Tea Party is unyielding on the debt ceiling
In all honesty, he doesn't explain much, but rather presents what sounds like a series of talk radio segments (which is not a surprise, as I called the Tea Party movement "talk radio made manifest" a couple of years ago).
Mostly it is a combo of "we don't want to be Greece" and paeans to the wonders of cutting waste/silly sounding programs.
In re: Greece, he writes:
We understand that we must stop the spending. Where this country is headed under the Obama-Pelosi-Reid axis of fiscal evil is not uncharted territory. Greece has been there and done that. The Greeks borrowed too much and spent too much, and they cannot tax their way out of their problems. Greece has created such an entitlement class that its politicians cannot cut spending without being voted out of office. The Greek economy is going the way of the Death Star in "Star Wars," and the final explosion should be just as spectacular.

[…]

We can see Greece's economy in its death spiral. That is our future if we do not stop out-of-control government spending and the borrowing to cover it.
Correct me if I am mistaken, but I don't see an actual argument there. Rather, it is a simplistic comparison that is supposed to be a cautionary tale without establishing why it is applicable.
Indeed, the Greek case makes for a lousy comparison for a variety of reasons, not the least of which being that the US is the source of the world's main reserve currency while the Greeks don't even have their own. Further, the Greeks already had serious problems going into the financial crisis, including over borrowing to pay for the Olympics and lying about their fiscal situation so as to get admitted to the Eurozone. In other words: they had serious fiscal issues before the financial crisis hit and were ill-equipped to handle it.
A grand irony of a Tea Party leader using Greece as an example is that part of Greece's problems has been a severe reduction in their bond ratings and yet the goals of the Tea Party (i.e., not raising the debt ceiling) are the most proximate threat to the US's bond rating (not that the US face anything like the downgrade the Greeks have suffered).
Look, I agree that we don't want to be Greece. The thing is: we aren't Greece and we aren't going to be. Our relative levels of development and economic power are different, as is our place in the global economy. Further, the nature of our problems are different.
Indeed, this is a key point: Greece has an immediate deficit and debt crisis. We do not. We have a short term spike in the deficits and we do have long term debt issues. However, our long term problems are about health care costs. The only immediate crisis is the debt ceiling issue, which Phillps' Tea Party allies are helping to create.
Beyond Greece, he attacks waste and such:
The GAO found in 2008 that more than 40 percent of the purchases made with government cards were improper, fraudulent or constituted embezzlement. These credit cards are being used to purchase Xboxes, lingerie and more.

Americans rightly think there is something wrong when our government has spent $2.6 million to teach Chinese prostitutes how to drink responsibly. Americans are tired of "bridges to nowhere," ferries to nowhere, neon light museums, cowboy poetry readings and cow flatulence studies — all of which are being paid for with our tax dollars.
Now, I agree the fraudulent government credit card use is bad and should be stopped and, certainly on the face of it, programs aimed at the alcohol consumption rate of Chinese ladies of the night strikes me as rather questionable. However, as I pointed out yesterday, that's not how we hit our current deficits and, as noted above, our long term issues are more profound than pointing out waste.
As a side notes, my reading of the cited GAO report was that ~41% of credit card purchases were improperly reported, which includes the theft in question. Phillips' characterization is, therefore, a bit exaggerated.
A concluding point, in regards to another of Phillips' points:
Average Americans understand that the federal government is bloated. The government funds too many wasteful programs. There are too many programs and spending bills that exist only to help get senators or representatives reelected.
Who does Phillips think politicians appeal to for reelection? I am pretty sure it would be those selfsame "Average Americans" that Phillips claims his Tea Party allies represent (you know, the ones who want government to keep it's hands off of Medicare).
Basically, his column states that we don't want to be Greece, that waste is bad, and that politicians often seek to be reelected by engaging in spending that their constituents want. None of which explains why we should create an unnecessary financial crisis by failing to engage in a basic procedural operation.