Tea Party More Popular than Pelosi, but not the Democratic Party
Shockingly, the Tea Party as a generic movement is more popular than congressional leadership. Interestingly, the Democrats are still slightly more popular than the Tea Party and the Reps are in third.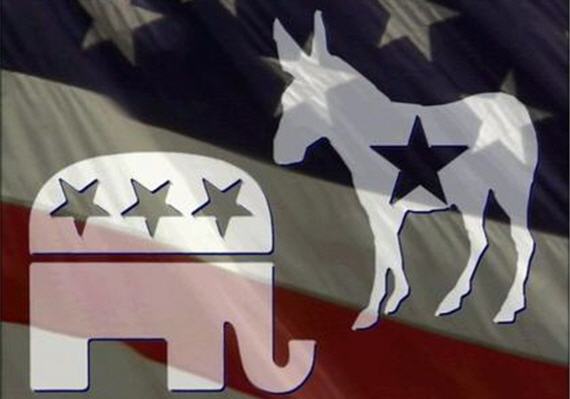 The Hill reports:  Public favors Tea Party over top Dems
The American public has a more positive view of the Tea Party movement than both leaders of the majority party in Congress, according to a poll released Wednesday.
An NBC/Wall Street Journal poll showed that 30 percent view the grassroots conservative groups very or somewhat positively compared to 34 percent who view them very or somewhat negatively.

But House Speaker Nancy Pelosi (D-Calif.) was seen positively by 21 percent of those polled — 46 percent viewed her negatively. Senate Majority Leader Harry Reid (D-Nev.) received a lower positive rating, 11 percent, but also a lower negative rating of 31 percent.
First, the headline and the basic comparison is silly:  comparing an amorphous group to specific individuals is pointless.
Second, it should be no shock that anyone in a position of power is polling poorly at the moment given the state of the economy.
Third, it should further be no shock that the Tea Party, a group that lacks a central theme (save for vague things like "we like the Constitution" and "we are spending to much") and has never had a member holding public office in its name should poll better than sitting politicians.
Interestingly, however, the Democratic Party actually polls slightly better than the Tea Party and the GOP comes in third:
Democratic Party: 33% positive/22% neutral/44% negative/1% don't know.

Tea Party: 30% positive/23% neutral/34% negative/13% don't know.

Republican Party:  24% positive/28% neutral/46% negative/2% don't know
In fairness, if we look at "very positive" v. "somewhat positive," the Tea Party wins 14% to 11% for the Democrats (6% fpr the GOP).
Poll here:  PDF.
Several things that strike me.
1)  Politicians in general aren't especially popular at the moment, so it is difficult to draw party/group-specific conclusions from a poll of this nature.
2)  While the low numbers for Democratic leadership in Congress are interesting and significant, the fact of the matter remains that that GOP has not found a way to capitalize on that discontent in a way that would augment their own popularity.  Indeed, I think this continues to be one of the more interesting storylines, so to speak, of the current political situation.  It illustrates both that the Republicans are still dealing with the legacy of the Bush administration (which explains the Democrats' insistence of using Bush as a campaign theme), and that no effective new GOP leadership has emerged.
3)  To reiterate and amplify a point from above:  the Tea Party's (relative) popularity has to be understood in the context of groups that lacks clear leaders, a clear platform, or any actual responsibility for government or policy at the moment.