Ted Cruz Ends Non-Filibuster Filibuster After 21 Hours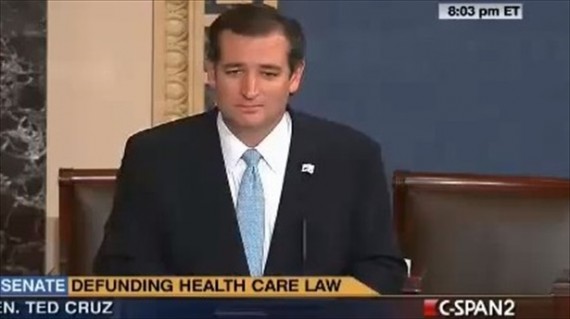 Texas Senator Ted Cruz ended the speech he started yesterday afternoon at Noon today:
Ted Cruz finally released his grip on the Senate floor after more than 21 hours of speaking about the need to defund Obamacare.

The Texas Republican seized control of the Senate floor on Tuesday about 2:42 p.m. vowing to "speak in support of defunding Obamacare until I am no longer able to stand." Cruz could have spoken all the way up to a 1 p.m. procedural vote on moving spending bill forward, but he relented at noon.

"It is my it intention to accept the end of this at noon," Cruz said.

After his 20th hour holding the floor, Cruz asked Senate Majority Leader Harry Reid (D-Nev.) to come to the floor to listen to a pair of requests that sparked a bizarre exchange. Cruz asked to waive Wednesday's vote and move a high-stakes procedural vote to Friday rather than Saturday to allow more people to watch.

"I think it is better for this country that this vote is visible," Cruz said. "Sticking it on Saturday in the middle in the middle of football games would disserve that objective."

Reid ignored Cruz's requests and asked for far more time to be yielded back to allow the House more time to consider what the Senate will send back.

"There's a possibility that they may not accept what we send them and they may want to send us something back," Reid said.

Cruz cut off Reid, accusing him of "making a speech" rather than asking Cruz a question.

Despite his Ironman stand on the floor of the upper chamber, Cruz could not stop a Senate already in motion from eventually returning a clean continuing resolution to the House scant days before a government shutdown is scheduled to take effect on Oct. 1. Under Senate rules, the latest the upper chamber could take the first procedural vote on a House spending bill that defunds Obamacare is 1 p.m. on Wednesday — a reality Majority Leader Harry Reid (D-Nev.) broadcast to the world Tuesday morning when he opened the Senate and again on Wednesday.

"This is not a filibuster. This is an agreement that he and I made that he could talk," Reid said Wednesday.
There was some discussion near the end of the non-filibuster filibuster that Cruz could have continued to hold the floor until 1pm when the vote was scheduled to occur. But, Cruz seemed intent on yielding at noon as originally agreed. In any case, while the speech was eagerly followed by conservatives online throughout the night, I'm not sure that it actually accomplished anything. The Senate will vote to proceed shortly and we'll have several days of debate before a final cloture vote either late Friday or early Saturday, when there will be less than 72 hours left to avoid a government shutdown.