Ted Cruz's Foolish Advice To His Fellow Republicans
Ted Cruz is either being incredibly cynical as he deludes his fellow Republicans, or he's living in a fantasy world.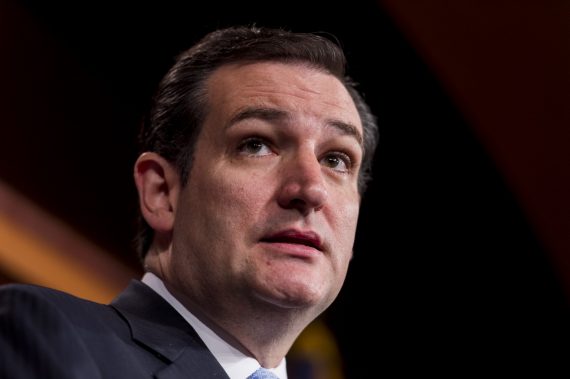 Texas Senator Ted Cruz is trying to convince his fellow Republicans that mounting a filibuster to attempt to "defund" the Affordable Care Act is a a good idea despite the fact that it seemingly has no chance of succeeding:
"Some Republicans are nervous about being blamed for a government shutdown," said Cruz. "I ask them: What's your alternative?" The CR would be the last chance of killing Obamacare, and if defunding doesn't make it in, "any elected official who votes for the CR is affirmatively voting to fund Obamacare."

Fellow Republicans have spent a few days battering the "defund" movement, insisting that it's a waste of time—no way you get the Senate to agree to it, no way you get the president to sign it. Cruz's first strategic answer to this was insisting that the CR could be filibustered, "if we hold 41 Republicans." They didn't need a majority. "The model I would turn to is the battle over guns," said Cruz, a battle that ended in a Republican victory even though most senators voted for a background checks bill.

I asked Cruz about a pattern I saw emerging every time conservatives staged a fight like this. Wasn't there, inevitably, a backlash inside the GOP caucus? Didn't the push for a showdown lead to a few Republicans cutting a deal, as happened with filibusters?

"The Obama White House operates on the assumption Republicans will surrender on every major issue," said Cruz. What he needed were 63 days of Republican activists putting the fear into the party if it didn't defund Obamacare, and great communicators shifting the blame for a shutdown from Republicans to Obama. "If we got to this fight, they ought to be on television every hour of the day, asking: Why is President Obama shutting down your government, because he's so committed to forcing Obamacare on you?"

To make that point, Cruz argued that the 1995 government shutdown really didn't hurt the GOP in the long run. They won "years of balanced budgets," and in the 1996 election, they held Congress. "The sort of cocktail chatter wisdom that, oh, the shutdown was a disaster for Republicans, is not borne out by the data."
Even accepting the argument that the 1995 shutdown didn't seem to have a major impact on the GOP in the subsequent elections in 1996, an argument that requires one to ignore the fact that they lost the Presidential election, and actually did lose some seats in the House, Cruz's advice requires anyone who follows it to ignore political reality to a significant degree. For one thing, 2013 is not 1995, and the Republican Party,  especially in its Congressional incarnation, is not viewed nearly as positively today as it was nearly 20 years ago. Indeed, poll after poll shows that the public as a whole, and most especially voters who identify themselves as "Independent" tend to view the GOP's obstructionist agenda in Congress quite negatively. Indeed, while Congress as a whole has an appallingly low approval rating, when you look at the details of those polls it's clear that Congressional Republicans are viewed far more negatively than Congressional Democrats, and the most often cited reason for that is the GOP's tendency to do exactly what Cruz is here, using the filibuster to push ideological points while stopping Congress from conducting its ordinary business.
More importantly, though, Cruz is making the same mistake that Republicans made in 1995, and which they have made several times already in the four years that President Obama has been President. He believes that by taking the Federal Government to the brink, they can somehow turn the tables and make the public believe that it's President Obama who's at fault for the fact that the Government has been, or is about to be shut down. They tried in in the Spring of 2011 when the government was about to run out of money, they tried it in July and August of that year with the battle over the debt ceiling, and they've tried it several times since then. Even on an issue like the debt ceiling, where one could almost argue that public opinion was on their side, even though they were wrong as a matter of sound public policy, however, the GOP was on the losing side of each argument as far as public opinion was concerned. What makes him, or any of those who agree with him, think that things will be different this time.
I suspect that Ted Cruz, Mike Lee, Rand Paul, and the others who are advocating this strategy realize all of this, and that they realize also that there's no way the GOP could actually "win" a showdown over defunding the Affordable Care Act in the sense of actually getting what they want passed by Congress and signed into law by the President. In the end, I'm sure they also know that there will be no filibuster and that the Continuing Resolution will be passed and signed into law, likely at the last minute or after several extensions that push the deadline into October. What they're doing here has little to do with actually winning a legislative battle, though. This is about marking territory in the ongoing battle over the future direction of the Republican Party as well as pre-positioning for possible runs for the Presidency in 2016, and it's about proving your bona fides to the Tea Party crowd so that you can ask them for more money. I mean, they can't actually believe this nonsense, can they?