Tennessee Governor Honors KKK Founder (As Law Requires)
Republican Bill Lee is coming under fire for continuing an annual tradition.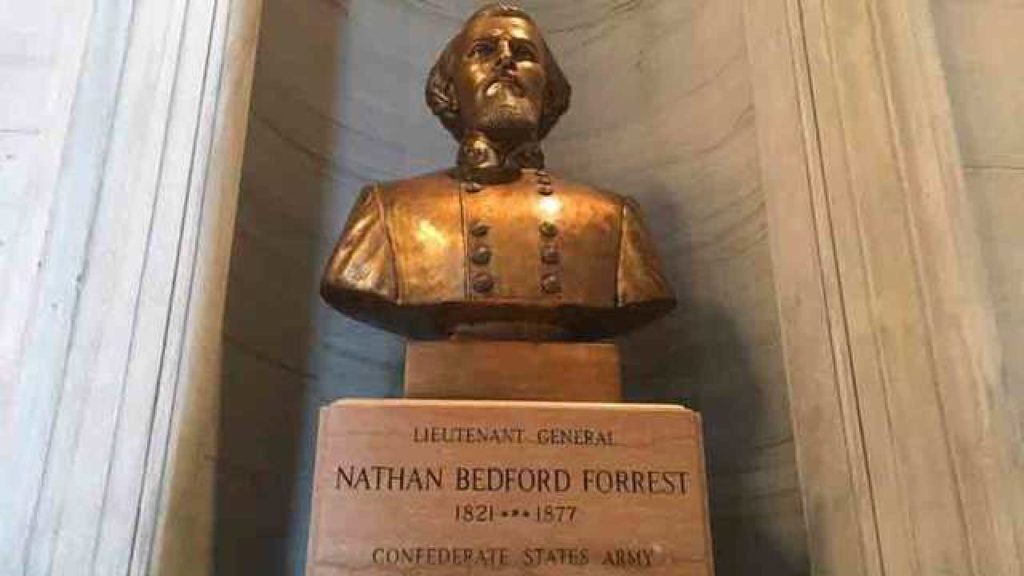 A rather weird story is making the rounds.
Gov. Bill Lee has proclaimed Saturday as Nathan Bedford Forrest Day in Tennessee, a day of observation to honor the former Confederate general and early Ku Klux Klan leader whose bust is on display in the state Capitol.
Baffling and outrageous, right?
Per state law, the Tennessee governor is tasked with issuing proclamations for six separate days of special observation, three of which, including the July 13 Forrest Day, pertain to the Confederacy.

Lee — and governors who have come before him — are also required by state law to proclaim Jan. 19 as Robert E. Lee Day, honoring the commander of the Confederate Army, as well as June 3 Confederate Decoration Day, otherwise known as Confederate Memorial Day and the birthday of Confederate President Jefferson Davis.

"I signed the bill because the law requires that I do that and I haven't looked at changing that law," Lee said Thursday.

He declined to say whether he believed state law should be changed to no longer require the governor to issue such proclamations or whether he had reservations about doing so.

A previous effort by Democrats to do so was unsuccessful.

"I haven't even looked at that law, other than knowing I needed to comply with it, so that's what I did," Lee said. "When we look at the law, then we'll see."
Lee's doing what the law requires is not worthy of headlines such as "Gov. Bill Lee signs Nathan Bedford Forrest Day proclamation, is not considering law change" (The Nashville Tennessean, whose reportage I've been citing), "Tennessee Gov. Bill Lee Honors KKK Grand Wizard With Proclamation" (HuffPo), or "GOV. LEE SIGNS FIRST KKK GRAND WIZARD DAY PROCLAMATION" (something called the TN Holler).
Still, it's a strange practice.
Granting that Forrest is widely admired for his talents as a general and cavalryman, he's best known as the founder of the Klan and for a massacre at Fort Pillow. That he would renounce and denounce the organization in late life doesn't really change that association.
Honoring Lee and Davis is much more typical throughout the South, including in my home state of Virginia. Not only are major highways and schools named after the two Confederate leaders but there's a Lee-Jackson Day that happens to occur just before Martin Luther King Jr Day. (It actually is a coincidence; Lee-Jackson Day long predates the MLK holiday.)
Upon reading that
Robert E. Lee Day, Confederate Decoration Day and Nathan Bedford Forrest Day have been special days of observation in the state since 1969.
I naturally presumed that they were instituted as part of a rebellion against the Civil Rights Act, Voting Rights Act, and the general move to end Jim Crow during that period. But it was actually a step in the right direction:
Before that, they were legal holidays, legislative librarian Eddie Weeks said.

Forrest Day first became a holiday in 1921, the 100th anniversary of his birth; Robert E. Lee Day began in 1917, though it was initially referred to only as "the nineteenth day of January," and Confederate Decoration Day was first observed as a legal holiday in the state in 1903, according to Weeks.
I'm really not interested in rehashing the debate over whether it's appropriate to honor Confederate leaders like Lee and Jackson, who were widely admired even by their enemies contemporaneously, although healing our racial wounds likely requires that we don't. But it's simply indefensible to honor Forrest.
It's frankly strange enough to have these days on the official calendar. It adds insult to injury to have the governor issue a proclamation six times a year.