Terrorist Crossings and the Wall
Terrorists aren't walking across the desert to get here. Flying is so much easier.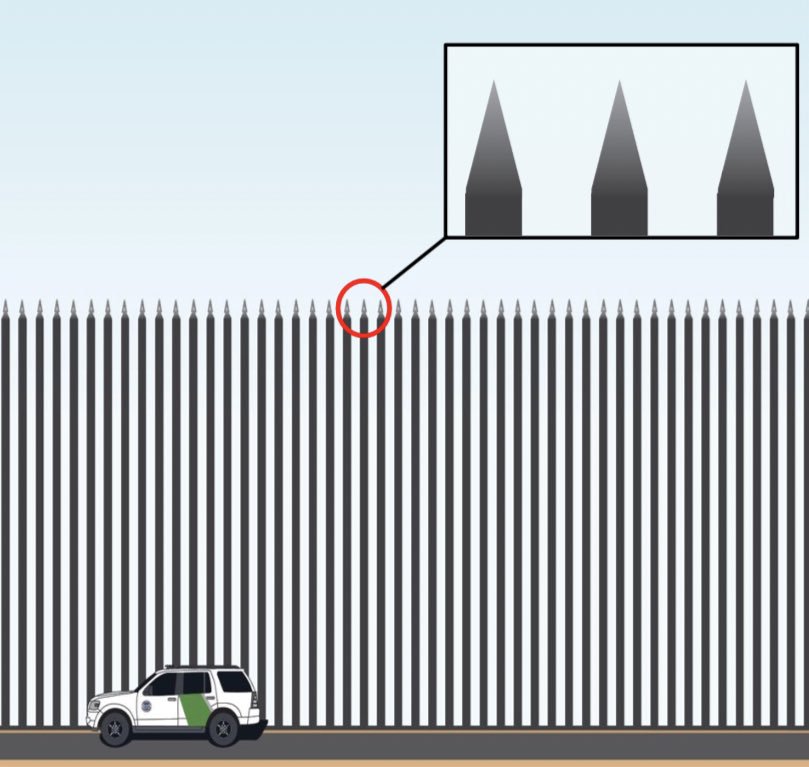 As someone who studies Latin American politics, and who has been teaching some version of US-Latin American politics for a couple of decades now, I have long paid special attention to the issue of the US-Mexican border.  Not long after the 9/11 terrorist attacks there would occasionally be a story about the vulnerability of the US-Mexican border to illegal crossings by al Qaeda (later the concern would be ISIS).  Often, the logic went like this:  Mexicans and Arabs look kind of the same, so it would be easy for an Arab to use Mexico as a means of sneaking into the United States.
Lest the kind reader think I am making such things up, here's an example from 2013 (source):
Rep. Buck McKeon (R-Calif.) said Congress should focus its immigration policy on securing the southern border with Mexico because Arab terrorists disguised as Hispanics could try to cross into the country illegally.

"There are people that can't tell the difference between a Hispanic person and an Arab person," the chairman of the House Armed Services Committee said at a town-hall meeting, according to a video obtained by Buzzfeed. "If you get an Arab that's coming into this country to be a terrorist, they can mingle in, and they can get in here, and then they can do damage."
This was a just a ready example, but it is an assertion that has been in circulation since late 2001. And let's be frank, it is based on the notion that all brown people look more or less alike.  It is also a simpleton's version of the way the world works because it forgets that to blend in, said alleged terrorists would have to speak fluent Spanish and know enough about Mexican culture to blend in.
Let's consider:  what is easier?  Finding a way to enter the US legally, or infiltrating migrants seeking to illegally enter the US from the south?
This trip down memory lane is relevant, because security, to include counter-terrorism, is one of the arguments in favor of building a border wall.  Moreover, White Press Secretary Sarah Huckabee-Sanders made an erroneous claim along this lines this week.  Via NBC News, Fact Check: Did the U.S. catch 4,000 terrorists at the southern border in 2018? (Spoiler:  no, it didn't).
White House Press Secretary Sarah Sanders said Friday that Customs and Border Protection picked up nearly 4,000 known or suspected terrorists last year "that came across our southern border."

But in fact, the figure she seems to be citing is based on 2017 data, not 2018, and refers to stops made by Department of Homeland Security across the globe, mainly at airports.

In fiscal 2017, the latest year for which data is available, according to agency data and the White House's own briefing sheet, the Department of Homeland Security prevented nearly 4,000 known or suspected terrorists from "traveling to or entering the United States."

According to Justice Department public records and two former counterterrorism officials, no immigrant has been arrested at the southwest border on terrorism charges in recent years.
I will forgive the 2017 v. 2018 bit as a bit of sloppiness that is fairly easy to do at the start of a new year, but the important issue is that even with a generous margin of error, ~4,000 is substantially different than the real number of zero.
Quite frankly, this is just misleading the American public.  While I fully expect the WH Press Secretary to try and spin in favor of the president, this is basically propaganda.
The piece continues:
The White House did not respond to a request for comment about Sanders' statement.

Ahead of President Donald Trump's meeting Friday afternoon with Congressional leaders to negotiate the end of the government shutdown, the White House issued briefing materials that stated "3,775 known or suspected terrorists [were] prevented from traveling or entering the U.S. by DHS" in fiscal year 2017. Nowhere did the briefing materials state the known or suspected terrorists were stopped at the southern border.

Ned Price, who served on President Barack Obama's National Security Council, said many of those 3,775 were stopped simply because their name matches that of someone on a terrorist watch list, which have grown in recent years, and not because they pose a threat.
The following is key:
Nick Rasmussen, the former director of the National Counterterrorism Center from December 2014 through December 2017 said, "During my tenure, the threat of terrorists trying to infiltrate the United States across our southern border was much more of a theoretical vulnerability than an actual one. It simply isn't the case that terrorist groups like ISIS and al Qaeda see the southern border as the optimal the way to get would-be terrorists into the country."
The closest fit, which is still a massive stretch, to explain SHS statement is this:
DHS Secretary Kirstjen Nielsen said at a press conference at the White House Friday afternoon that more than 3,000 immigrants have been stopped at the southwest border, over an unspecified period, because they are special interest aliens. DHS classifies nearly all immigrants crossing the border who is a national of a country outside of the Western Hemisphere as a Special Interest Alien, according to DHS reports.
Yes, we know that non-American (in the western hemispheric sense) immigrants have come from the south–and that they get extra scrutiny.  But it would be useful to know the time period is question, but more importantly it is noteworthy that there is no example that can be cited of a terrorist being caught trying to cross.  And given the way the administration will basically lie about the danger now, how much more would trumpet any real evidence it had at its disposal?
By the way, the only example I can think of that might be relevant is the thwarted Millennium bomber plot wherein would-be terrorists were stopped at the border and their plans to bomb LAX were stopped.  But, of course, that was the US-Canadian border.
As we think about the border and potential terrorism, let's remember a couple of really important facts:
All of the 9/11 hijackers came into the US legally, and via airports.
Any terrorist attack on US soil claimed by ISIS has been home-grown in the US (and were "ISIS inspired" rather than some foreign operations that were then deployed to American soil, let alone via illegal entry).
None of the above would have been stopped by a wall.
Indeed, I cannot think of a single terrorist attack, broadly defined, that would have been stopped in the history of the United States by a border wall with Mexico in the last century (we can go back to the early 1900s, I suppose, and raids by Pancho Villa).  It is certainly the case that there is no evidence that a wall would have stopped any of the terrorism that we have experienced (which, thankfully, actually hasn't been all that much) since the advent of the current war on terror era (for lack of a better term).
The bottom line when it comes to security-based claims about building a wall is this:  if we are talking about either drugs or terrorists, legal points of entry are the places we need to concentrate concern, as those of the places where entry is radically more likely than via irregular points of entry. Claiming that the border wall keeps us appreciably safer is simply a bogus claim based on no evidence.
A concluding note:  defenders of the wall will likely pivot away from terrorism to general crime and then cherry-pick some example of an illegal immigrant who committed a violent crime.  Yes, such examples exist.  But on balance, there is no measurable wave of immigrant-fueled crime (indeed, as has oft been noted, immigrants commits crimes at lower rates than non-immigrants).  More importantly, however, if saving lives or cutting down on violent crime is the goal, then there are far, far, far more efficacious ways of spending $5 billion dollars (let alone $25 billion or more) than building parts of a wall on the southern border.  So, as such, I do not take very seriously claims about the border wall and general safety.
PS:  Here's an example of terrorism-inspired nonsense about the border from the OTB archives:  Speaking of Unnecessary Fearmongering.