Texas is How Big?
JR is from Texas wants you to know that Texas is big. No, bigger than that.
JR is from Texas wants you to know that Texas is big. No, bigger than that.
Finally, you have something to show your out of state relatives, who ask if why you don't visit your distant cousin in Corpus Christi more often…"I mean, how far away is it really?" Well facts are fact, that annoying aunt may actually be closer to your cousin than you are.

Texas is 790 miles long. The red on this map represents the area that is within 790 miles of Texas. That is to say, if you are within this red zone, you are closer to somewhere in Texas than other parts of Texas are…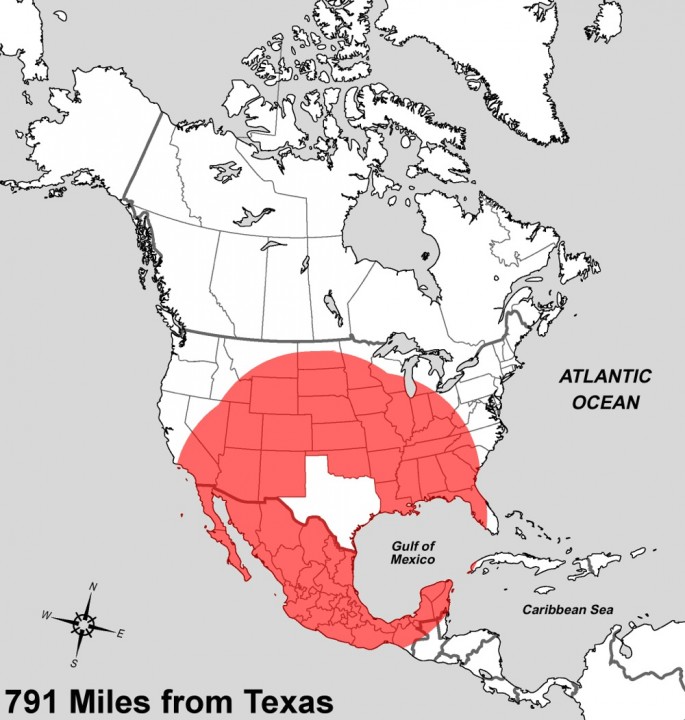 Now, of course, the conclusion JR wants you to draw is a Texas-sized misdirection. Just because it's 791 miles between the two most distant parts of Texas doesn't mean that every place in Texas is 791 miles from every other place in Texas!
Still, the distances are indeed mind boggling. Back in 1980, my dad went ahead to his next duty station at Fort McClellan, Alabama while my mom and I stayed put in El Paso, Texas to sell our house. My dad my several trips back and forth, overnighting with friends in Greenville, Texas, just outside Dallas, each time. It was a good stopping point because the drive from El Paso to Greenville was 12 hours. And that was driving the way my dad drove in those days: several miles above the speed limit and stopping only to fill up with gas and grab a sandwich or candy bar. The rest of the drive, which included some more Texas, all of Louisiana, all of Mississippi, and most of Alabama? Another 12 hours.
JR adds:
Beaumont is closer to Tampa than El Paso.

Brownsville is closer to Mexico City than DFW.

Texarkana is closer to Atlanta than El Paso.

Corpus is closer to Cuba than Denver.

Austin is closer to New Orleans than El Paso

Downtown Fort Worth to downtown Dallas is longer than the Gaza Strip is long, longer than the English channel.

Dallas to Houston is nearly the same distance as Paris to London.
You might say that it's like a whole 'nother country.
via Laura Seay