Texas Man Who Killed Daughter's Molester Won't Be Charged
A grand jury found that beating a child molester to death is an authorized use of deadly force.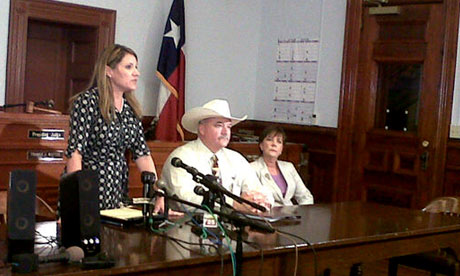 A Texas man who beat a man he caught molesting his 5-year-old daughter to death will not be charged, as a grand jury found him to be within his rights.
AP ("Texas man will not be charged for beating daughter's molester to death"):
Hearing his 5-year-old daughter crying from behind a barn, a father ran and discovered the unthinkable: A man molesting her. The father pulled the man off his daughter, authorities say, and started pummeling him to death with his fists.

With his daughter finally safe, the father frantically called 911, begging a dispatcher to find his rural ranch and send an ambulance.

"Come on! This guy is going to die on me!" the man is heard screaming on the 911 call. "I don't know what to do!"

A recording of the tape was played during a news conference Tuesday where the Lavaca County district attorney and sheriff announced that the father will not face charges.

In declining to indict the 23-year-old father in the June 9 killing of Jesus Mora Flores, a Lavaca County grand jury reached the same conclusion as investigators and many of the father's neighbors: he was authorized to use deadly force to protect his daughter.

"It's sad a man had to die," said Michael James Veit, 48, who lives across the street from where the attack happened in this small community run on ranching and the Shiner beer brewery. "But I think anybody would have done that."

The family ranch is so remote that on the 911 tape, the father is heard profanely screaming at a dispatcher who couldn't locate the property. At one point, he tells the dispatcher he's going to put the man in his truck and drive him to a hospital.

"He's going to die!" the father screams, swearing at the dispatcher. "He's going to fucking die!"
I don't know the nuances of Texas law on self-defense but it certainly seems reasonable that a man would be able to use force, even deadly force, to protect his daughter here. Whether it mattered under the law or not, it would seem to strengthen his case that he called 9-1-1 and seemed genuinely concerned that the victim would die if not given medical attention.
As a moral and precedential matter, this circumstance is very different from a vigilante revenge killing, which I absolutely believe should be prosecuted. Here, though, the man was acting in the moment to protect his daughter from an ongoing violent crime. Had he picked up a gun or a farm implement rather than beating the man to death, it would be even less questionable; the only issue that raises any red flags here is the repeated blows, presumably well past the moment when the assailant stopped being a threat. But the combination of fear, anger, and adrenaline makes that perfectly understandable.