Texas May Block Biology Textbook Because Of Evolution
Once again, some groups in Texas are trying to block approval of a science textbook because it is too deferential to Evolution.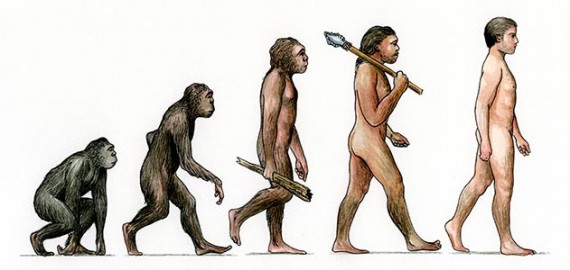 In what seems to be a battle that occurs in Texas and other states in the "Bible Belt" every couple of years, the powerful Texas Board of Education, whose picks for appropriate textbooks has a huge influence on what textbooks are available for purchase by school districts across the nation because of their huge influence on a rather limited market, has holding off approving a Biology textbook, apparently because it treats the Theory of Evolution far too sympathetically:
The Texas Board of Education on Friday delayed final approval of a widely used biology textbook because of concerns raised by one reviewer that it presents evolution as fact rather than theory.

The monthslong textbook review process in Texas has been controversial because a number of people selected this year to evaluate publishers' submissions do not accept evolution or climate change as scientific truth.

On Friday, the state board, which includes several members who hold creationist views, voted to recommend 14 textbooks in biology and environmental science. But its approval of "Biology," a highly regarded textbook by Kenneth R. Miller, a biologist at Brown University, and Joseph S. Levine, a science journalist, and published by Pearson Education, was contingent upon an expert panel determining whether any corrections are warranted. Until the panel rules on the alleged errors, Pearson will not be able to market its book as approved by the board to school districts in Texas.

"It's just a shame that quality textbooks still have to jump through ridiculous hoops that have no basis in science," said Kathy Miller, president of the Texas Freedom Network, which monitors the activities of far-right organizations.

Ms. Miller (no relation to the Pearson textbook author) said she nevertheless gave Friday's vote "two opposable thumbs up" because the board "adopted all of the science books and the publishers made no effort to water down evolution or climate science in those books."

Three members of the state school board — Barbara Cargill, the Republican chairwoman appointed by Gov. Rick Perry; Martha Dominguez, a Democrat from El Paso; and Sue Melton-Malone, a Republican from Waco — will select experts for the final review panel for the Pearson textbook. The board voted that the experts must have at least a Ph.D. in a "related field of study" and could not have served on the original review panel for the book.

The alleged errors that will be reviewed by the new expert panel were cited by Ide P. Trotter, a chemical engineer and financial adviser who is listed as a "Darwin Skeptic" on the website of the Creation Science Hall of Fame and was on a textbook review panel that evaluated Dr. Miller and Mr. Levine's "Biology" last summer. Mr. Trotter raised numerous questions about the book's sections on evolution.

"I think I did a pretty good review, modestly speaking," said Mr. Trotter, speaking from his home in Duncanville, a suburb of Dallas. He said Dr. Miller and Mr. Levine's textbook "gives a misleading impression that we have a fairly close understanding of how random processes could lead to us." He added, "If it were honest, it would say this is how we are looking at it, and these are the complexities that we don't understand."

Susan M. Aspey, a spokeswoman for Pearson, said that the publisher "is proud of the work we've done with educators and scientists to create effective materials for the state of Texas."

Ronald Wetherington, a professor of evolutionary anthropology at Southern Methodist University who has already looked over Mr. Trotter's complaints, described them as "non sequiturs and irrelevant."

"It was simply a morass of pseudoscientific objections," Dr. Wetherington said.
Bill Nye,, who has done much to popularize science and science education  over the years, is not pleased at all by developments in Texas:
"This textbook business is, to my way of thinking, a very serious matter, because of the economic impact," Nye said in an email to HuffPost. "Everyone should take a moment and think what it will mean to raise a generation of students who might believe that it is reasonable to think for a moment that the Earth might be 10,000 years old."

"It's an outrageous notion," Nye continued. "It's not a benign idea. It's inane or silly. These students will not accept the process of science, which will stifle or suppress innovation."

How so?

Using a Dallas-based high-tech company as an example, Nye said the suppression of science ultimately would mean that such companies "would not be able to find competent engineers to come up with new ideas and create new products."

"It's not a religious issue, as such. It's the future of the United States' economy that's at stake," Nye said.
As is usually the case in these situations, the objections to the textbook in question seem to be based upon a common, and completely, fallacious argument advanced by opponents of the teaching of evolution and those who desire to inject so-called "Intelligent Design," which in the end is little more than the Biblical Creation Myth set forth in Genesis in pseudo-scientific clothing and pretend that its' science. Evolution, these people will claim, is "just a theory," and therefore should not be taught in a science classroom as anything other than one of many possible explanations for the existence of intelligent left in general, and humanity in particular, on Earth. In their eyes, "Intelligent Design" is just as valid as "theory" as Evolution. To the average American not familiar with science and the scientific method, this is likely a pretty persuasive argument because they are likely judging it based on the lay idea of what a "theory" actually is. Outside of "theory" is often just a possible explanation of what might have happened based on available evidence, kind of like how detectives come up with a theory of how a murder may have occurred based on the available evidence. Since these theories quite often being proven to have been wrong, or at least no more plausible than an alternative theory, the idea that one theory should be taught to the exclusion of all others probably makes sense to them. Add into this the fact that polling continues to show that large numbers of Americans still remain skeptical about Evolution being the explanation for existence of human life, and the "Intelligent Design" crowd often finds itself gaining allies when it makes this argument.
There's just one problem with that argument. It completely ignores the difference between "scientific theory," and "theory" in the lay sense of the word:
A scientific theory is not "just a theory";

'A scientific theory is a well-substantiated explanation of some aspect of the natural world, based on a body of facts that have been repeatedly confirmed through observation and experiment. Such fact-supported theories are not "guesses" but reliable accounts of the real world. The theory of biological evolution is more than "just a theory." It is as factual an explanation of the universe as the atomic theory of matter or the germ theory of disease. Our understanding of gravity is still a work in progress. But the phenomenon of gravity, like evolution, is an accepted fact.',American Association for the Advancement of Science.

Also a scientific law differs from a scientific theory in that a scientific law does not, unlike a scientific theory, propose a mechanism or explanation of the phenomena under consideration. Therefore a scientific theory is a more powerful tool than a scientific law because the law can only be applied in specific cases and does not offer any explanation for what is happening. eg Newton's law of gravity gives us an equation to calculate the attraction between two bodies but gives no explanation of why the equation works; and as we know Newton's Law does not actually hold when applied outside the boundary conditions for which it was created, which is where Einstein comes in.
This is all, of course, part of the Scientific Method, something which psuedo-science like "Intelligent Design" cannot withstand because it is ultimately not based on science but upon the deliberate distortion of fossil records combined with the effort to put a scientific veneer on something that is, in the end, quite obviously a myth. That's why it doesn't belong in a science classroom and why Evolution, quite obviously does. Apparently they still haven't learned that lesson in certain parts of the country.