That Des Moines Register 2016 Poll? Yea, It's Largely Meaningless
It's way too early, folks.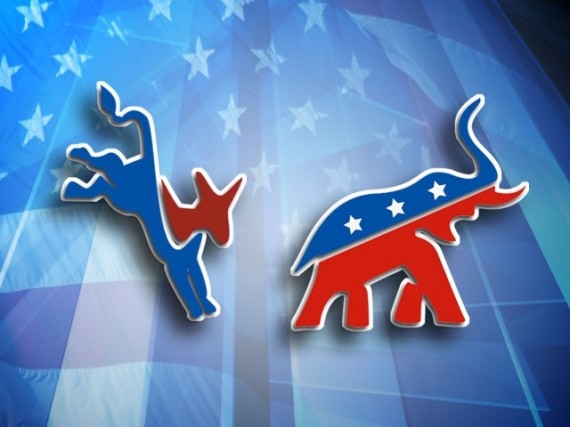 There's been much chatter in the political world about a new Des Moines Register poll that purports to show potential Republican candidates for President polling better against Hillary Clinton in Iowa than many people might have expected, and one former candidate whose name keeps creeping into the 2016 speculation actually narrowly leading her:
If the presidential election were held today, and Iowa's likely 2016 voters had a choice between Democrat Hillary Clinton and a kaleidoscope of Republicans, Clinton beats nearly everybody.

Everybody, except one: Mitt Romney tops Clinton, 44 percent to 43 percent, the new Des Moines Register/Bloomberg Politics Iowa Poll shows.

Romney answers the "would the third time be the charm?" question a little differently each time, but it's always a version of no. Clinton is open about the fact she's considering a second presidential run, but for now, she's living life as a newly minted grandmother.

Despite her polling power over the Republicans, Clinton remains a polarizing figure in Iowa. Her favorability rating is upside down: 49 percent of likely 2014 voters have a negative view of her, 2 percentage points more than those who view her favorably (47 percent).

"Importantly, her unfavorables bend toward 'very unfavorable' — 30 percent," said the pollster for the Iowa Poll, J. Ann Selzer. "That's not the highest we tested. Sarah Palin's very unfavorable number is 39 percent and (President Barack) Obama's is 38 percent."

Romney's favorability rating is positive — 48 percent favorable to 45 percent unfavorable.

Of six other Republicans tested in hypothetical match-ups against Clinton, Wisconsin U.S. Rep. Paul Ryan fares the best. She edges him 44 percent to 43 percent.

Next best is Kentucky U.S. Sen. Rand Paul with a 3-point deficit, then New Jersey Gov. Chris Christie at 5 points, former Florida Gov. Jeb Bush at 7, and Florida U.S. Sen. Marco Rubio, 8.

The one who fares the worst: Texas U.S. Sen. Ted Cruz. He loses by 10 points.
Sitting here twenty-five months before the 2016 General Election, and some 16 months or so from the Iowa Caucuses, this poll is largely meaningless. As with most polls taken at this point in time, it's largely a test of name recognition and personal favorability at time when there isn't really anyone running for President in either party. At the most, we can say that this poll shows us that Hillary Clinton continues to have some fences to mend among Iowa voters even six years after her loss there to Barack Obama which set the ground for a 2008 Presidential match-up between her and Barack Obama that was among the most hardly fought in recent memory. Perhaps as some measure of the fence mending task ahead, Clinton recently returned to Iowa for the first time since her loss to appear at retiring Senator Tom Harkin's final Steak Fry, an annual event since the 1970s that has been an important campaign kickoff for the state's Democrats. If, as seems to be readily apparent at this point, Clinton does get into the race for the White House then there will obviously need to be some work done in Iowa in order to shore up any potential threat to her candidacy there that would boost the chances of an opponent that otherwise would not have any real chance against her. It strikes me, though, that Clinton is well aware of these issues, as are the people who seem to be forming the core of what will be an eventual Clinton 2016 campaign. Many of these people are former Obama 2008 and 2012 campaign advisers who will, no doubt, be on top of their candidates issues in that state. None of this is say that Clinton might not face potential issues in Iowa — indeed, the political media will be looking for such a trip-up from the potential front runner because it will be awfully boring to cover what may turn into a coronation — but it is to say that this poll does not definitively establish that, nor does it tell us what the situation will look a year from now or sixteen months from now when the Iowa Caucuses are held.
Also, the fact that some potential Republicans seem to be more competitive against Clinton at the moment than some might expect doesn't mean nearly as much as the political media, and the partisan commentators, are making it out to be. The most obvious reason, of course, is the time factor. With twenty-five months to go and nobody having even declared their candidacy for President, it's way too early to say that these numbers mean anything at all.  Once again, they are influenced mostly by name recognition and other factors that will end up changing as the Presidential race begins and proceeds forward. In fact, if you look at the details of the poll you find that there are significant numbers of respondents who said that they were "not sure" how they felt in response to the individual favorability question when it was applied to people like Rand Paul and Jeb Bush, and those are two candidates who have been in the national news quite a lot, one of whom, Paul, has been spending a lot of time in Iowa over the past year. Given that, it seems clear that these numbers mean far, far less than the Register and the pundits would like us to think that they do. As for the fact that Mitt Romney polls so well in Iowa, that too is largely a factor of name recognition and the fact that, just two years ago, he received 46% of the vote. What it isn't is proof for any sort of contention that Romney would be a strong candidate in a second General Election for President, assuming that he somehow managed to win the GOP nomination.
A year from now, a poll like this will be relevant. Right now, it's just sheer entertainment. Evaluate it accordingly.