The 112th Congress: A "Do Nothing Congress"?
Republicans are promising two years of gridlock and obstructionism if they take control of Congress, but is that really what the people who are likely to vote for them next week really want?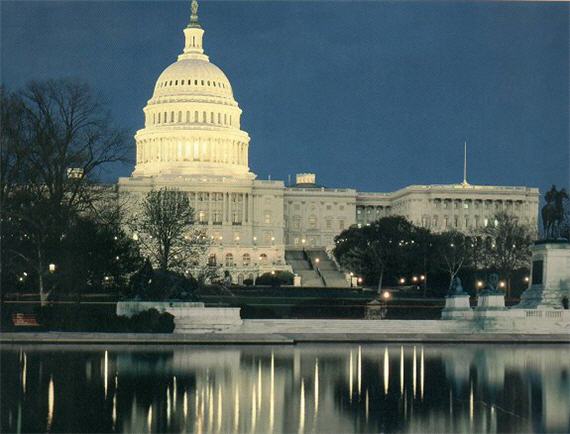 There's more rhetoric today from Republicans promising an agenda of gridlock should they regain control of Congress.
First, we've got Congressman Mike Pence, who said on a radio show today that there would be no compromises with the Obama Administration:
Republicans aren't interested in compromising with President Obama on major issues if they retake the House or Senate, a senior GOP lawmaker said.

"Look, the time to go along and get along is over," said Rep. Mike Pence (Ind.), the chairman of the House Republican Conference. "House Republicans know that. We've taken firm and principled stands against their big government plans throughout this Congress, and we've got, if the American people will send them, we've got a cavalry of men and women headed to Washington, D.C. that are going to stand with us."

Pence said his party wouldn't compromise on issues like spending or healthcare reform, two of the weightiest items on Congress's agenda next year, when the Republicans could control one or both chambers.

"Look, there will be no compromise on stopping runaway spending, deficits and debt. There will be no compromise on repealing Obamacare. There will be no compromise on stopping Democrats from growing government and raising taxes," Pence told conservative radio host Hugh Hewitt Thursday evening. "And if I haven't been clear enough yet, let me say again: No compromise
Then today, a top House Republican gave college students in Utah a preview of what the next two years would look like if his party retakes Congress:
Voters should expect "good old-fashioned gridlock" in Washington if Republicans win control of one or both chambers of Congress, one GOP lawmaker said.

Rep. Rob Bishop (R-Utah), a vice chairman of the House Republican Policy Committee, told students at Utah State University on Friday that a GOP-held House might not be able to accomplish too much as long as President Obama's in the White House.

"The most you can expect is two years of good old-fashioned gridlock," he said at an event on the campus, according to a report by the university's paper, the Utah Statesman.
Even Senate GOP Leader Mitch McConnell seems to be all-in with the gridlock-and-obstruct strategy:
About the time predictions started to surface in Washington that Democrats might lose control of one or both houses of Congress, Senate Minority Leader Mitch McConnell began to research what happened to presidents who presided over a loss of Congress in their first midterm election.

It's occurred three times in the past 100 years, and in each case the minority party that took control watched the supposedly vanquished president win reelection just two years later. First, Harry Truman in 1948 (after losing 55 House and 13 Senate seats in 1946); second, Dwight Eisenhower in 1956 (after losing 18 House and two Senate seats in 1954, creating Democratic majorities that would last in the Senate until 1980 and in the House until 1994); and finally, Bill Clinton in 1996 (after losing 54 House and eight Senate seats in 1994).

McConnell spent some of the summer and all of the fall ruminating on what congressional Republicans must learn if they wish to avoid the fate of those temporarily victorious majorities. Two principal lessons emerged, he said: Manage expectations, and pursue an agenda that any future GOP nominee can embrace in 2012. The only problem is that both goals require consensus, and it's hardly clear that he'll have it in his chamber. With the infusion of tea party blood, it's anybody's guess whether the Republican Conference can be the careful, unified party that McConnell hopes for.

"Our single biggest political goal is to give our nominee for president the maximum opportunity to be successful," McConnell told National Journal in his first extensive interview about his aspirations for the Senate Republicans of the 112th Congress. "We need to work smarter than we did [in 1995], and not become the foil off which [President Obama] pivots."
Not exactly a commitment to bipartisanship there.
To be honest, this does appeal to my libertarian inclinations. A government that "gets stuff done" is, inevitably, a government that expands its power and spends money it doesn't have on things it shouldn't be doing. However, I have to wonder whether this is really the smartest political strategy for Republicans to pursue. As the 1995 shutdown crisis demonstrated, these types of tactics seldom play well with the public and it seems to me that the GOP would be drastically misreading the results of next Tuesday's election if they concluded that the public wanted them to be obstructionist rather than finding ways to work with the Democrats in the White House.
While many people have drawn analogies between this year's elections and Bill Clinton's move to the center after the 1994 elections, there is another historical parallel that could unfold if Congressional Republicans overplay their hand:
Under Dewey's leadership, the Republicans had enacted a platform at their 1948 convention that called for expanding social security, more funding for public housing, civil rights legislation, and promotion of health and education by the federal government. These positions were, however, unacceptable to the conservative Congressional Republican leadership. Truman exploited this rift in the opposing party by calling a special session of Congress on "Turnip Day" (referring to an old piece of Missouri folklore about planting turnips in late July) and daring the Republican Congressional leadership to pass its own platform. The 80th Congress played into Truman's hands, delivering very little in the way of substantive legislation during this time. The GOP's lack of action in the "turnip" session of Congress allowed Truman to continue his attacks on the "do-nothing" Republican-controlled Congress. Truman simply ignored the fact that Dewey's policies were considerably more liberal than most of his fellow Republicans, and instead he concentrated his fire against what he characterized as the conservative, obstructionist tendencies of the unpopular 80th Congress.

Truman toured—and transfixed — much of the nation with his fiery rhetoric, playing to large, enthusiastic crowds. "Give 'em hell, Harry," was a popular slogan shouted out at stop after stop along the tour. However, the polls and the pundits all held that Dewey's lead was insurmountable, and that Truman's efforts were for naught. Indeed, Truman's own staff considered the campaign a last hurrah. The only person who appears to have considered Truman's campaign to be winnable was the President himself, who confidently predicted victory to anyone and everyone who would listen to him. However, even Truman's own wife had private doubts that her husband could win.
Ultimately, of course, Harry Truman did pull off a win, and it was largely thanks to his barnstorming campaign against the Republican Congress.
If Republicans really do go forward with their "no compromises," gridlock strategy, one could see Obama taking a tack similar to Truman's in 1948. In fact, if you've followed Obama's stump speeches these past few weeks, he's already started to do that:
President Barack Obama dusted off old campaign slogans at an 11th-hour rally here Sunday, hoping to mobilize African-American and youth voters to back Democrats with three weeks to go before November's midterm election.

"On Nov. 2, I need you as fired up as you were in 2008," Mr. Obama said, with Vice President Joe Biden at his side. "They said 'No you can't elect a skinny guy with a funny name to the presidency of the United States.' What did you say?"

The crowd, which included union members, African-Americans and young people, responded, "Yes we can!"

(…)

Mr. Obama devoted much of his speech to criticizing Republican policies, including what he described as a GOP proposal to extend tax cuts to the rich. Republicans are pushing to extend all tax cuts introduced under the Bush administration and which are due to expire at the end of the year, on the grounds that raising taxes would hurt the country's nascent economic recovery. Mr. Obama and other Democrats want to extend cuts only for families making less than $250,000 a year.

Referring to Republicans' "Pledge to America" manifesto detailing their candidates' positions on issues, including a call to roll back the health-care overhaul, Mr. Obama said: "Republicans might have a new name for it. But it's the same old stuff they've been peddling for years."
This rhetoric isn't going to do much to stem the Republican tide this year, it seems, but one could easily see it having a different effect two years from now when Republicans have a record of their own to defend and a potentially controversial candidate at the top of their ticket.
It's usually foolish to count an incumbent President out when they're running for re-election. Harry Truman taught us that lesson, and Barack Obama may teach it again if the Republicans end up playing into his hands.