The Absurdity Of Anti-Bullying Laws
The latest push for laws against bullying is another example of the Nanny State rum amok.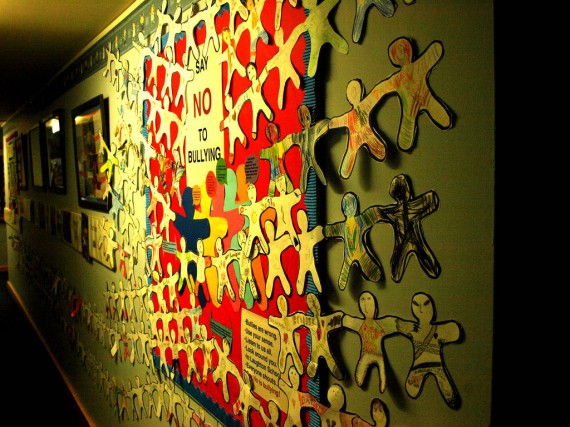 Inspired in part by the tragic death last year of Rutgers University Freshman Tyler Clementi after what appeared at first to be a case of anti-gay bullying by his roommate (the story has gotten a little more complicated over the past year), New Jersey has enacted a far-reaching anti-bullying law for public schools:
Under a new state law in New Jersey, lunch-line bullies in the East Hanover schools can be reported to the police by their classmates this fall through anonymous tips to the Crimestoppers hot line.

In Elizabeth, children, including kindergartners, will spend six class periods learning, among other things, the difference between telling and tattling.

And at North Hunterdon High School, students will be told that there is no such thing as an innocent bystander when it comes to bullying: if they see it, they have a responsibility to try to stop it.

But while many parents and educators welcome the efforts to curb bullying both on campus and online, some superintendents and school board members across New Jersey say the new law, which takes effect Sept. 1, reaches much too far, and complain that they have been given no additional resources to meet its mandates.

The law, known as the Anti-Bullying Bill of Rights, is considered the toughest legislation against bullying in the nation. Propelled by public outcry over the suicide of a Rutgers University freshman, Tyler Clementi, nearly a year ago, it demands that all public schools adopt comprehensive antibullying policies (there are 18 pages of "required components"), increase staff training and adhere to tight deadlines for reporting episodes.

Each school must designate an antibullying specialist to investigate complaints; each district must, in turn, have an antibullying coordinator; and the State Education Department will evaluate every effort, posting grades on its Web site. Superintendents said that educators who failed to comply could lose their licenses
"I think this has gone well overboard," Richard G. Bozza, executive director of the New Jersey Association of School Administrators, said. "Now we have to police the community 24 hours a day. Where are the people and the resources to do this?"
On the surface it seems that Bozza has a point. Schools are already tasked with doing many things that have almost nothing to do with their educational mission, adding a new "anti-bullying" regime to the mix would seem to distract teachers and administrators from their primary task, education. Moreover, as someone who experienced his fare share of bullying back in the day (being the first kid in your class to wear glasses tended to do that in the 70s apparently), I really don't know that getting school officials more involved is going to accomplish anything. Supporters of the law say that things have changed, that bullying today is more pervasive thanks to things like Facebook, Twitter, and text messaging, and we've certainly seen more than a few examples of how cyber-bullying can lead to tragic results.
At the same time, though, I find mysel f agreeing with former Congressman Bob Barr that these laws tend to do more harm than good:
Other states are following suit; but New Jersey's effort may take the prize as the most ridiculous. It requires students to report any perceived incidents of "bullying," and demands they attempt to stop such actions if they witness them. It also establishes a vast anti-bullying bureaucracy; stretching from individual classroom monitors, to the principals' offices, the school district level, and all the way to the state-wide education department.

According to The New York Times, the new law – the "Anti-Bullying Bill of Rights" – will allow teachers and students to anonymously report perceived incidents of improper behavior. The extensive bureaucracy that will be put in place requires that schools "designate an anti-bullying specialist to investigate complaints; each district must, in turn, have an anti-bullying coordinator; and the State Education Department will evaluate every effort, posting grades on its Web site."

Many teachers and administrators are unhappy with the new system. They complain they do not have the resources or money to comply, which could put their licenses in jeopardy. The anonymous tip provision is likely to be used as a way for children to target students they dislike.
The likelihood of false anonymous complaints of bullying strikes me as being fairly high, given the behavior of children, adolescents, and teenagers in school situations. Girl A gets into an argument with Girl B, for example, so she puts in an anonymous complaint of bullying, which the school has to investigate. How many complaints like that will there be, all of them tying down administrative and teacher time that ought to be spent actually educating?
Anthropologist Janice Harper notes the same problem, and points out that laws like the one that just went into effect in New Jersey could actually make things worse for targets of bullying:
The situation is ripe for escalating the aggression against targeted individuals — whose emotional vulnerability when targeted is easily misperceived, exploited and recast as hostile the more "investigations" ensue under this new law. Those who are charged with launching and conducting these investigations — teachers, school administrators and social workers who are already overwhelmed at work — may well resent being compelled to document and investigate such unsettling and murky conflicts. Consequently, they may focus their investigation on the most vulnerable person — the "tattletale," the "whistleblower," the target whose "difference" marked them for social aggression or "bullying" in the first place.

(…)

Labeling, dehumanizing, and expelling people are forms of aggression and belong on a continuum of violence that grows ever greater the more they are sanctioned by authorities. Current anti-bullying rhetoric is among the most exclusionary, dehumanizing and aggressive trends developing in American society today and one I fear does more to embolden "bullying" than to remedy it. To better equip schools, parents, and children to address bullying behaviors, we might begin by analyzing bullying as a group phenomenon, and give greater power to all participants to defuse social conflicts informally, compassionately and independently. When it comes to dealing with "bullies," one size does not fit all.
Harper's insight is, I think, an important one. More often than not, victims of bullying tend to be children who are, for whatever reason, already emotionally vulnerable for one reason or another, and "different" from others. It's usually those differences — intelligence, social awkwardness, lack of athletic skill — that serve as the impetus for the bullying to begin with. These type of laws only seem to serve to enhance those differences, and place the victims of bullying at a disadvantage when the matter boils down to a "he said/he said" situation, as most do. Moreover, it's sad but true that teachers sometimes pick up on the same differences and accept the explanations of the "popular" kids, even if there the ones that happen to be doing the bullying.
Hans Bader notes another concern about these types of laws, and the general attitude that surrounds them that is exemplified by a school in West Berlin, New Jersey that requires students to invite all their classmates to their birthday party if they invite a single one:
[The policy states] If a student is inviting his/her classmates to a party, he/she must invite all of the students in the class or all of the female students or all of the male students. When invitations are given in school, students may not arbitrarily invite or exclude classmates from parties."

(…)

Many of these bossy rules dictating who kids can invite to their own birthday parties are based on the weird idea that inviting only popular children is a form of bullying.  Using politically-correct psychobabble about "power relationships," some psychologists have sought to redefine bullying to include wielding "popularity," not just violence.  For example, a recent survey by a clinical psychologist at the University of Virginia, Dewey Cornell, defined bullying as "the use of one's strength or popularity to injure, threaten or embarrass another person on purpose," and defined it to include "verbal" or "social" behavior, not just "physical" assaults and intimidation.  So if you are "embarrassed" by a "popular" person you can accuse them of bullying. Still worse is the nobully.com web site, which defines even "eye rolling" as a form of bullying, so if you roll your eyes at a jerk, they can accuse you of "bullying."  As someone who experienced real, violent bullying as a child, I think these overbroad definitions of bullying trivialize actual bullying.
This broad over-definition of bullying strikes me as profoundly silly and somewhat dangerous. On the surface, a rule that says that you have to invite all your classmates to your birthday strikes me as a violation of a students' First Amendment right of free association, not to mention the fact that it strikes me as extending school authority way too far beyond school grounds. If the policy merely said that party invitations cannot be given out in school that would be one thing, but saying that a child's parents has to host the entire class if their son or daughter wants a single classmate at a birthday party is absolutely absurd. More importantly, defining "bullying" as broadly as some would like to would essentially mean that unless children are friends with everyone, then they're engaging in "bullying." Or, as some experts suggested about a year ago, maybe children shouldn't have "best friends" at all.
Respect for others and tolerance of differences are things that children most definitely ought to learn, although those are lessons best taught at home rather than in the classroom. At the same time, though, children need to learn that they aren't always going to get along with everyone, and that it's important to stand up for yourself. Real incidents of harrassment that target emotionally vulnerable students should obviously be dealt with (although, again, that's also a lesson that begins at home). However, these anti-bullying laws strike me as an absurd over-reaction to a few tragic cases. They aren't going to solve the problem, and they're more likely to be used to bring more torment to the real targets of bullying than anything else.
Once again, the Nanny State has over-reacted.
Photo via Flickr under a Creative Commons license.