The Abuse of Power in a Small Town Police Force
Not Mayberry. Not even close.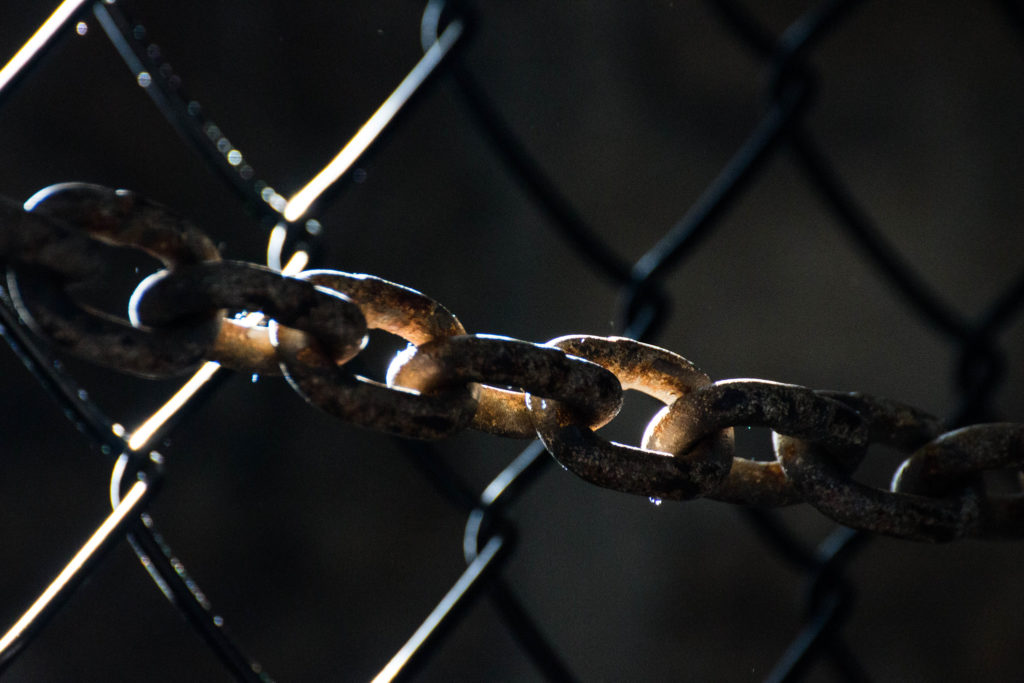 AL.com has a remarkable, extensive, and, to me, sickening story about a small town just outside of Birmingham, AL: Police in this tiny Alabama town suck drivers into legal 'black hole'. It is a tale about turning basic police powers into an unjust money machine that serves not the cause of public safety, but of its own self-perpetuation. While it isn't some dramatic tale of mass violence or denial of human rights on a societal scale, as we often associate with authoritarian regimes, it nonetheless is a very clear illustration of how the power of the state, specifically law enforcement, can be used with impunity to victimize citizens who end up having limited, if any, recourse. It is also an illustration that, despite the way it is often discussed, local government is not necessarily the most benign level of government (and can misbehave without anyone noticing).
Here are the basics:
Months of research and dozens of interviews by AL.com found that Brookside's finances are rocket-fueled by tickets and aggressive policing. In a two-year period between 2018 and 2020 Brookside revenues from fines and forfeitures soared more than 640 percent and now make up half the city's total income.

And the police chief has called for more.

The town of 1,253 just north of Birmingham reported just 55 serious crimes to the state in the entire eight year period between 2011 and 2018 – none of them homicide or rape. But in 2018 it began building a police empire, hiring more and more officers to blanket its six miles of roads and mile-and-a-half jurisdiction on Interstate 22.

By 2020 Brookside made more misdemeanor arrests than it has residents. It went from towing 50 vehicles in 2018 to 789 in 2020 – each carrying fines. That's a 1,478% increase, with 1.7 tows for every household in town.
I am not sure I have ever seen a better example of the old saw about the self-licking ice cream cone: the money earned from the fines (which the article notes now account for just shy of half of all revenue for Brookside) is basically plowed back into the police force.
Jones said crime when he took over was higher than it appeared from numbers the town reported to the state. He said response times were long because Brookside often had to rely on the Jefferson County Sheriff's department for service.

He said he'd like to see even more growth in revenue from fines and forfeitures.

"I see a 600% increase – that's a failure. If you had more officers and more productivity you'd have more," Jones said. "I think it could be more."

When Jones was hired as chief in 2018, he was the only full-time police officer, he said in sworn testimony for a lawsuit filed against him and the city. By last summer, he said in a deposition, Brookside had hired eight additional full-time officers and several part-timers.

Asked in December how many officers were on staff, he refused to say, citing "security" concerns, though police staff sizes are reported regularly to the government for public consumption.

A department of nine officers in a 1,253-person town is far larger than average. Across the country, the average size of a force is one officer for every 588 residents, according to a Governing Magazine study that examined federal statistics.

Last year, based on Jones' testimony, Brookside had at least one officer for every 144 residents.
The idea that it raises "security concerns" to know how many public employees the police department has underscores the militarized thinking at play here.
I would note the following photo from the piece illustrates both the way funds are being spent and yet another example of unnecessary militarization of law enforcement.
Brookside, AL is not a place that needs a riot control vehicle. Not even close.
Indeed, before getting into more details from the piece I will note that I am quite familiar with the area surrounding Brookside and have some specific experience with Brookside itself. Brookside is part of an area outside of Birmingham proper but is part of the larger metro area. It is part of the area that grew up around the mining that declined some decades ago alongside the mining industry in the Magic City.* It is adjacent to the town where my grandparents (and a huge chunk of my family) lived when my mother was born (a small neighborhood that was once part of a company town). While my grandparents and a slew of aunts and uncles migrated to Texas in the 1950s, my great-grandmother, great-uncle, and several great-aunts stayed pretty much right where they had been since the early 20th century until their deaths. In fact, a beloved great-aunt was still living where she had for almost her entire life when I moved to Alabama in the 1990s for my current job. Sadly, by that time she was suffering from dementia, but we made a number of visits before she passed a few years later. So, I have both childhood recollections of the region and adult experiences.**
Here is Brookside relative to Birmingham. I have highlighted I-22, a relatively new section of interstate that goes from Birmingham to Memphis (I have to wonder as to the degree to which the full opening of I-22 was not the impetus for this move to aggressive policing since it meant more traffic near the town's borders). I-22 intersects I-65, the main N-S corridor through Alabama. All along I-65 is suburban Birmingham and it runs right through downtown.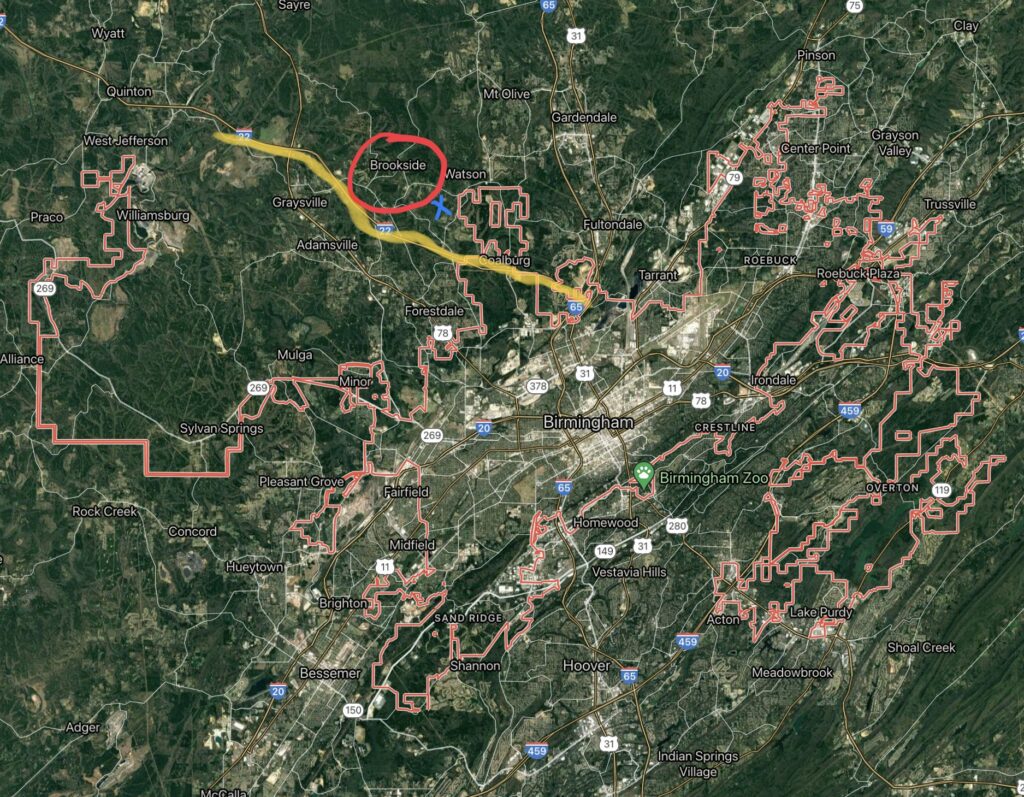 Despite proximity to suburbs and very urban areas, if I were to blindfold you and drop you in the middle of Brookside, you might assume that you were in the middle of nowhere.
Here's a zoom-in. The blue circle (and the blue "x" in the above-which is actually a little off) is the cluster of streets where a chunk of my mother's family is from. One will note that most of Brookside is hills and trees. One will also note that it does not, according to this map, actually touch I-22 (although the story notes that 1.5 miles of that highway is within its jurisdiction).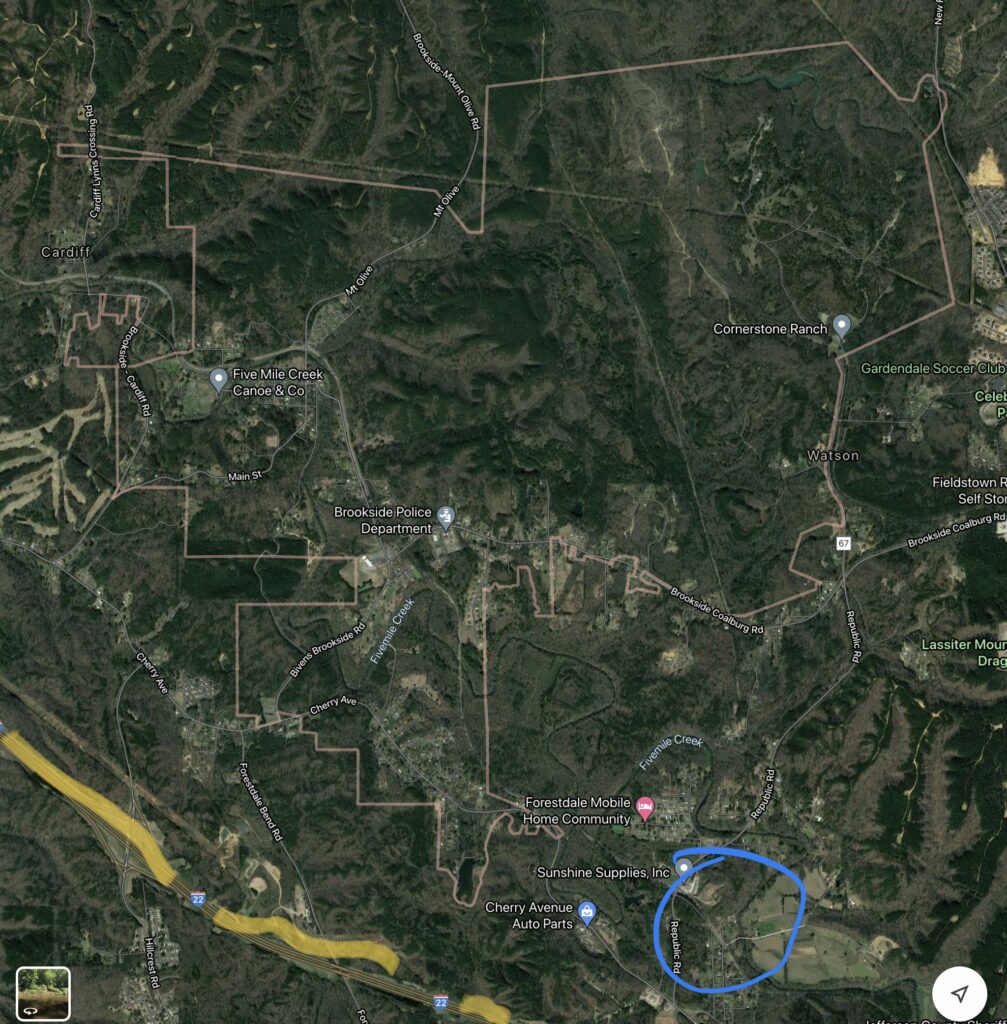 I was in Brookside proper twice in late 2016. A friend and I were taking photos and were curious about this church, which was built in 1916 on the site of the first Russian Orthodox Church south of the Mason-Dixon Line:
We were also curious about this old, disused train trestle:
So, note that Brookside is that kind of place where you go looking for remnants of the past (especially if your aesthetic is urban decay). Like much of the area between I-65 and I-22 (and really a lot of the former mining communities) Brookside is a mix of trees, hills, and a lack of zoning. There are falling apart trailers, older but nice houses, and newish suburban homes all on the same block.
So, not, it is not a place that needs riot control vehicles or law enforcement officials without insignia (oh yes–see below) because of, you know, security concerns.
---
But, back to the article:
Brookside until recently was known for its quirky Russian food festival and the state's only onion-domed Russian Orthodox Church. It's a former mining town, its population about the same as it was a decade ago. Fewer than 100 of its residents graduated college.

Brookside is a poor town, 70% white, 21% Black, with a small but growing Hispanic population and a median income well below the state average. The town survives on the fringes of Birmingham with tax revenue from the Dollar General, which forms the totality of its commercial district.

In 2018, when the town had one full-time police officer and a few part-timers, it reported no serious crimes to the Alabama Criminal Justice Information Center. Brookside Police did patrol the 1.5-mile stretch of Interstate 22 within their jurisdiction and wrote tickets that brought in $82,467 in fines. That contributed a 14% chunk of the city's total income, a number that would be considered high in much of America.

But Brookside revenues from fines and forfeitures soared after that, and the town's law-enforcement goals — and its reputation — changed.

By 2020 officers in the sleepy town were undergoing SWAT training and dressing in riot gear, even as the city continued with only a volunteer fire department. It parked a riot control vehicle — townspeople call it a tank — outside the municipal complex and community center. Traffic tickets, and criminalizing those who passed through, became the city's leading industry.
This is, not to put too fine a point on it, insane.
SWAT. Training.
Let that sink in.
Not to mention:
Chief Jones testified under oath that just one of the 10 Brookside vehicles is painted with police striping, but nine others bear no emblems, and seven are tinted all the way around, making it impossible to see inside. Jones testified his officers wear gray uniforms with no Brookside insignias.
But, you know, there was work to be done, so why not do so dressed in ways that suggest clandestine military operations? After all, there are traffic stops to make.
Arrests on Brookside warrants went from zero to 243 in the span of two years, according to statistics Chief Jones presented to the council.

Jones — again as Mayor Bryan nodded — said the goal of the department is only to help people.

"It's not about making a dollar," Jones said.

Yet the town with no traffic lights collected $487 in fines and forfeitures in 2020 for every man, woman and child, though many of those fined were merely passing by on I-22.
Help people do what?
Like, perhaps, this?
Sandra Jo Harris, a 52-year-old grandmother, claims in a lawsuit she pulled off I-22 at Cherry Avenue on Jan. 8, 2020, as she often did when she went to visit her daughter. It was nearing dusk, and as she drove into the neighborhood she didn't think much about the unmarked black SUV with tinted windows on the side of the road. She turned on her lights, according to her lawsuit, because of the approaching darkness.

But when she did, the unmarked SUV pulled into the street, crossed the center line and sped toward her car, blue lights flashing. She was not speeding, or breaking the law, she argued in the suit. She pulled to the side of the road as the SUV pulled behind her, and a wrecker simultaneously parked nearby. It frightened her, and led to more trouble.

Officers, dressed completely in dark, unmarked uniforms approached her, and one accused her of flickering her lights to warn others of their presence, her suit alleges. Unsure what was happening, Harris dialed 911. But an officer grabbed the phone and threw it to the ground, breaking it, the lawsuit says. Police put her in a patrol car and searched her vehicle for drugs.
This led to her arrest and a trip to jail (see details in the piece).
Police charged Harris with flickering her lights – or "nuisance of casting lights from motor vehicle on real property at night," which she argues did not happen and eventually was dropped. She was also charged with resisting arrest. A report quoted in the suit claimed she "tighten (sic) arm muscles from getting handcuff (sic)."
There are a number of other examples. My favorite is the traffic stop that resulted in a joint being found and the driver being charged with possession and for having drug paraphernalia–that is, the wrapping paper that was part of the joint.
Bill Dawson, a lawyer who has represented several clients in Brookside, said defendants have faced possession charges for a joint, with paraphernalia charges tacked on for the paper it was rolled in.

"I've never seen a possession case split like that," he said. "It's unheard of."
And all of these tickets, fines, and arrests cost people, often of limited means, substantial financial costs, not to mention the loss of time. There is a photo accompanying the piece that shows the long line at the courthouse for persons contesting their tickets.
Or, if one needs another example, see this companion story (also via al.com): Pastor, sister say rogue Alabama police force sought revenge. In that piece, a Black pastor is pulled over for having a paper tag on his new car who is called a racial epithet (yes, that one) and the result of him calling to complain was him accused of impersonating an office (and his sister was too, and she wasn't even involved). You just really need to read the whole thing.
All of this underscores the perils of policing for profit instead of supporting public safety.
Further, it demonstrates how the petty authoritarian applications of local power by law enforcement officers with delusions of grandeur can wreck lives. None of this is making anyone safer. It is not improving the lives of anyone, save perhaps for whatever benefits the burgeoning Brookside police department receives (or the vendors selling riot control vehicles and SWAT training to a tiny town that needs neither).
I would recommend reading the entire piece, as well as the story of Rev. Witt linked above. I will warn you, it is all quite infuriating and describes practices that ought to be unacceptable. Hopefully, the pending lawsuit and the national attention that this excellent reporting has generated will lead to the dismantlement of this farce of a police force.
---
*Birmingham's nickname is "The Magic City" as it grew out of nothing in the very late 19th Century to become a boom town and center for mining and steel production. Its star shined brightly and peaked by the mid-20th Century (if not a tad before). It was in a declining pattern from mid-century onward. The remnants of the mines, the industry, and the infrastructure (such as the railroads) have all been featured in many Photos for Friday (a lot more here).
**These connections made this story really bore into my head, and hence the very long post. This is a place linked to where a significant portion of my family originated. It is part of a larger place I have come to be profoundly interested in for a number of reasons and in a number of ways (linked to art and history). And, thematically, it touches directly on my interests in democracy and how it can go awry.