The American People Don't Want To Cut Federal Spending
In poll after poll, the American people claim to say that they think that the Federal Budget Deficit is an important issue, but as a new Pew Research Center poll shows, there's very little actual support for cutting spending:
Of 19 options for cutting government spending, only one — reducing foreign aid — was supported by more than 40 percent of Americans, according to a poll released Friday.

The widespread rejection of most ideas to slash spending in the poll from the Pew Research Center shows the difficulty of translating a popular GOP message — the federal budget needs to be shrunk down to size — into political reality. Even on foreign aid, only 48 percent want to cut, compared with 49 percent who want to increase funding or keep it at the same level.

It also displays the difficulty of replacing the $1.2 trillion in spending cuts scheduled to hit March 1. While both Republicans and Democrats say they want to avoid the across-the-board slashes in defense and domestic spending, negotiations are at a standstill and an agreement on replacement cuts could be elusive.

Decreasing funding for the State Department and cutting unemployment aid are both supported by around one-third of Americans. Cuts to the Defense Department and to aid for the needy in the U.S. are backed by about a quarter of Americans. Cuts in all other areas suggested by Pew, including energy, health care, entitlement programs, infrastructure, scientific research and combating crime, receive even less support.
Here are the actual numbers: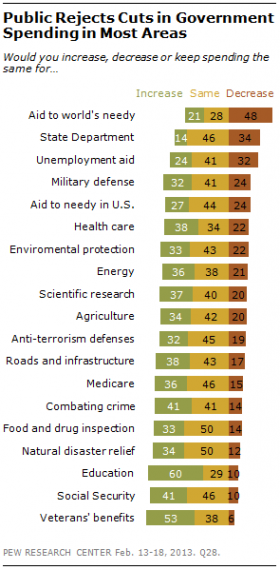 This isn't new, of course. Previous polls consistently show that the public dislikes the deficit, doesn't want to increase taxes on anyone except "the rich," and also doesn't want to cut spending in a way that would matter. Foreign aid is always at the top of the list of programs that people do want to cut, but it's also the one program that matters the least given that it constitutes less than 1% of total Federal Spending. As long as this is the case, we're never going to get a handle on our fiscal problems.
As in many other areas, if the American people want to know who is responsible for our current situation, they need do no more than look in a mirror.